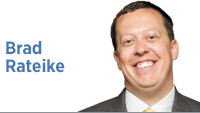 As I write this column, there is a guy I have never met in the next room taking apart my dishwasher to fix it. I do not know what level of education this man has, where he grew up or any background on his family. None of that has any bearing on the context of our relationship, which can be summed up as me not knowing how to fix the dishwasher and him knowing how to diagnose and address the problem.
This is only the most recent interaction with another person that has made me believe we might need to reevaluate the whole concept of "tipping" in America. As it relates to the economics of the service industry, where most of us originally learned about the concept of gratuity, the system is far from perfect, but I am curious what our economy would look like if it became standard practice to tip a larger pool of service providers.
In the face of record inflation, I am most definitely not advocating a change in any policy nor am I trying to get into anyone's pocketbook. However, thinking about how I would allocate my own resources if the practice of tipping became more of "the norm" one day is mildly amusing. The quirky but lovable Dwight K. Schrute, from NBC's legendary sitcom "The Office," once stated that he did not believe in tipping someone for doing a job he could do himself, i.e. delivering food, driving a taxi or cutting his own hair. Dwight followed that up by saying that, since he was not capable of "pulverizing his own kidney stones," he did tip his urologist. A hilarious but thought-provoking point. Why are we not eager to reward those who perform jobs we are otherwise incapable of doing ourselves?
I have days where I will interact with a dozen people who have jobs that require expertise I neither possess nor can easily attain. Medical professionals obviously fall into this category, but I am talking about the people who fix the car or reupholster the furniture.
Tipping in some of these instances could be used as an expression of gratitude, or it could be used as a method of encouraging better performance. For example, if you were building your "forever" home and the builder gave you the option of showing up on the jobsite the first day with a fistful of bills to pass around to the various vendors to show your appreciation in advance, my guess is you would have takers who would look at this "seed money" as a worthwhile gamble and that those same vendors would feel a sense of obligation to do their best work.
As I go through the list of professions that I might take for granted but should probably instead be thanking, first responders and members of the military are at the top of the list. Yes, I know they are providing a public service, but I have to believe a police officer working Saturday night in Broad Ripple would be a happier person if partiers walked by passing out $20 bills saying, "Thank you." Of course, it is the "Thank you" that probably makes the difference in so many ways, but the cash would be nice.
Unfortunately, the repairman just let me know that our dishwasher needs to be replaced, despite his best efforts. But I'm still going to tip him to thank him for his efforts. Besides, I am going to need him to come back to install the new one.•
__________
Rateike is founder and owner of BAR Communications and served as director of cabinet communications for President Donald Trump.

Click here for more Forefront columns.
Please enable JavaScript to view this content.