Through four seasons of making the "Music in Transit" online series that promotes IndyGo by showcasing music performances on a parked bus, videographer Jake Huber had worked with rappers, punk rock bands and singer-songwriters.
For the fifth season, which debuted earlier this summer, Huber documented something different: A cello ensemble from the Indianapolis Symphony Orchestra performed renditions of Queen's "Bohemian Rhapsody" and Charlie Chaplin's "Smile" as part of a 27-minute episode.
An IndyGo Red Line bus isn't small, but it's tight quarters for eight musicians and a camera crew. Meanwhile, onlookers lingered near the bus parked on a side street near the heart of Fountain Square.
"The episode basically humanized them," Huber said of the cellists typically seen onstage at Hilbert Circle Theatre. "They wore civilian clothes; they played in an unfamiliar place. They had random Fountain Square people walking up to the bus, wondering, 'What's going on?'"
Huber, a 31-year-old alum of North Central High School and Indiana University, does his part to let people know what's going on in the city and to make it look hip.
He's worked on the production crew of "Good Bones" for all eight seasons of the HGTV home renovation show based in Indianapolis. "Good Bones" has served as Huber's sole day gig since he graduated from IU, where he studied photography and telecommunications.
Away from reality TV, Huber is winning awards for music-themed side hustles.
In June, he collected three regional Emmy Awards in three categories. "Music in Transit" was a winner in the outstanding audio category, while a short film based on Indiana's Romanus Records won in the arts and entertainment category. A music video to accompany a song by Indianapolis rapper Sirius Blvck won in the technical achievement category.
In all, Huber has four Central Great Lakes Emmys, including a 2020 win for "Music in Transit."
Huber and Mike Angel, co-creator of "Music in Transit" and co-owner of the Square Cat Vinyl record store, floated the idea of making episodes on a moving bus when the series launched in 2019 as a way to promote the Red Line's debut.
"But with insurance liability and things like that," Huber said, "it was instantly shot down."
Musicians who perform as part of "Music in Transit" have connections to Indiana, and the most-viewed episodes posted at the Square Cat Vinyl YouTube profile feature Durand Jones & the Indications, an R&B band founded in Bloomington, at 46,000 streams, and Houndmouth, a rock band from New Albany, at 24,000.
"Having these nice, shiny buses with all this natural light pouring through, plus the amazing cinematography of Jake's crew, takes it to the next level," Angel said. "It's not just filming on a plain, boring stage."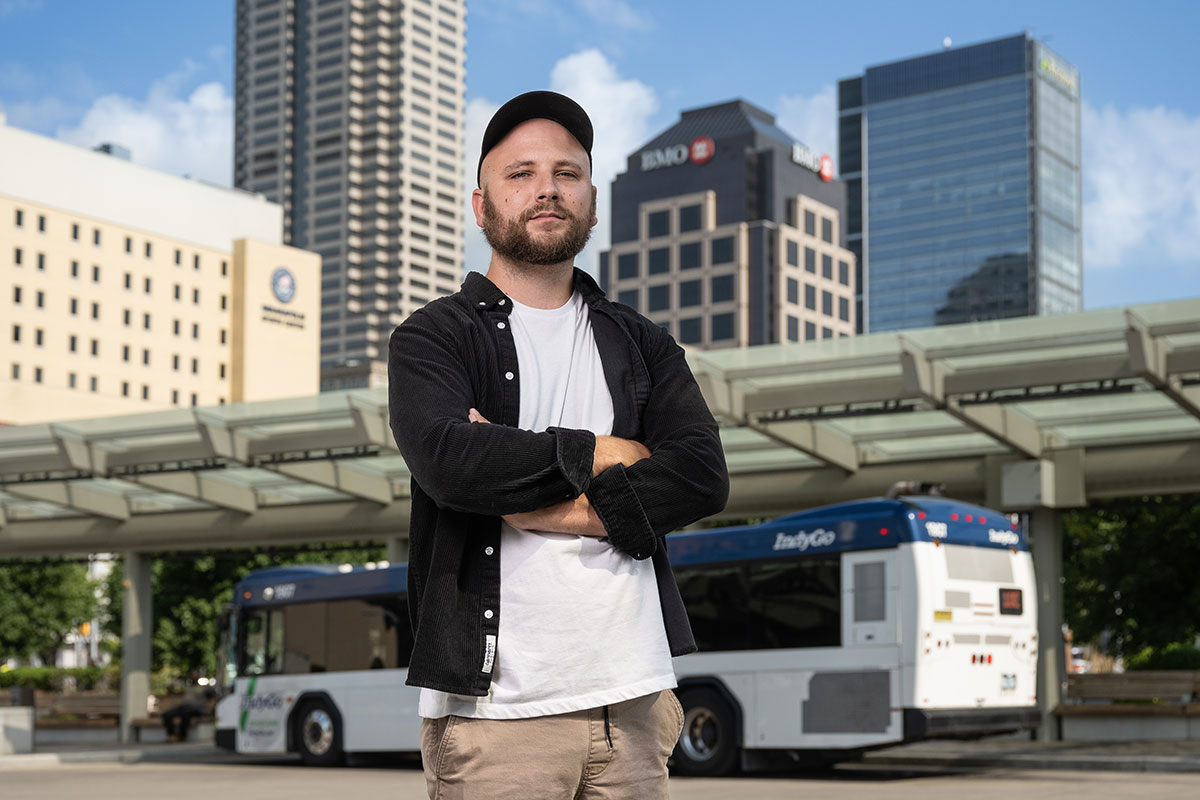 Sound and vision
Huber's path to a career in filmed entertainment began with his attendance at underground "house shows" where rappers and punk bands performed.
"I was always there taking photos," Huber said. "As time and technology progressed, I got a DSLR [camera] and took video."
Huber's resume as director of music videos includes standout work with Blvck and fellow Indianapolis rappers Oreo Jones, Flaco and Poindexter.
Blvck recalled being pitched a concept for his 2018 song "Shogun." It was the first time he worked with Huber.
"He approached me and said, 'I have an idea for a video,'" Blvck said. "Just show up on this day at this address and we'll have everything lined up for you.'"
Blvck said he appreciates Huber's preparation and commitment to following through on a concept. In the case of "Shogun," Blvck portrayed a shooting victim.
"I showed up, and he had the whole team locked in," Blvck said. "He built a doctor's office for the set, and they had a prosthetic stomach for me to have surgery. It was crazy, but it was the first time I saw somebody locally who had put so much effort into this song of mine. It was a special thing."
Blvck and Jones are bandmates in 81355, an Indianapolis hip-hop group that recorded a 2021 album for a label co-owned by indie rock luminary Bon Iver and members of The National.
Huber directed a video for an 81355 song, and he's worked with Blvck and Jones on other projects.
"They are so animated about their music," Huber said. "All you have to do is hit 'roll' on the camera, and they do the work for you."
Blvck said successful music videos create worlds for audiences to explore.
"Visuals play so much of a role in an artist's identity," said Blvck, who issued a four-song solo EP titled "Alter Ego" on July 19. "You can have a great song, but I think people want to get a feel for who someone is as a person. They want to know you; they want to see you."
In 2020, Huber directed a memorable music video in which Poindexter portrayed a game show host on an over-the-top retro set conveying 1970s kitsch. The song's title? "Jeopardy."
The video was made at a WFYI-TV Channel 20 studio on a budget of $22,000.
"I hope people look up Poindexter, see that 'Jeopardy' video and say, 'How did he do that?'" Huber said.
Strong foundation
Huber, a "Good Bones" camera operator, said his experience with the show has been invaluable.
"It taught me everything I know, and I apply it to what I do today," he said. "If you do reality TV or indie films, you get your toes wet in everything. You dabble in every department."
Huber said he has a mentor in Sam Lucchese, production manager for "Good Bones."
Lucchese, a Pennsylvania native who broke into unscripted TV with "Unsolved Mysteries" in the late 1980s, said crew members need to adapt to unpredictable conditions.
"You're running, you're gunning, and you're not on a stage," Lucchese said. "It's not a studio out in LA, where you know where to show up and park. There, you know where your electric is and where you can recharge batteries. In reality TV, it might be, 'OK, we're going to Bloomington today to see a quarry where they get marble.' 'What's happening there?' 'I have no clue. We'll find out.'"
Lucchese, who has worked in every state except Maine, Idaho and North Dakota, said Huber has impressed through his inner drive and continual learning about videography.
Lucchese said Huber is smart for seeking out projects independent of "Good Bones."
"That keeps you fresh, and that keeps you innovative," he said. "You don't have a lot of money, so you have to figure out how to do stuff cheap."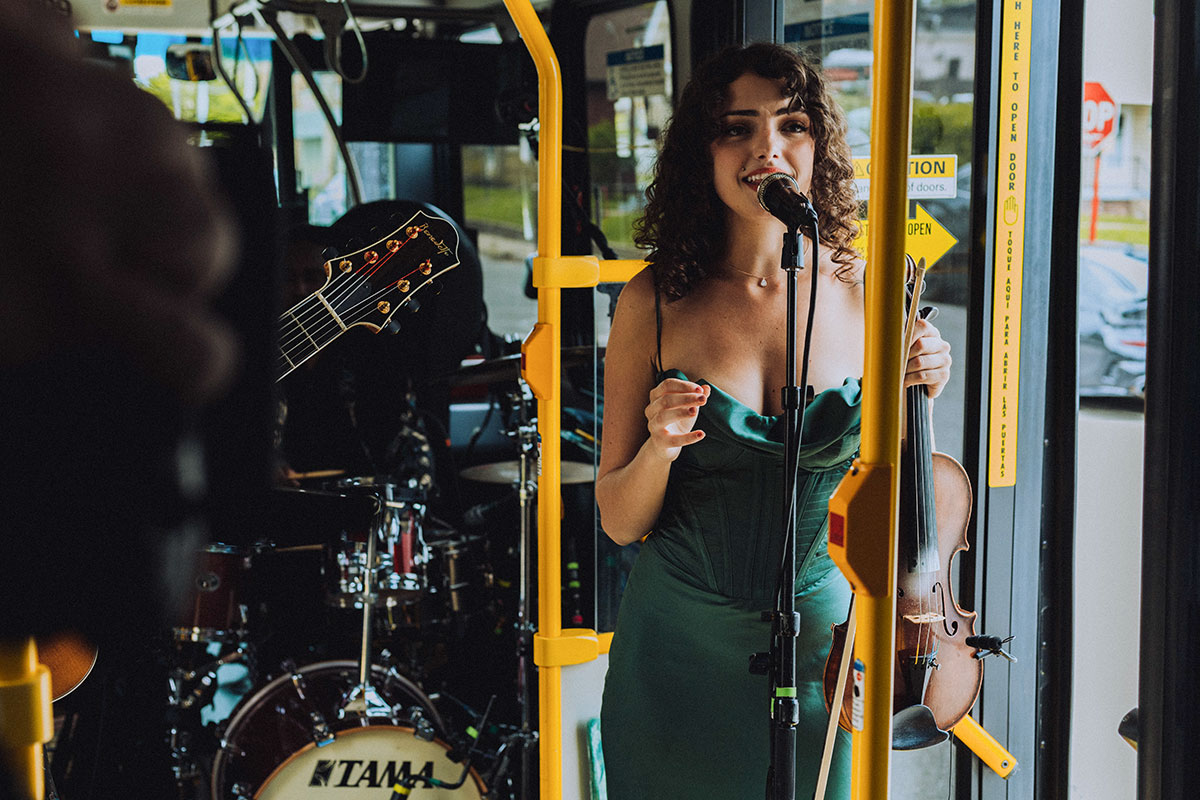 Keeping it real
Square Cat Vinyl co-owner Angel, a singer-vocalist in the band Bigfoot Yancey, classified Huber as an Indianapolis treasure for the work he does in the city.
Recent Huber projects include short films to showcase the Aug. 26 edition of the Chreece hip-hop festival (founded by rapper Jones) as well as businesses Naptown Thrift and Howl + Hide. Angel's band made its "Music in Transit" debut on an episode that released July 23.
"He seems to have amazing, infinite energy," Angel said of Huber. "He's always doing stuff. He's plugged in, and everybody wants to work with him."
Huber said he's motivated to make Indiana "look cool." He acknowledges that, "Sometimes it's not doing a great job, and that includes me."
In 2021, Huber established Total Fun Productions LLC. He said the company's name reflects his approach to work.
"Every time I bring people on set, it's a good time," he said. "I'm open-minded. I give everybody their own creative freedom. It's never stressful. If it is, we step back and make sure everybody's feeling good again. We'll go from there."
When asked about possible aspirations to branch out to long-form fictional storytelling, Huber said he's more interested in making documentary films and music videos.
He said he's eager to tackle projects similar to "Mississippi's Hands," a 2021 short film he produced. Indianapolis sign painter Jasper "Mississippi" Travis was the subject of the documentary.
"There are millions of stories that haven't been told," Huber said. "And lots will never be told."•
Please enable JavaScript to view this content.