Two autonomous-vehicle pilot programs planned for Indianapolis and Fishers this year, plus a contactless-delivery pilot planned for Indianapolis, are more than just robo-taxi and delivery-bot science experiments.
They're dry runs for the real thing—possibly coming soon.
"It's important to understand how these technologies operate in different built environments, with different factors," said Trey Ingram, program manager for the Japan-based Toyota Mobility Foundation, which is leading the pilots.
"If you think about downtown Indianapolis, you have so many options to get around," Ingram said. "How, in this case, does an autonomous-vehicle shuttle operate in that environment as opposed to a more suburban environment, like Fishers?"
The foundation has partnered with the Indiana Economic Development Corp., Energy Systems Network and autonomous-vehicle companies May Mobility and Udelv to create the pilots and answer those questions.
Ann Arbor, Michigan-based May Mobility will launch a six-month autonomous-shuttle pilot service in Indianapolis on May 31, then a six-month pilot in Fishers on Nov. 27.
San Francisco-based Udelv will operate the contactless-delivery pilot. Although Udelv vehicles are usually self-driving, the Toyota Sienna minivan used here will have a driver. But it will be equipped with Udelv technology that enables contactless delivery.
Laurie Remias, May Mobility's marketing director, said the startup will have conducted five other autonomous public-transit pilots in the nation and provided more than 275,000 rides before launching its Indianapolis pilot.
Other pilot cities include Columbus, Ohio; Providence, Rhode Island; Grand Rapids and Detroit, Michigan; and Dallas/Forth Worth.
While most pilots were conducted exclusively with Polaris GEM shuttle vehicles, the Indianapolis pilot will feature one on-demand Polaris GEM for wheelchair-bound passengers and five Lexus RX450h vehicles.
Each one will be equipped with sensors and May Mobility's proprietary "multi-policy decision-making" algorithm. The technology uses an array of distance-measuring lasers, radar and cameras to create a 360-degree map of the objects around the vehicle, then predicts how those objects will act.
A specific shuttle route has yet to be identified but is expected to run on and around the IUPUI campus.
Remias said the route is being formulated to connect student housing, the campus center, the library, the Indiana University Health campus, a concentration of apartments on Indiana Avenue and more.
Matt Peak, a managing director for the Indianapolis-based, clean-tech not-for-profit Energy Systems Network, helped identify the downtown pilot area. He said Toyota Mobility Foundation was interested in Indianapolis for its existing mobility networks, including the city's rapid adoption of micro-mobility bike and scooter shares, IndyGo's bus rapid transit lines, a car-share program and the region's zigzagging trails.
"These various new modes and technologies each have roles to play in different situations, in different environments," he said. "It affords the playground for experimenting with a variety of different contexts and solutions."
IndyGo integration
Though IndyGo's Red Line was cited as a reason for the Indianapolis pilot, the integration of new technology with that infrastructure comes at a fraught time for the city's transit system. The Indiana Senate recently voted to advance a bill that would strip some funding for local public transportation and hinder IndyGo's ability to pursue its planned expansion of bus rapid-transit lines.
Remias said May Mobility's autonomous vehicles aren't a replacement for those lines.
"The one thing we hear a lot of people who are wary of the service say is, they think we're coming in as a robo-taxi to take away from public transportation," she said. "We don't want them to think we're here to disrupt or displace anything."
Lesley Gordon, IndyGo vice president of communications and marketing, said autonomous shuttles can play an important role in helping commuters bridge gaps at the first and last mile—those stretches the city's bus routes don't quite reach.
"We are in the business of moving people, and a 40-foot bus isn't always the answer. This pilot, looking at the infrastructure and the use of dedicated lanes, has the potential to play to the future of what IndyGo could look like and lay the groundwork for this type of tech in Indianapolis," she said. "We're excited about the opportunity to add to our toolbox here."
In addition to sharing that infrastructure, Gordon said, May Mobility will keep and charge its vehicles at IndyGo facilities.
In Michigan, Remias said, May Mobility's pilot worked alongside the city's bus system. In Rhode Island, the pilot helped fill gaps in a transportation desert. By hosting pilots both in Indianapolis and Fishers, she's expecting to do both here.
Two testing grounds
Fishers has no city-level public-transit system—though Hamilton County has some countywide options.
Fishers Mayor Scott Fadness said he was interested in hosting a Toyota Mobility Foundation pilot not just for residents but also for the industry interest that might follow.
"It's not just the product that's important to Indiana in the long term; it's the byproducts," Fadness said, noting the autonomous-vehicle industry is full of young companies looking for a place to fill their headquarters with high-paying jobs.
The mayor hopes the pilot will show the city's willingness to try new things and that it might convince some of those emerging-technology companies to move to Fishers.
In late 2019, California-based autonomous-vehicle firm PerceptIn announced plans to move its headquarters to the Indiana IoT Lab in Fishers, a sort of coworking space for companies developing internet-connected products. Alongside that move was a promised short-distance transportation system in Fishers that would use the self-driving vehicles.
Fadness said that fell apart as PerceptIn struggled with liability and indemnification problems, but he's confident in the credibility Toyota and its partners bring to the new pilot.
May Mobility's Fishers route will likely connect the area around coworking space Launch Fishers to local commerce parks and the downtown Nickel Plate District. Fadness said he views his city's pilot not as a solution for commuters but as an amenity that promotes connectivity in the less-dense suburb.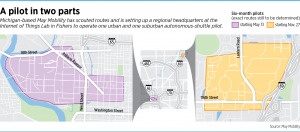 "When it comes to mass transportation, the city of Fishers has always been interested in the next generation. We're excited to see if something like this is A) functional and B) if there is a demand for it," he said.
"That's just one concept," Fadness added. "As this thing grows and evolves, we're going to look at those other opportunities."
As part of the project, May Mobility plans to establish a regional headquarters at the IoT Lab in Fishers, Remias said, although the technology work will continue in Ann Arbor. The company will hire local workers to service the fleet.
It has already hired two site supervisors based in Indianapolis and will bring on a third soon, plus a site technician. The company also plans to hire about 20 part-time fleet attendants, and a company spokeswoman said those positions might become full-time.
Some of those employees will act as ambassadors during the pilots, for both May Mobility and the respective cities. Each vehicle will have at least one fleet attendant, to act as a fail-safe and answer questions.
Once the Toyota Mobility Foundation launches its website with information on routes and stops, interested riders will follow the same procedure as riding a bus. There's no signing up or downloading an app; it's as simple as finding a stop and waiting.
Though pandemic protocol and concerns will likely evolve before the pilots launch, Remias said she anticipates May Mobility will allow only one rider or related party at a time. In addition to the fleet attendant, vehicles have room for up to three passengers. Wheelchair-accessible shuttles will be available on-demand; the website will provide a phone number.
A partition will separate the fleet attendant and passengers, and the attendant will run an ultraviolet light over the car's interior between trips to kill germs.
Contactless delivery
The Toyota Mobility Foundation's other local experiment with mobility technology will be the contactless-delivery pilot expected to debut in Indianapolis this summer.
"The notion of contactless delivery has only been familiarized and heightened over the last year," said the Energy Systems Network's Peak.
Toyota Mobility's vendor, Udelv, uses an automated, adjustable set of shelves retrofitted in the back of its vans. Once customers are notified their item has arrived, they use their phone to open the proper storage container in the Upod shelving system.
Already, the company has made more than 20,000 deliveries in California, Texas and Arizona. Tobias Wessels, Udelv chief corporate development officer, said the startup is working to identify partners—perhaps supermarkets, auto-parts dealers or even the military.
"Instead of each company having its own delivery fleet, we're offering this as a network," Wessels said. "That is reducing the overall number of vehicles in the market. The benefit of this is very simple: You have less pollution, less congestion and that increases the overall well-being of the community."
Wessels said the company is "on standby to bring in more vehicles" if the pilot goes well here.
"For us, it's not just about having the technology that's new," he said. "We really want to make a difference and improve people's lives."
Peak said contactless delivery could help provide relief to food deserts and other underserved areas.
"We have regions that don't have stores or products available nearby, and we can make those available to residents using contactless automated systems," he said.
What comes after the Indianapolis-area pilots has yet to be determined. For starters, Toyota Mobility Foundation will collect data—adoption rates, performance and other metrics—to share with its future pilots.
Leaders of the local effort say they hope the pilots can be used as guides to launch similar systems in other cities across the Midwest and even beyond.
"If you think about Indianapolis from a built-environment perspective, it's much like other cities in the Midwest, the Plains states and the Southeast," said Toyota Mobility's Ingram, pointing out the contrast to coastal cities. "Indianapolis is more like other places, so we can really learn from what we're doing here and it's easier to scale to another location."•
Please enable JavaScript to view this content.