Indianapolis-based Sport Graphics has landed in the record books once more. 
It is best known for the massive banners it creates to festoon the exteriors and interiors of everything from the Indianapolis Motor Speedway to Lucas Oil Stadium—and pretty much everywhere else across the country where a bigger-than-life sporting event takes place.
But the work that's earned it national notice is its piece de resistance, a gigantic NCAA Tournament bracket currently draped down the side of the JW Marriott. According to Guinness World Records, it's the biggest such bracket ever, spanning more than 47,000 square feet.
The previous record holder was the bracket Sport Graphics put on the Marriott for the 2015 tournament. This year's edition is about 15 to 20 square feet larger, and the winners of each weekend's games will be posted on it.
Not bad for a firm that started out in 1986 as a printing company, churning out programs and other printed material for the Colts, Pacers, IMS and the NCAA, among others.
Founder and CEO Frank Hancock says the banner took about 125 hours to print, and five days to install. Not one to leave the "fun" to others, Hancock rode one of his cherry-pickers up the side of the Marriott to watch the work.
"I'm going to be 73 years old this month, and I've gone up each time we've put a graphic on the Marriott," he said. "I always tell people, 'I've already lived a good, long life.'"
Not that the process is truly all that dangerous, though it looks nerve-wracking to folks on the ground. The company's employees are all tethered to their cherry-pickers, and the work of properly assembling the graphic demands so much concentration that it's easy (Hancock asserts) to forget about the very steep drop below them.
Sure, updating the board every week will require more work, but that sort of thing is par for the course for the company.
"We've never been told [by Sport Graphics], 'No, we can't do that,'" said the NCAA's managing director of purchasing and operations, Mike King. "They are honest with us about the challenges of projects but always get it done for us."
Rick Fuson, president of Pacers Sports & Entertainment, said Hancock has been the go-to printer in the sports industry for over 35 years. "You couldn't ask for a better guy," he said.
The company's Indianapolis facilities include an in-house design and advertising shop downtown called Section 127. That's where most of the company's large-scale projects are designed. The plans are then downloaded to Sport Graphics' east-side fabrication facility. In the case of the Marriott bracket, the monstrosity was produced in approximately 800 carefully numbered and cataloged sections.
Each of those rolls of adhesive-backed vinyl was about 48 inches wide and 30 to 40 feet long—in short, pretty much exactly the size of a roll of wallpaper. That's about all a human can handle at one time, especially while standing in a wind-whipped cherry-picker basket.
"You don't want to get the wrong ones in the wrong place," Hancock said. "You're basically running them in sections, and attention needs to be paid during printing and installation."
Over the years, mistakes have been rare—and rarely Sport Graphics' fault. King recalled asking Hancock to fix a program error that was discovered just before the first NCAA convention in Indianapolis.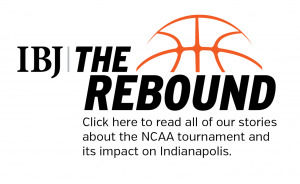 "We discovered it Saturday night and we needed them for a Sunday night event," King said. "Frank personally came down and picked up all the programs, reprinted the covers, reassembled approximately 3,000 and delivered them back to us by 8 a.m. Sunday. It was a great example of their customer service."
On a somewhat larger scale, the company in 2016 installed a massive graphic of a race car and the Borg-Warner Trophy to commemorate the 100th running of the Indianapolis 500. They'd just finished the roughly 75,000-square-foot graphic when Hancock got a call from the IMS. The race car in the mural, they'd realized, wasn't sporting special 100th anniversary Firestone tires. And that just wouldn't do.
"The question was, 'Is it possible to change the tires?'" Hancock recalled. "Man walked on the moon, so anything's possible. We literally went up and took the tire graphics off and put on new ones."
Which points out a pretty obvious fact about Sport Graphics' business model. Back in the days when it was a print shop, fixing mistakes or creating a new product didn't present nearly as many logistical challenges as, say, creating vinyl mesh banners for the IMS or plastering a giant Borg-Warner Trophy on the side of a hotel. Yet these days, roughly 90% of its business is banners and such, with only 10% devoted to printing. Why change?
Chalk it up to market demand. As anyone who's tried to find a bookstore on short notice already knows, printing has become something of a dead-end street. Plus, it's expensive. 
"One of the biggest problems with being a printer is that it's capital-intensive," Hancock said. "Right now, I can replace every bit of the equipment in my shop for not much more than one printing press cost me 10 years ago."
Today, he's better-known as the go-to guy whenever local sports extravaganzas need gigantic, eye-catching banners or a multi-story window display. Actually, he's got a pretty good national presence, too, given that he does pretty much all the NCAA's major tournaments nationally. He started working with them in a big way when they moved to Indianapolis in 2000.
"We do all the NCAA national championships," Hancock said. "We're doing the women's Final Four right now in San Antonio. And I've had a sales office for years in Colorado Springs, because it's closest to the [U.S.] Olympics [headquarters]."
Wherever the event may be, however, the printing is usually still done in Indianapolis, and the installation accomplished not by subcontractors, but by Sport Graphics employees (of which there are roughly 100, including the Section 127 staff). 
His client list isn't all—or even mostly—about sports, however. Hancock also services numerous conventional entities, including a large Midwestern grocery store chain called Hy-Vee. Together, non-sports clients are about 75% of his base. 
"Sports is a quarter of our business," he said. "But it's those things we do that resonate with other people and other clients. But it's a two-edged sword. We've never missed an event, because, realistically, you aren't going to miss an event and get a second chance to miss it again. We have to stay focused."•
Please enable JavaScript to view this content.