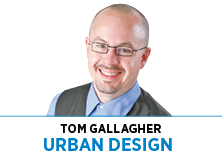 Men and women use cities differently. An example: Most men travel two times a day—to work and back home. Women, who still carry most domestic and care-giving responsibilities, make multiple, shorter trips during their commute or at other times throughout the day.
Such modest differences can lead to meaningful results.
Like U.S. cities in the the 20th century, cities throughout Denmark saw the rise to prominence of the personal automobile. Today, however, because Denmark chose to support the way women moved through cities, Denmark is arguably the most bike-centric country in the world. Pedestrians are given priority and cars move through neighborhoods at 20 mph.
In the design of our cities, we too often default to the average male as a stand-in for everyone. We have in front of us an opportunity to change our urban places to make them more responsive and welcoming to women and other populations too often marginalized by a city's form and function.
One of the most significant efforts in this regard was initiated in Vienna, Austria, in the early 1990s. Recognizing that fair and equitable practices ultimately improve conditions for everyone, its government instituted initiatives intended to bringing parity to all aspects of city administration. Its success has hinged on a simple premise: actively seeking and listening to thoughtful and inclusive data and giving airtime to the myriad voices that call cities their home.
Urban designers have never had more actionable data available to them. New crowdsourcing apps like Safetipin and Free To Be, specifically designed to help women make safer and informed choices about their mobility, can also help cities understand the places where women feel safe and where they feel threatened. This is the kind of powerful information necessary for understanding how different a woman's experience of the city is.
Here are just a few examples of regular challenges women face in urban places and how designing to alleviate them could improve cities for all:
Safety and comfort
According to a study in Ireland by design consortium ARUP, 55% of women would not use public transit at night, with 35% of men saying the same thing. Given that cities typically light for cars not people on the street, we need to take seriously improving the lighting of pedestrian ways.
Unfortunately, harassment of women is not limited to the dark hours, making visibility— seeing and being seen—even more important. Places that women identify as feeling safer are well maintained, have clear sight lines, little or no "lurking spots" and transparency to the activities inside. Open, active and vibrant streets additionally offer a kind of "natural surveillance" from neighbors, vendors, shop owners, patrons and passers-by.
Mobility
According to the League of American Bicyclists, 60% of bike owners between the ages of 17 and 28 are women. Nevertheless, in the U.S., women account for only 24% of all bicycle trips.
What accounts for the gender gap in cycling, particularly when it comes to commuting, is not that women dislike bikes. Rather, it is due to a lack of comfort and safety riding on car-dominated roads. In a University of Minnesota field study, vehicular encroachment (passing a cyclist leaving less than 3 feet between them) was nearly four times more likely to happen to a female rider.
Adequate cycling infrastructure makes a significant difference. A recent, multi-city study by Strava found that bicycle commuting by women increased where protected bike lanes were present. That helps to explain, too, the advanced ridership by women in Denmark, where bike infrastructure is a priority and women commute 24% more than men.
Access
Zoning and its forced separation of uses has propelled sprawl and car dependency along with it. A recent report from the Brookings Institute notes, "Between 1960 and 2010, U.S. urban land area grew at a rate 1.7 times faster than population growth. To connect all the housing and activities spread across so many more square miles, the average American's daily travel mileage grew by 85% between 1969 and 2017." We already know that women are the more likely ones to be making additional trips beyond a regular commute, so they have, undoubtedly, borne the brunt of these extra miles and hours.
Returning to the city of short distances—or what Paris Mayor Anne Hidalgo calls the 15-minute city, where basic services, workplaces and residences, are within a reasonable walk or bike ride—could mean increased access, more family time and higher quality of life.
Cities friendly to women need something else, too: more women, not just in the urban design profession but leading it. We should celebrate the women that have already sought to make a difference in such a male-dominated field. Moreover, we need to help young women recognize that they not only have a right to the city but that they could have one of the most meaningful roles of the next century: making our cities more equitable, resilient, socially cohesive and full of vitality.•
__________
Gallagher is a principal and urban designer with Ratio and a professor-in-practice of urban design at Ball State University. Send correspondence to TGallagher@ratiodesign.com.
Please enable JavaScript to view this content.