Mexico-based shrimp farmer Atarraya Inc. has big hopes of changing the way shrimp are raised for the U.S. market—and Indianapolis plays a key role in the company's plans.
Atarraya currently has five employees at 2057 S. Belmont Ave. in a former warehouse just north of Kentucky Avenue. But the company is working to create a showroom and training facility at this site for its new signature product, the Shrimpbox—a high-tech, cargo-size container for growing shrimp sustainably and economically, with far less labor than conventional methods require.
"Anyone, in two to three weeks, can learn to grow shrimp with this technology," said Atarraya Chief Operating Officer Rafael Mohrez, who is overseeing the company's Indianapolis site.
For a variety of economic and environmental reasons, most shrimp consumed in the United States is imported. But Atarraya says its Shrimpbox could be a game-changer, enabling domestic shrimp production on a scale not currently possible.
"We are aware about the challenge that we are presenting," Atarraya founder and CEO Daniel Russek said this month during a webinar in which the company introduced itself to potential growers and business partners. "We are trying to start a new industry in the U.S."
Atarraya, which translates in Spanish to a casting net for fishing, said it plans to invest up to $4.8 million in its Indianapolis site, hiring up to 65 people here by the end of 2025.
The company's plans are ambitious, to be sure—and the shrimp farmer is still working out details of its business model—but the concept has gained support from some key Indiana sources.
The Indiana Economic Development Corp. has offered Atarraya up to $1 million in tax credits and up to $50,000 in training grants based on its job-creation plans.
And AgriNovus, an Indianapolis-based not-for-profit that aims to grow the state's agbioscience industry, is also bullish on Atarraya's prospects.
"It's fascinating technology," AgriNovus President and CEO Mitch Frazier said of the Shrimpbox. "What they're doing is a new category, and it really does become this intersection between food and technology."
Tech/farming marriage
Most commercial shrimp grows in ponds on farms in places like Ecuador, India, Mexico and Vietnam, Russek said. These countries offer the tropical climate that is ideal for shrimp farming, he added, but there are other reasons commercial shrimp farming hasn't gained a foothold in this country.
Shrimp farms typically use a continuous-water-exchange process in their ponds—replacing dirty water with clean and often dumping the dirty water straight into the ocean, which U.S. environmental regulations don't allow.
Atarraya, whose roots trace back to 2011 with the formation of an aquaculture company called Maricultura Vigas, has a farm in Puerto Escondido in the Mexican state of Oaxaca.
Instead of continuous water exchange, Atarraya's farm uses a zero-water-exchange method. Essentially, the system uses aeration and a special microbiome that works like probiotics to keep the shrimp in its ponds healthy and to clear waste products from the water.
The shrimp produced at its Mexican farm are sold fresh (not frozen) in the United States under the brand name Agua Blanca.
Maricultura Vigas is now part of Atarraya, which formed in 2019 when Russek and his team decided to develop a tech-driven operating system for sustainable shrimp farming. They came up with the Shrimpbox: a unit that looks like a cargo container, filled with water and shrimp and controlled by sensors and software that keep the water's pH, salinity, temperature and oxygen levels at optimal levels.
The company operated in stealth mode until about a month ago, when it felt confident enough in the technology to announce itself to the world, Russek said.
Zero-exchange shrimp farms are technically complex and require skilled labor—which costs much more here than in countries where most shrimp farms are located.
"It's very difficult to scale an industry that relies on this highly skilled labor," Russek said.
The Shrimpbox, Atarraya says, eliminates obstacles for U.S. production. The units are self-contained with heating units that can keep the water warm enough, and the high-tech operational system cuts way down on labor costs.
The operation of one Shrimpbox requires about two hours of labor per week, Mohrez said, mostly tasks like feeding the shrimp and taking regular water samples to verify the system is working properly.
Four people could produce 80 tons of shrimp per year with Shrimpbox, he said, assuming they are operating 80 Shrimpboxes that each produce one ton of shrimp annually. Atarraya's Mexican farm needs 80 people to produce that amount of shrimp.
Because the Shrimpbox system requires so little labor, he added, Atarraya believes it can compete on price with imported shrimp. "We are not talking about premium price."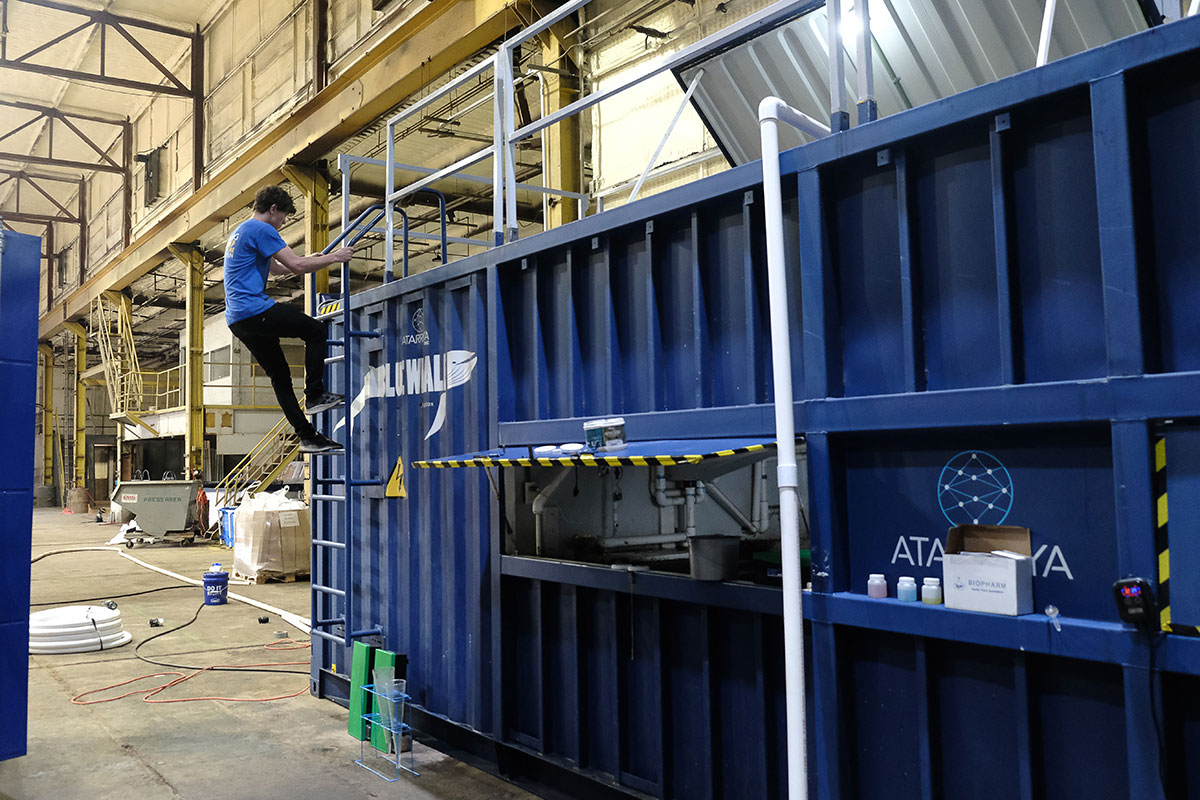 Testing phase
Atarraya predicted that it will start beta-testing the Shrimpbox with five U.S. partners early next year, ramping up after that with the goal of capturing 5% of the U.S. shrimp market by 2030. It has not revealed the identities of its beta-testers. The Indianapolis site would be where potential growers and researchers come to learn about the Shrimpbox and receive training on how to operate it.
The company is building its Shrimpboxes in Mexico and expects to have 20 at the Indianapolis site by the end of the year. By the end of 2023, the company expects to ramp up production to 200 boxes. Assuming it can secure proper financing, Mohrez said, Atarraya has set a goal of producing 6,000 boxes by 2024.
The company expects to lease its Shrimpboxes to growers, who would then share in the profits from the sale of the shrimp they produce. Russek said growers will need to have at least 20 Shrimpboxes in order to operate profitably, but he added that the company is still working out details of what to charge for leasing.
The launch of the Indianapolis site was made possible by a $3.9 million round of venture funding Atarraya closed on last month. That round was led by investor Jeffrey Horing, co-founder and director of New York City-based Venture Partners, and other angel investors. The August investment brings Atarraya's total venture investments to $10 million, including seed funding the company secured in 2019.
Mohrez said Atarraya plans to launch a Series B funding round of $15 million to $20 million later this year.
Challenges, opportunities
Marketing and pricing will play important roles in whether Shrimpbox can succeed, said Kwamena Quagrainie, an extension specialist and professor of aquaculture economics and marketing at Purdue University.
Promoting the shrimp as a fresh, domestic alternative to imported shrimp might be the best play for Atarraya, Quagrainie said. If the company competes solely on price, "I think that will be a big challenge for them."
Quagrainie was part of a group of Purdue representatives who met with Atarraya executives last year when the company was investigating Indiana as a possible business location.
He said there's currently very little shrimp production in the Midwest, or in most of the United States, outside of some operations in Texas and Florida.
Within the past five to 10 years, he said, he was aware of 10 or so small-scale shrimp producers in Indiana. But he knows of only one remaining: RDM Aquaculture LLC in Fowler. "In the Midwest, there are not many left. Many of them just went out of business."
Several years ago, Quagrainie said, hurricanes in Florida and Texas destroyed hatcheries that supplied larval shrimp to those Midwestern shrimp farms. The pandemic also disrupted both supply chains and the demand for shrimp.
For Atarraya, COVID-19 was a big motivator to accelerate the development of the Shrimpbox, Mohrez said.
Atarraya delivers its Agua Blanca shrimp to U.S. customers via air, and this became much more of a challenge when carriers slashed their flight schedules during the pandemic.
But the Shrimpbox would simplify supply-chain challenges because it would make it possible to grow shrimp much closer to customers, Atarraya realized.
Why Indiana?
So how did Atarraya end up selecting Indiana as its U.S. hub of operations?
As the company was looking into possible U.S. sites, Mohrez said, it learned that agricultural technology was an industry of interest for Indiana. Atarraya officials visited the state in the summer of 2021 and were impressed with the reception from AgriNovus, the IEDC and others.
"In 48 hours, we got introduced to 10-12 companies and executives here, showing different ways we could collaborate," Mohrez said. That was especially striking to Atarraya, he said, because in the Latin American business world, it's typically not so easy to form connections and business partnerships.
Likewise, AgriNovus saw Atarraya as a good fit for Indiana, Frazier said. Indiana has historic strengths in agbioscience, technology and logistics, and "Atarraya is a fantastic example of those three things coming together."
Frazier said Atarraya also fits in with a larger trend within the world of agriculture. Two years of supply-chain disruptions are creating a lot of interest in reimagining the food supply chain, he said. "Post-pandemic, we are beginning to see new opportunities emerge as producers look to get closer to customers."
Aside from the business climate, Atarraya's CEO said, his company also chose Indiana for a more symbolic reason.
"If we can grow shrimp in landlocked Indianapolis that has a very cold winter, we can grow shrimp anywhere," Russek said.•
Please enable JavaScript to view this content.