Providing hands-on instruction in areas such as culinary arts, welding, carpentry and nursing during the pandemic triggered Indiana post-secondary institutions and trade schools to revise training schedules, upgrade or devise new online teaching methods, reduce class sizes and even teach outdoors.
Many institutions even shut their physical doors for several months and switched to remote learning.
With the highly contagious omicron variant now spreading, institutions are still working to ensure the safety of students and staff. But they've found ways to cope and keep hands-on instruction going as best they can.
Educators say they have learned or expanded better and more efficient ways to offer instruction that they'll continue to use in the future. They also say they've learned the need for having alternative teaching methods in place for dealing with any emergency and adjusting to students' needs.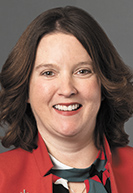 "I have learned during the pandemic that I plan for the future and expect those plans will change," said Ivy Tech Community College Provost Kara Monroe.
"We know students do really well in traditional instruction," she said. But she recognized some students might not come back in person until they feel safer and their life circumstances, including jobs and child care, are more stable. Ivy Tech, a public statewide system with 23 campuses, offers two-year degrees in more than 150 programs ranging from nursing and culinary arts to welding and information technology.
As of this spring semester, she said, traditional classes offered statewide make up about 67% of the total courses. The remaining 33% are taught virtually or recorded online—a proportion Monroe estimated is about 10% higher than previously.
"We have no choice but to become the very best we can be at online and virtual instruction," Monroe said. Still, she said it's essential to provide the hands-on instruction and clinical experiences for classes that require that type of teaching.
Ivy Tech closed its doors to instruction at the beginning of the pandemic in March 2020, so hands-on training had to be altered. Monroe said faculty gathered materials and supplies and put them in students' car trunks when they drove to campus. The supplies included food and kitchen utensils for culinary arts classes, dissection materials for science classes, and paint and other supplies for art classes. Students then worked at home, following online instructions.
When the weather got warmer, she said, some faculty offered outdoor instruction—such as surgical technology labs—in parking lots and outdoor spaces, following social distancing and proper masking protocols. The two methods weren't enormously helpful but were creative solutions available at the time, she said.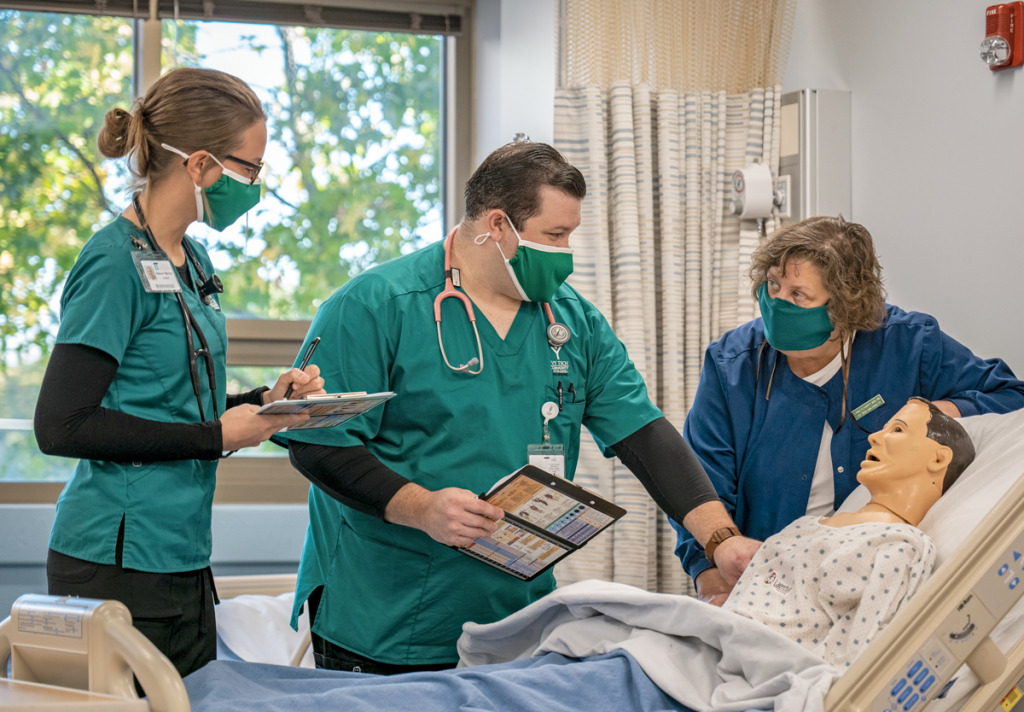 Clinical training delays
Some medical-related and laboratory-type courses require students to work in nursing homes, doctors' offices and other settings that weren't open to the public. In those cases, clinical hours were delayed until summer when those sites reopened. Monroe said faculty concentrated on keeping students engaged and reducing learning loss by providing online instruction on theory to help them prepare for clinical and lab work. Ivy Tech created "completion academies" in the summer of 2020, with open lab times for students to catch up on lab experiments and clinical hours, and offered many virtual and online courses.
That fall, Ivy Tech brought back laboratory classes and hands-on instruction, with some adjustments and class-size reductions, and focused on increasing a "blended learning modality" with both online and in-person instruction.
Faculty realized, Monroe said, that they could record a 20-minute lecture students could watch before class for hands-on instruction. She said this structure is better for some students who need to watch the video more than once and those with time conflicts, and also minimizes time spent on campus.
Ivy Tech was already a "very technology-forward-instruction institution," and faculty had a solid learning structure in place, Monroe added. But she said the college had to make sure all advisers, tutors and financial aid teams also could use Zoom and offer online help.
"We are getting back to normal," she added. "The difference is, the face-to-face component is not as popular. Instead, the online and hybrid classes are more popular." She wants to make sure, though, that students get everything they need to be successful, including experiences like mock interviewing, service learning and job shadowing.
Overall, she said, the pandemic has forced or allowed the staff to better adapt to momentary changes and to be prepared to teach courses in different ways and have an emergency plan.
"We have had snowstorms, power outages and tornadoes," Monroe said. "This is not the first time we've had a crisis, but this is the most prolonged. We now know how to be more flexible and more agile on an ongoing basis."
Masks, smaller classes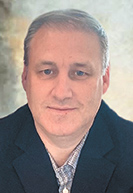 Lincoln College of Technology, which has been training students in Indianapolis for 70 years in many skilled career professions, also had to make adjustments in its teaching schedule and use more hybrid or blended learning approaches, said campus President Brent Jenkins.
"We've been able to not have any reduction in the amount of hands-on and instruction time and the [students'] ability to master the competencies," he said. "Every student is given more than enough opportunity to master the skills in class. That's really the crucial piece."
The school, which has 22 campuses nationwide, has more than 900 students at the Indianapolis campus, off Georgetown Road just north of West 71st Street. Locally, programs are offered in automotive, diesel and truck technology, collision repair, medical assistance, welding, electrical and electronic system, and computerized machining and manufacturing processes. Programs, ranging from 10 to 18 months, award certificates, diplomas or associate degrees.
The campus went to totally remote instruction from March to May 2020. During that time, students concentrated on research, lectures, discussion board questions and other homework provided by Lincoln. When Lincoln reopened for hands-on training, Jenkins said, only nine students were allowed in each classroom, so they could maintain social distance. They were required to wear masks and complete health surveys every day.
Before COVID, the collision repair program already used a hybrid learning approach with a combination of in-class and shop work and online instruction. "We pulled the best practices from that and rolled it out for our other programs," Jenkins said.
While Lincoln's programs have a lot of hands-on learning, he said, sometimes students need to do research, watch videos, learn and practice on their own. "Students can do that at their own pace at home. When they're here on campus, they become very intense and purposeful with their time."
The college also has been able to handle a few COVID cases without much disruption. When an individual class has a small outbreak, Jenkins said, more remote learning is concentrated and then shop hours are completed when the situation is safer. "We've taken a case-by-case approach to every class."
When students and staff were able to return to campus, he said, the college kept many measures in place, including most of the hybrid teaching model and somewhat smaller classes in large programs. The college has added more shop time if students need it, so they can work in small groups.
"We've been very proactive with students if they feel like they are behind and haven't learned the skills in the course," Jenkins said. "We'll work with them to make sure they have that skill set. Having shop groups, we feel like students have gotten more one-on-one time with instructors.
"It's actually enhanced the learning," he said.
Construction forges on
Officials with two skilled-labor training programs operated by Indiana labor unions have found some positives, too, despite difficulties and temporary training adjustments.
International Brotherhood of Electrical Workers Local 481's apprenticeship training program had to delay some hands-on training for four months in early 2000 when it switched to classes on Zoom. But Jim Patterson, director of training, said apprentices were able to finish the classroom curriculum and attend regular meetings, and those who missed hands-on training caught up that fall.
Apprentices get instruction at the Indianapolis Electrical Joint Training Center off of West Minnesota Street, just east of Interstate 465, for 16 hours monthly for three years for telecommunications workers and five years for electricians. Instruction had to switch back to online in December 2020, but the center conducted regular classes throughout 2021 and so far this year.
In addition to instruction, apprentices spend about 90% of their time on job sites working for union contractors for on-the-job training. Patterson said the apprentices are considered "essential workers" by the federal government, so they continued working and drawing paychecks as they progressed toward becoming journeymen with Ivy Tech associate degrees.
But Patterson said the staff had to adapt to the technology and follow all the COVID protocols for keeping equipment and classes clean, and everyone followed mask and social distancing rules. He said the closures gave staff time to embrace the instructional technology and to learn to strictly follow protocols, such as wiping down everything between classes. Instructors added some 150 videos to the center's library that he said apprentices often use online while doing homework.
"We were able to up our game for all the apprentices who are here now and in the future," he said.
Apprentices in four-year union carpentry, millwright and floor-covering programs and their instructors also had to adjust to changes in class schedules and new ways to deliver or receive instruction.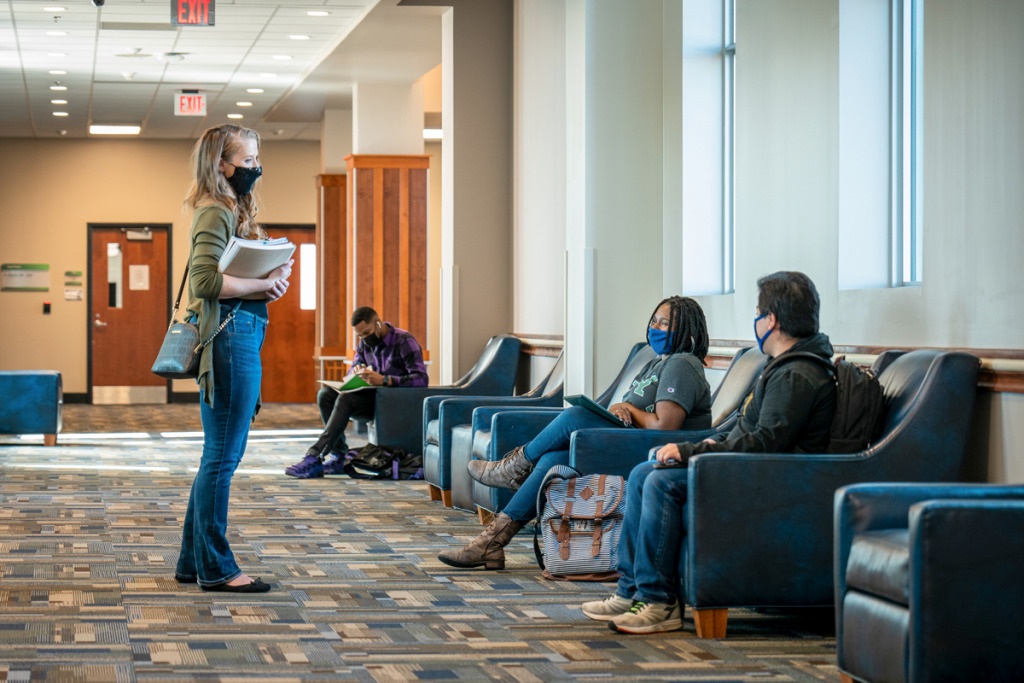 Enrollment strong
Students in the Joint Apprenticeship Training Program of the Indiana/Kentucky/Ohio Regional Council of Carpenters started online-training-only beginning in April 2020 and going into that summer at various training sites, said Hope Harp, outreach specialist who covers parts of Indiana and all of Kentucky.
That fall, in-person instruction had to shut down for two months because program officials didn't want students converging from different areas to one training site, Harp said. Then the program went back to combining in-person instruction and shop work throughout 2021 and so far this year.
"Our number one priority was to keep our apprentices and staff safe," she said. "Our instructors had to build online instruction from paper instruction."
Normally, students spend a certain number of hours in class and in the shop related to one subject each week. But the program switched to offering two classes online at one time and then students caught up on shop instruction hours in the summer, she said. Even now, Harp added, temperature checks are required every morning and after lunch for students and instructors at training sites, where strict policies are followed for documenting COVID exposure and sanitizing daily.
Thankfully, Harp said, enrollment in the apprenticeship training program, financially supported by union contractors, hasn't been hurt by the pandemic. She said more than 700 people from the three states typically graduate from the program each year.
One area that wasn't shut down, Harp said, was construction, as these trainees were considered essential workers. So, apprentices continued working for union contractors to complete their required 1,300 hours or more, annually, in addition to 160 hours of training, to become journeymen and receive Ivy Tech associate degrees.
"Across all of our trades, there was a huge amount of work," she said, noting that all the upcoming federally funded infrastructure work will continue to create jobs.•
Please enable JavaScript to view this content.