Phillip Terry, who led Monarch Beverage Co. for 30 years, is now lending his business expertise to University of Indianapolis students and alumni through the school's new Executive in Residence program. Terry, a member of the UIndy board, would like to see the program grow to a pool of executives who can offer advice to business aspirants.
What do you hope you will be able to offer to students and alumni that they can't get in the classroom?
I guess that it's life experience. … I mean life takes us in all different directions and I think sometimes we tend to make students think that they need to say, "What am I going to be when I grow up? What's the plan I've got to get there?" And then stick with that. But your life doesn't always play out that way. You start someplace, and you find maybe your interests are somewhere else. I don't know what you thought when you were in college, but I just didn't have an idea.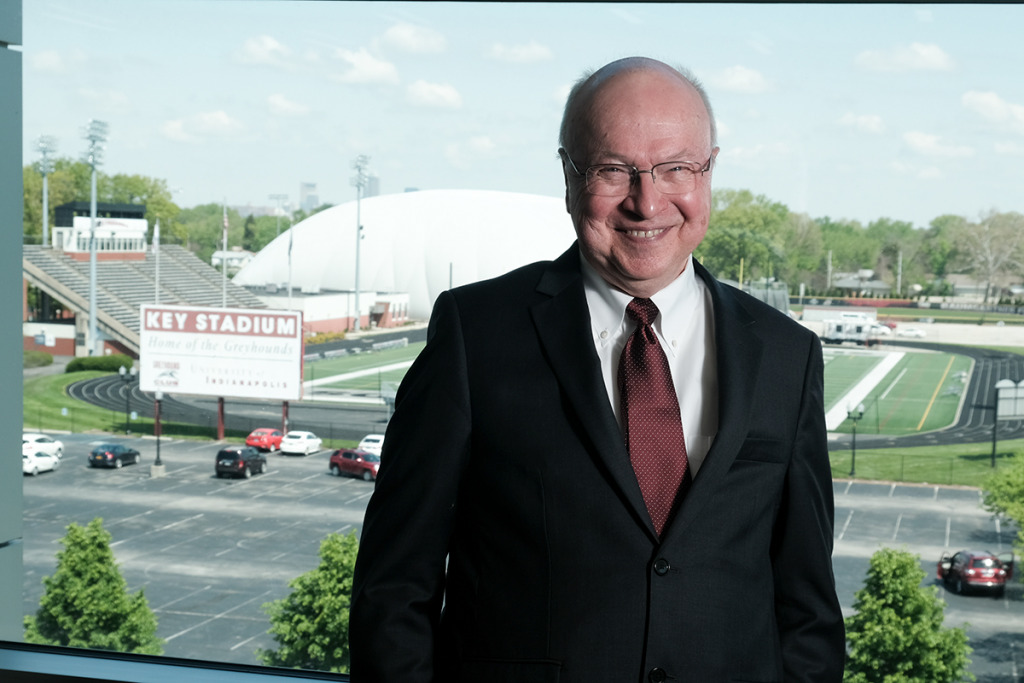 What's your advice for new graduates who want to go into business?
I don't know if it's the best advice—we'll see how it plays out—but my advice is to just get started. Get someplace you think you'll be doing something you have an interest in, and then let it play out. And that may seem a little cavalier, but that's kind of my Zen view of life. … Just do what you think is best at the time and take it from there.
What's the best approach for nailing that first job interview or landing that first job?
What I tell them is cast a wide net and take advantage of even your weak connections. … Maybe you're members of the same church or club. Take advantage of those. … Don't be embarrassed to ask for their help. Don't be bashful about it. Many people will take satisfaction out of being able to help somebody, even if they don't know you well.
What skills are needed in business today that you couldn't have anticipated when you first started?
My view going into business was all about managing the numbers and the bottom line and the balance sheet, income statement. And really at the end of the day, I don't think a good business person worries much about that, not that it isn't important. It's just that if you take care of the employees and the customers and the business … the bottom line, all that stuff will take care of itself.
At Monarch, you saw a lot of consolidation in the beer distribution business. What was a good way to deal with those changing tides?
We did a lot of consolidation over the 30 years I was there—70 to 75 different transactions. But then the last transaction I did was the sale of the business. It was pretty clear that long-term the industry was going to consolidate much, much more. So what I learned is to be objective about your business.
In that process, if you can see what's happening, try to be objective about whether you're a buyer or seller, and make sure you're timing it right, which is tough. We may have sold too soon. Who knows? Time will tell. … I think maybe where we were on that consolidation continuum could have changed. Maybe we could have been a survivor rather than a seller. But that's kind of the nature of being in a politically sensitive business. You take what the political gods give you.•
Please enable JavaScript to view this content.