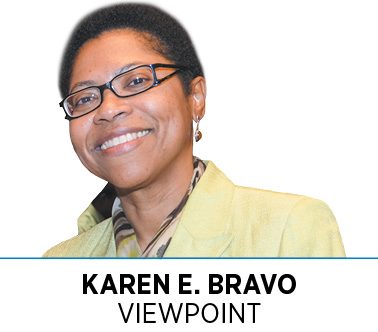 Since the killing of George Floyd, and as sustained protests have continued throughout the country and in our city, individuals and institutions have engaged in soul searching and have asked how they can help end the violence and discrimination against Black people that result from systemic racism. Reform of behaviors, systems, institutions and laws is difficult, but we can each play a role—individually and collectively.
As a lawyer and law professor, I believe I can contribute by using both my legal skills and my public role as incoming dean of the Indiana University Robert H. McKinney School of Law.
I have been given an opportunity to do so. This past week, the Greater Indianapolis Progress Committee announced the formation of the "Race and the Legal Process Working Group," which will lead important efforts to move the city and its residents toward justice and equality. I am chair of the group, which will act to address two needs: structural reform in policing, and the legal problems resulting from COVID-19-related economic hardship experienced by disadvantaged Black and other vulnerable residents of Indianapolis.
Our society and polity have long been confronted with, but tried to deny, the appalling truth about the treatment of the Black community and other minoritized groups by our criminal justice system. Due to the ubiquity of cell phones, incidents of police brutality and police killings of members of the Black community have earned a particularly high profile. There is no doubt that many police officers, chiefs and departments strive to defend and protect all persons in a fair and impartial system of justice while doing a difficult job. But the imperative for change is clear.
To address the call for reform in policing, a Structural Reform Team is being formed under the umbrella of the working group I chair. This team will be co-led by Cummins Inc. Assistant General Counsel John Gaidoo and Faegre Drinker Biddle & Reath attorney Joe Smith. Its goal is to study data-based research on best practices in policing, governance of police departments, proposed funding models, and the results from cities that have piloted new approaches, so we can recommend the best possible way to conduct policing in Indianapolis without discrimination and unnecessary force. We intend to complete this work before the end of the year.
The Race and the Legal Process Working Group will also address a second urgent need in Indianapolis. The pandemic has had a disproportionate impact on the Black community and other traditionally underrepresented groups. Of particular concern is the imminent end to a moratorium on evictions, which might result in large-scale housing evictions of Black and other vulnerable families, utilities shut-offs and resulting homelessness.
Former Indiana Supreme Court Justice Myra Selby will lead the Pro Bono Services team. Its charge is to identify focused legal needs of affected residents and to recruit volunteer lawyers to create surge capacity for existing pro bono legal services organizations.
We can all help in many ways, using our individual talents and skills to combat racial discrimination and systemic racism in Indianapolis. These are two of the many ways I plan to help. If you, too, are seeking ways to help, I urge you to join us.•
__________
Bravo is a vice dean and professor of law at the Indiana University Robert H. McKinney School of Law and incoming dean of the school.
Please enable JavaScript to view this content.