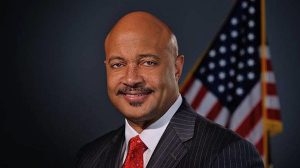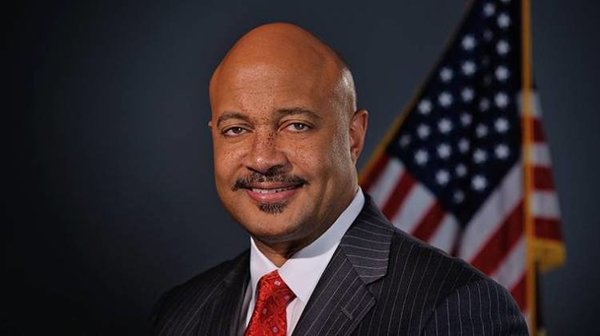 The evidentiary hearing in the disciplinary action against Indiana Attorney General Curtis Hill came to a close Thursday afternoon, with Hill taking the stand for a final time to continue defending himself and deny earlier allegations that he made crude sexual advances toward a former employee.
Early in the day, Hill testified that he did nothing wrong at a post-legislative session party where a state lawmaker and three legislative staffers say he drunkenly groped them, allegations that could threaten his law license and ability to remain in office.
Hill's testimony continued Thursday afternoon. The second part of his direct examination tackled Wednesday's testimony from Kathleen Bowers, a victim advocate in the Elkhart County Prosecutor's Office, where Hill was formerly the elected prosecutor.
Bowers testified that on the afternoon of Dec. 23, 2016, Hill came to her office and told her "we should f—, it would be hot." On the stand Thursday, Hill denied making that statement.
Both Bowers and Hill agreed the background to the alleged comment came from a 2015 charity event in Elkhart, where Bowers was a "professional" dancer and Hill was a "celebrity" dancer. Bowers testified that Hill repeatedly asked for free dance lessons, telling her their dance should be "hot."
Hill agreed that he asked for dance lessons, saying he and his wife wanted to go dancing together and with other couples. He also said he used the word "hot," but he meant it as "sizzling" or "exciting."
But the AG denied Bowers' claim that he discussed "dancing" as a metaphor for sex or an affair. And, he said, his actual statement was that the two of them should've been dance partners at the charity event because "we could've been f—ing hot."
Asked directly, Hill said he did not have sex or an affair with Bowers.
Hill's afternoon testimony also briefly returned to the March 2018 legislative wrapup party, where he was accused of groping and/or inappropriately touching Democratic State Rep. Mara Candelaria Reardon, legislative staffers Gabrielle McLemore Brock and Samantha Lozano, and former legislative aide Niki DaSilva.
Under direct examination, Hill said he did not recall the alleged conversation where Lozano said "it's really hot in here." Lozano has alleged that Hill responded with, "Yes, you're really hot."
If that conversation had occurred, Hill testified that his response would have been, "Yes, it's hot in here."
The Indiana Supreme Court Disciplinary Commission has alleged Hill committed battery against all four women and sexual battery against DaSilva. But on the stand, the AG said he did not come to the party as an "angry man," and he said he never touched anyone in a rude or insolent manner, addressing two of the statutory factors of battery.
As to the third factor, anger, Hill said he can't control what other people perceive. But, he said, he did not approach anyone that night with a temper.
On the sexual battery charge, Hill flatly said he neither touched nor controlled DaSilva in a manner intended to arouse or satisfy his or her sexual desires.
A special prosecutor declined last year to charge him with battery or sexual battery.
The final part of Hill's direct testimony focused on the apology he offered to the victims through House Speaker Brian Bosma. In his apology, Hill said that to the extent he offended anyone, he was sorry.
Asked why he qualified his apology, Hill said that at the time he spoke with Bosma, he didn't know the extent or context of the allegations, nor did he know who his accusers were. And asked why he didn't apologize directly, Hill said he did not know at that time who the accusers were, and he had been told by Bosma that any contact with the women would be considered retaliation.
At the conclusion of his direct testimony, Hill transitioned to an often tense cross-examination with commission attorney Seth Pruden.
Pruden began by pointing to Hill's earlier testimony that the accusers have filed a civil lawsuit against him in an effort to get money from him. Pruden compared that to the consumer division of the Office of the Attorney General, where the OAG files complaints for money damages on behalf of Hoosiers who have suffered a loss.
Pruden also seemed to try to undermine the validity of the videotaped statement Hill gave to special prosecutor Daniel Sigler, noting his defense attorney, Jim Voyles, asked the questions, while Hill was permitted to answer while not under oath.
Hill, however, said that even though he was not under oath, he told the truth.
The commission then took Hill back to his July 2, 2018, meeting with Indiana's four legislative leaders. During this meeting, Hill asked if the legislative investigation into the allegations had been referred to the Marion County Prosecutor's Office. According to Hill's testimony, the four leader—Bosma, then-Senate President Pro Tem David Long and minority leaders Rep. Terry Goodin and Sen. Tim Lanane—"emphatically" said the matter was not criminal.
Pruden got into the details of Hill's conversation with the leaders, asking him if he used the terms "rude," "insolent" or "angry" when discussing with the lawmakers the possibility that the accusations against him constituted battery. Hill's statements about that issue, according to Pruden's questioning, conflicted between his deposition and his direct testimony.
Building on that point, Pruden asked Hill if there were ever an instance when one person could touch another's buttocks without consent in a manner that is not "rude." The AG gave the example of a child disciplined for having an accident, to which Pruden said, "Are we talking about poopy diapers or women in a bar?"
Hill went on the defensive then, saying the application of the "rude," "insolent" or "angry" factors in individual instances is left to the trier of fact. Each situation must be reviewed in the proper context, he said.
Then, Pruden pointed to Brock's testimony when she said she left AJ's Lounge in tears because of what she called a "sexual" backrub from Hill. Though Hill repeatedly claimed he did not intentionally offend anyone that night, Pruden asked him how the recipient of a backrub could tell if it was meant sexually or as a friendly gesture. Hill said he did not know.
Questioning then shifted to several emails that contained drafts of public statements and letters to the editor, as well as donor communications for the Republican Attorneys General Association. Several of those emails were sent to OAG employees, particularly chief deputy Aaron Negangard.
Hill hedged when asked if he had used his employees to help him draft public responses to the allegations, claiming if any employees did assist his efforts, they did so using their own resources on their own time. Pruden, however, noted that Hill's legal team has tried to withhold communications involving Negangard under attorney-client privilege, implying that Hill could not have it both ways—that is, Negangard could not be assisting him personally and in his capacity as an OAG attorney.
Among the communications Pruden asked Hill about was one email entitled "Background on disciplinary committee members." Hill said that chain, which he was part of, provided information about members of the disciplinary commission and their "way of thinking."
Also discussed was an email about pitching a story to "conservative media" showing that "Holcomb cronies" and "liberals" were "driving this," referring to Republican Gov. Eric Holcomb, who has publicly called for Hill's resignation. Hill said that email was not from him.
Finally, Pruden touched on Hill's direct testimony that the memorandum about the legislative investigation that was prepared by Taft Stettinius & Hollister—and later released to the media—was inaccurate. Reardon testified that there were inaccuracies related to her account of the party in the memo, and Hill pointed to those inaccuracies to bolster his claim.
But when Pruden asked how the testimony of the other three women were inaccurately reflected in the memo, Hill said he could not remember specific portions of what they said on the stand.
In closing, Pruden asked Hill if he still believed the allegations against him were "vicious," as he first said in July 2018. In response, Hill said he believes the investigatory process was a "vicious" political attack, so he stood by that statement.
The defense team did not conduct a redirect examination, but instead rested around 3 p.m. Thursday afternoon. Hill's team had previously called other defense witnesses during intermittent prosecution recesses.
Please enable JavaScript to view this content.