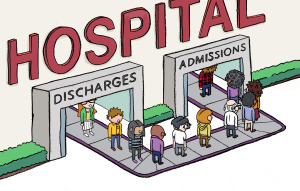 Every fall, like clockwork, the list comes out, prompting heartburn in some hospital administrative suites and small cheers in others.
It's the annual report card of how each hospital is doing in keeping patients from being readmitted within a month of discharge.
For the 10th straight year, the Centers for Medicare & Medicaid Services is using the pressure of lower reimbursements to get hospitals to improve their numbers and cut down on the revolving door of readmissions.
The federal government says readmissions are often unnecessary and cost taxpayers tens of millions of dollars a year. The agency says the problems should have been caught and corrected during the patients' initial stays in the hospitals, or that hospitals should have followed up more carefully with discharged patients to make sure they were properly taking their medications and visiting their doctors.
Last month, the agency published its latest list of hospitals that it said had too many readmissions, along with the penalties each hospital will face.
Nearly half the nation's hospitals, including 62 in Indiana, are getting docked. The average penalty is a 0.64% reduction in payment for each Medicare patient stay from Oct. 1, 2021, through Sept. 30, 2022.
The fines averaged $217,000 for a hospital in 2018, but can reach into the millions of dollars for hospitals with the highest readmissions rates and a large Medicare patient base. Medicare payments often account for more than one-third of a hospital's revenue.
The agency estimates the penalties over the next fiscal year will save the government $521 million, according to Kaiser Health News.
The hit to Indiana hospitals last year was $10.6 million, according to the Indiana Hospital Association. It did not have a projection for total penalties for 2022.
The latest round of penalties comes in the midst of a pandemic that has overwhelmed many hospitals and strained them financially.
"Penalties are especially difficult for hospitals to absorb due to the financial strain of COVID-19," said Brian Tabor, the hospital association's president.
The maximum penalty—a 3% reduction in Medicare payments—was assessed against 39 hospitals across the nation. No hospitals in Indiana got the full penalty.
The highest penalties in Indiana were 2.71% for St. Mary Medical Center in Hobart and 2.2% for Community Hospital in Munster. Both are owned by Community Healthcare System, based in Munster.
In a statement, Community Healthcare said it has taken several steps in recent years to reduce readmissions, including a program that ensures that patients' prescribed medications are filled and delivered prior to leaving the hospital. It also offers helps with making follow-up appointments with physicians, and conducts post-discharge calls within two days to see if patients need any additional resources.
"These and many other efforts are showing a positive impact as our readmission rates declined for 2020 and thus far for 2021 as compared to 2017-2019," the statement said.  "We are confident that our success in these efforts will continue to be reflected in future CMS reporting and, most importantly, in quality care outcomes for our patients."
Fifteen hospitals in Indiana received no penalty, including Eskenazi Health in Indianapolis, Johnson Memorial Hospital in Franklin and Ascension St. Vincent in Anderson.
In the Indianapolis area, the highest penalties were assessed against Community Hospital of Anderson (1%) and Community Hospital East (0.96%), both owned by Indianapolis-based Community Health Network.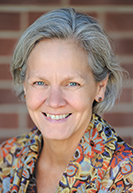 Community Health officials said their readmission rates have improved, and penalties have fallen in recent years at several of their hospitals. At Community Health South, for example, the penalty fell from a high of 1.15% in 2016 to 0.05% in the latest round.
"We believe patientsbshould have the safest care possible during their hospital stay, and that care should continue after they return home and are on the road to recovery," Dr. Robin Ledyard, Community Health's chief medical officer, said in a written statement.
Exceptions, comparisons
Some health policy experts say the whole system of analyzing readmissions and assessing penalties is complex and even mystifying.
For one, many hospitals are exempt from the program because they specialize in children, psychiatric patients or veterans. Rehabilitation and long-term-care hospitals are also excluded from the program, as are critical-access hospitals, which are treated differently because they are the only inpatient facility in an area, according to Kaiser Health News.
That means 64 hospitals in Indiana—including the Neuro Diagnostic Institute in Indianapolis and Valle Vista Health System in Greenwood—were exempt.
Also, hospitals are graded on a curve, and even some that improve their readmissions rates could see penalties climb.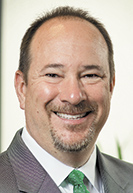 "It isn't measuring whether a facility has too many readmissions," said David Blish, director of health care consulting at Katz Sapper & Miller, an Indianapolis-based accounting and consulting firm. "It measures whether it has too many readmissions relative to other hospitals of a similar size."
That means that, if a hospital doesn't keep up with its peer group, its penalty could go up even if the number of readmissions went down, he said.
In addition, the system does not take into account why patients are readmitted. A person admitted to a hospital with chest pains and treated for heart failure could go home and fall off a ladder three weeks later, and return to the same hospital for treatment. That would count as a readmission.
'A puzzle'
And of course, for all its successes, medical care is not a perfect science. Patients with complex or numerous illnesses can boomerang to the hospital with new, mysterious complaints, and the hospital is obligated to treat them.
"Readmissions are a puzzle—both as to identifying causes and fixing the problem," said Nicholas Terry, executive director of the Hall Center for Law and Health at Indiana University's McKinney School of Law.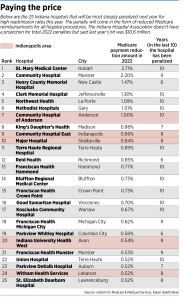 He said research over the years has cast doubt on the effectiveness of the program, known as the Hospital Readmissions Reduction Program, which was created by the Affordable Care Act and begun in October 2012.
A study by the Medicare Payment Advisory Commission, created by Congress, found it difficult if not impossible to determine the magnitude of the readmissions rate drop to the penalty program.
One reason: The federal government does not study all procedures and readmissions. It tracks only certain diseases, including acute heart attacks, chronic obstructive pulmonary disease, pneumonia, coronary artery bypass graft surgery and elective primary total hip arthroplasty.
The Medicare commission concluded that it was difficult to track some readmission rates, as hospitals began to treat less complex cases in outpatient clinics. That meant sicker patients were treated as inpatients, increasing the probability they would run into complications that might require a readmission.
"As less complex cases tend to be treated on an outpatient basis, the average severity of illness of those who were admitted may have increased," the commission wrote in its latest study in 2019.
Heart failure admissions per capita fell 9.1% and pneumonia admissions fell 21.9% from 2010 to 2017, the report said.
In about the same time frame, readmissions fell also. From 2008 to 2016, heart failure readmission rates dropped from about 25% to 20% and pneumonia readmissions fell from 20% to about 16%.
What moves the needle?
Some experts who have studied the numbers say it is still unclear why and how the readmissions figures have changed over the past decade.
"It is not entirely clear that any improvements in readmissions numbers have been caused by the program," Terry said. "Second, and perhaps more seriously, it is not entirely clear that the ameliorative steps put in place by hospitals … have moved the needle as to readmissions  numbers."
The program was designed to nudge hospitals to do everything possible to avoid patients showing back up in their lobbies just weeks after being discharged.
So, hospitals found it in their interest to take extra steps to keep patients on the mend. Many provided free medications to patients for weeks, vouchers for free transportation to therapists and pharmacies, and detailed instructions for home health care, including photographs of medical products to minimize the risk of confusion.
Some hospitals also provided free nursing visits to patients recovering from major surgery, or regular follow-up calls and video visits from doctors and nurses.
In the past, hospitals might have been concerned about a patient's relapse, but they got paid for the extra service. But after the penalties kicked in, the hospitals had to rethink their entire patient-discharge program.
"In general, I think the program does some good, in that it promotes quality of care," Blish said. "It was one of the first efforts by CMS to introduce value as part of the reimbursement scheme. Rather than just pay every bill they get, Medicare tries to ensure enrollees receive good care."
But measuring good care can get complicated, he said.
An analysis by Harvard Medical School researchers found a misclassification of penalty status for up to 31% of hospitals, which inappropriately penalized some and not others, according to the study, which was published in the October 2020 edition of JAMA Cardiology.
Local efforts
Some local hospitals say they have taken major steps to decrease readmissions.
Indiana University Health, the largest hospital system in the state, said it has implemented more "wraparound" services on discharge, to include expansion of home health services, home monitoring, post-discharge phone calls, and follow-up physician appointments arranged at discharge, among other things.
It said it also has added a congestive heart failure remote home monitoring program and Twistle, a platform used to reach out to patients via text messages.
IU Health's hospitals in Indianapolis (Methodist, University, Riley and Saxony, which are graded as a group) were penalized 0.3% in the latest round, a fairly small number, but the highest in five years.
The hospital system pointed out the CMS measure does not adjust sufficiently for social determinants of health, such as a patient's economic stability and neighborhood environment for healthy foods, and access to pharmacies and recreation.
"Individuals with less social support and resources readmit more, so safety net hospitals such as the IU Health Academic Health Center can be disproportionately penalized by the program," the system said in a written statement.
Even smaller hospitals are getting  socked.
Riverview Health, a 174-bed hospital in Noblesville, saw its penalties climb from 0.02% in 2020 to 0.14% in 2022. The hospital blamed COVID-19 as part of the reason for the increase.
"Although COVID-19 numbers continue to drop, Riverview Health has been and remains focused on inpatient-to-outpatient care coordination as it's important for patient satisfaction, patient safety and good stewardship," hospital officials said in a written statement.
But it remains unclear how big a role the pandemic played in measuring readmissions. The current penalties were calculated by tracking Medicare patients who were discharged between July 1, 2017 and Dec. 31, 2019.
The Indiana Hospital Association, which represents about 170 hospitals across the state, said its members worked diligently to improve the discharge planning process, care coordination and patient education.
It pointed out that Indiana ranks 23rd among all states for lowest readmissions penalties, and that 63% of Indiana hospitals remained the same or improved over the past year.
State Rep. Ed Clere, a Republican from New Albany who is former chair of the House Public Health Committee, said that because of the lag in data, it now takes up to three years to recognize improvements.
"Accountability is good for everyone, and Indiana hospitals are rising to the challenge," he said. "That having been said, there is need for better methodology so that hospital improvements can be acknowledged sooner."•
Please enable JavaScript to view this content.