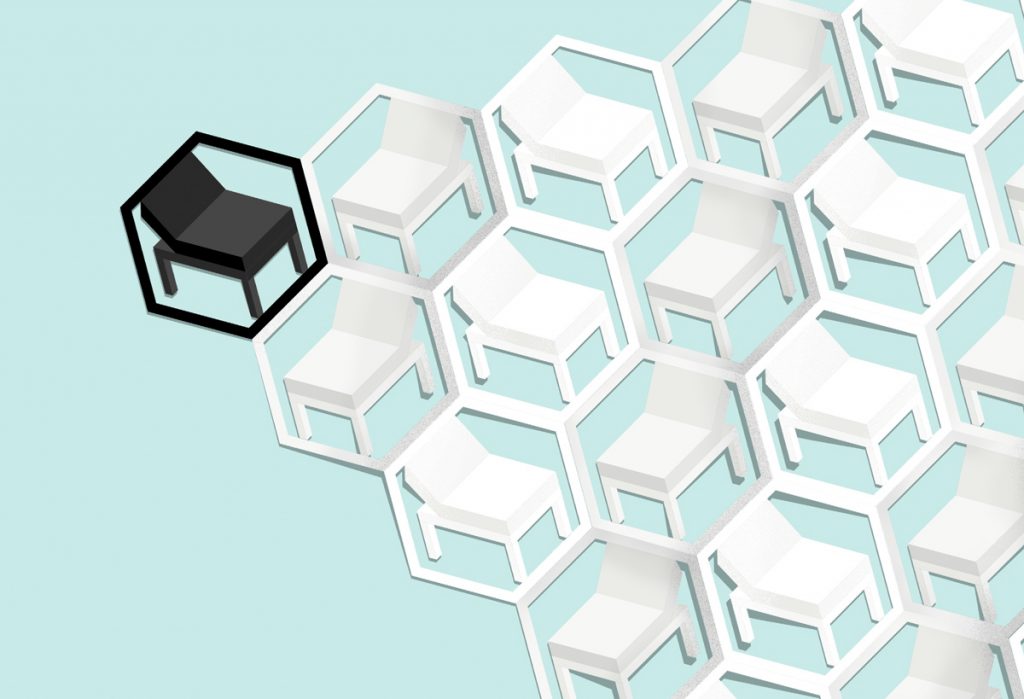 Ask Indianapolis-area architects how the COVID-19 pandemic will alter commercial and residential building design, and you get two answers. The first is that the changes will probably be dramatic.
The second is that it's far, far too early to know what those changes might be.
"The environment we're experiencing right now is raising more questions than answers," said Jenelle Smagala, president of Indianapolis-based Synthesis Inc., whose projects include the Eskenazi Occupational Care Center and the Purdue University Pharmacy Laboratory. "As with 9/11, it's going to promote an entirely different dialogue for those of us who help create the built environment."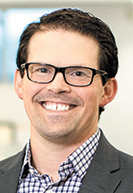 "It's too early to truly understand what the lessons will be," agreed Daniel Overbey, assistant professor at Ball State University and architect at Indianapolis-based Browning Day Mullins Dierdorf. "The possibility of a global pandemic wasn't a part of conversations with clients before this. Now that we know this can happen, it will be."
Still, some overarching themes are already apparent. For instance, a crying need for robust logistical and physical infrastructures that don't crumble under stress.
The problem is that our current systems—the ones that do everything from keeping grocery stores stocked to hospitals functioning—are optimized to work very, very efficiently under normal conditions. But not necessarily when things go sideways.
For instance, manufacturers, retailers and even hospitals don't want a lot of excess inventory sitting around, so they use just-in-time delivery systems. Ideally, a grocery store wants only as many avocados on hand as it can sell in a day or two; a factory wants its rolls of quarter-inch stainless steel to arrive just as the last batch runs out; and hospitals typically want only as many masks and respirators on hand as are needed for regular operations.
This saves a lot of money when things are normal. But as the coronavirus has amply demonstrated, the strategy can fail catastrophically when they aren't.
The problems of operating without any margin are, in retrospect, obvious. If, say, a health care system faces a surge of infectious hospital patients with compromised breathing, there's no reserve of masks and respirators to meet that need. And there certainly are no spare intensive care unit beds. Those are expensive to build and maintain, and health care providers go to great lengths to optimize the number of spaces they'll normally need.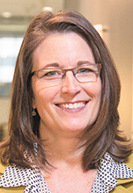 "The shortages we're seeing now are because of these just-in-time programs, which until now have been working just fine," Smagala said. "They're efficient and they work, but when you get an influx of sick patients like now, it disrupts the balance of the system."
"Hospitals can't afford to have endless amounts of space with beds and rooms, waiting for the next pandemic to arrive," Overbey added.
Flex space
While having enough supplies on hand to meet a pandemic reaches beyond the purview of architecture, where to put a flood of patients certainly doesn't.
Architects believe that those planning buildings in the future will put more thought into making places such as sports stadiums, hotels and convention centers capable of serving as auxiliary health care centers.
"Football stadiums and convention centers and basketball arenas do have the potential to act as field hospitals," Overbey said.
"It's going to be very difficult for us, as a profession, to think big about this," said Drew White, founding partner of Axis Architecture + Interiors. "How does a stadium become a hospital?"
While tackling such macro design challenges, architects will need to consider the inner workings of buildings, including upgrading HVAC systems to strain out viral microbial invaders.
Overbey ran numbers recently to determine what filtration was needed to stop something like a coronavirus, a single bit of which is only 0.13 micrometer wide. To put that in perspective, that's roughly a 10th of the size of a bacterium, which itself is approximately a 10th of the size of a mote of dust.
Many current filtration systems simply can't capture something that small.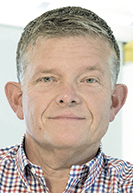 "Our building filters aren't going to catch it," Overbey said. "That's a huge challenge for us."
Another huge problem, White added, is that Indiana's building codes don't require anything approaching such a comprehensive system.
"Our own state has outdated energy code requirements," he said. "Seriously outdated."
"If you do something to code, it means it's just barely legal as far as standards and regulations," he added. "We can talk about aspirational goals we can implement for projects that can afford it, but we need to open up a conversation about raising the floor—increasing the minimum standards for our entire built environment."
'A whole list of little things'
Also in the offing is more widespread adoption of design elements that can hinder the spread of germs.
Those include installing automatic doors to minimize the number of germ-laden doorknobs. Or perhaps making doorknobs out of copper, which has antiviral properties.
Already showing up at some businesses are sneeze-guard systems, along with touch-free sinks, toilets and water fountains.
"You're going to start to see a whole list of little things that we'll start to do," Overbey said. "And I think that list will become much longer in the next three or four months."
Smagala, whose firm has many health care clients, said she believes germ-mitigating techniques and materials used by hospitals will migrate into places such as churches, sports venues, shopping centers and pretty much anyplace else where lots of people come and go.
"There are fabrics that designers and manufacturers have used for years in health care environments, which have antimicrobial agents built into them," she said. "There are also studies being done for similar additives for paint and wall coverings."
The problem, of course, is that these items often cost more than conventional products, which in the past meant clients didn't want to pay for them. However, recent developments are "definitely going to change that conversation," Smagala said.
Other medical protocols that might see wider use include wall coverings, floors and furnishings that workers can easily and efficiently wipe down. One of the early adopters might be restaurants.
"I think that could be a selling point to some of their customers," Smagala said.
Rethinking the home
Architects said many of the changes coming to commercial buildings also will be incorporated into houses.
"It's definitely going to change the notion of a mud room," White said. "It makes me think of fire stations, where they have hazmat areas where a firefighter who's exposed to something while on a run can shower and change clothes. I hope our houses don't become like that, but you never know."
Smagala predicted that, after working from their residence during the coronavirus crisis, many homeowners will take the idea of a home office more seriously. Instead of carving one out of an unused fourth bedroom, the space might actually be designed for that purpose from the start, and appropriately furnished.
"I think people are learning right now that cheap office furniture just isn't working out," White said. "You might want to look at commercial furnishings that are well-made and ergonomic."
While you're at it, you might make sure you have a high-quality home internet connection. Undependable service is a huge problem for newly minted  teleworkers.
"It's remarkable in our own meetings to see the different levels of connectivity quality that people have available to them," Smagala said. "It does have an effect on their ability to interact in a videoconference or display information."
And it wouldn't hurt if houses had at least a bit of solar power, so they can go off the grid in the case of a catastrophe.
"The home sector would seem to be best served with new strategies for food storage and offline energy conversion," said Robert J. Koester, professor of architecture at Ball State University. "Some solar electric facilities in Puerto Rico became home bases for the recharging of cell phones and other electronics."
Back to the watercooler?
The true wild card is what will happen when the pandemic abates and millions of workers who've spent weeks or months working from home can suddenly return to the office.
Will there be a rush to get back to the watercooler, or will millions see telecommuting as the new normal?
Experts say perhaps we'll see a combination of both.
On the one hand, employers that have grown accustomed to teleconferencing might be reticent to send employees on cross-country flights for face-to-face meetings.
Further, fear of infection could put a dent in convention traffic. And the heavy use of grocery pickup and delivery, online purchasing, and curbside meal carryout could linger long after the crisis fades.
If so, the results could range from redesigned restaurants to smaller convention centers.
Smagala said one of her clients that is building a project near Indianapolis International Airport is grappling with such questions.
"I just had a meeting this afternoon with a client who is already talking about rethinking the amount of travel they do for meetings, considering how effectively they've carried on without it," she said.
"I think there's going to be a tremendous impact on the airline industry because of the remote-working capabilities that people are becoming familiar with.
"It's going to be a big shift."
But perhaps not as big a shift as some think. White and Smagala both have a handful of colleagues who, in spite of pretty much everyone else working at home, still insist on going to their now-deserted offices.
Considering the chances of catching the coronavirus, it's a telling example of just how compelling a physical gathering place can be.
"From a productivity standpoint, in terms of sending files and communicating, we don't need personal contact in order to just do our jobs," Overbey said. "But we're going to find out just how much we desperately long for it. We are realizing in this moment that we value it much more than perhaps we realized."•
Please enable JavaScript to view this content.