Azzip Pizza slows growth,  but co-CEOs stay upbeat
Indianapolis was going to be the next big growth market for Evansville-based Azzip Pizza, which opened its first store here in June on Stop 11 Road.
The south-side site is the 10th location for the fast-casual chain, which opened its first store in 2014 and had been expanding at a pace of two to three locations per year before the pandemic hit.
Now, its expansion plans—including an Avon location that would have been its second in the market—are on hold until the pandemic is over.
"I would be surprised if we opened one in 2021," said Azzip's co-CEO, Andy Niemeier. "It's just not worth the risk for us to even attempt that."
IBJ.COM EXTRA
Learn about
the possible restrictions restaurants fear.
Andy Niemeier shares the CEO role with his brother, Brad Niemeier, who came up with the business plan while a student at Purdue University.
Azzip is built around the fast-fire pizza concept, where customers stand in line to order, then wait at the counter for their pizzas to cook inside a conveyor-belt oven. The restaurant does not offer delivery; before the pandemic, carryout accounted for only about a quarter of orders. The remaining 75% of customers ate at the restaurant.
The pandemic forced the company to make changes to this model, Andy Niemeier said. "We were going to have to try to attract customers in a very different way."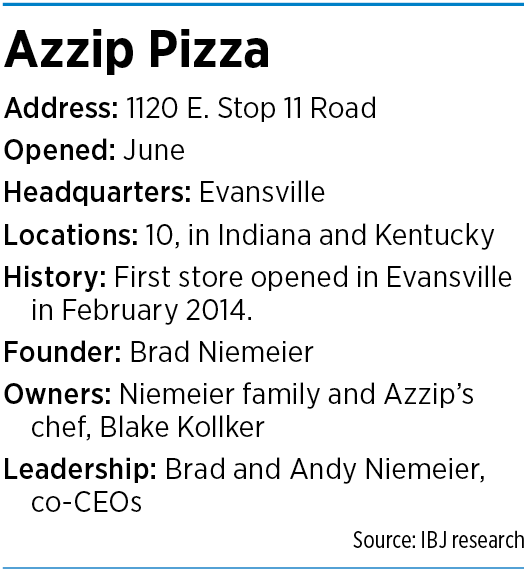 So, the chain launched online ordering for all locations, promoted a curbside pickup service and beefed up digital marketing.
Now, 30% of orders originate online, and about two-thirds of sales are carryout.
Though the brothers say they're happy with the amount of foot traffic at the Indianapolis store, sales are down about 15% from pre-pandemic projections. The location is not yet operating profitably, for various reasons, Brad Niemeier said: Food costs are up, the company is spending more on carryout boxes than it typically would, and the location is so new that it isn't yet operating at peak efficiency.
The restaurant also had to pause its signature fundraising vehicle, in which stores donate a portion of sales to a selected local not-for-profit on certain days.
"That was all about driving a lot of people into the store at one time," Brad Niemeier said. "When we had to shut that down, we didn't feel like we were being ourselves."
Azzip relaunched the fundraiser, using a fundraising period that stretched over three months and gave the charities a chance to win additional prize money.
Overall, the brothers say they're optimistic.
"We still have a very positive outlook on our business model, and on the restaurant industry as a whole," Brad Niemeier said.
---
Beholder trying everything to keep customers coming, doors open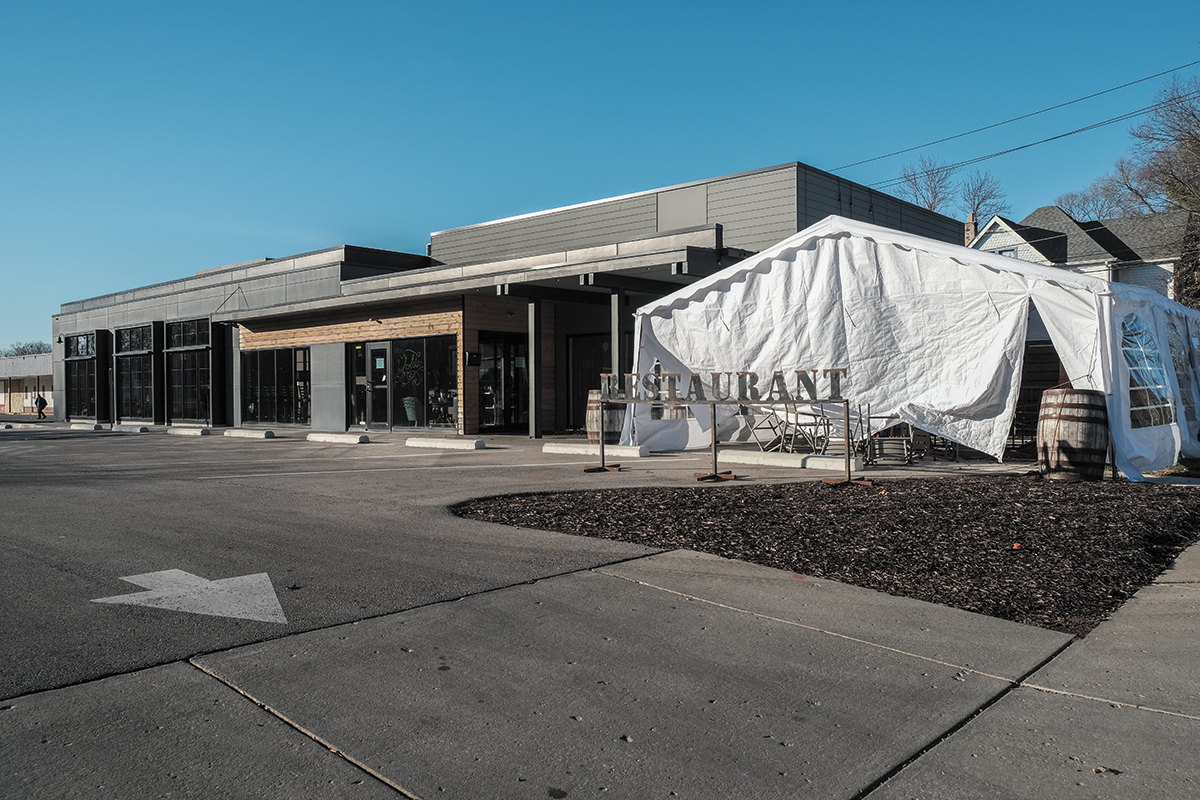 Things were finally starting to look up at Beholder, the fine-dining restaurant that chef Jonathan Brooks of Milktooth fame and his business partner, Josh Mazanowski, opened in mid-2018.
The restaurant, which is built around fine cuisine, an extensive wine list and a frequently changing, adventurous menu, had found its groove after struggling more than a year. "I thought we were going in the right direction. It felt good," Mazanowski said.
But after a too-close-for-comfort brush with COVID-19, the restaurant finds itself fighting for its life.
Beholder is closed this week because two of its nine employees have had indirect exposure to COVID-19—significant others who work with someone who tested positive. No one at Beholder has gotten sick, Mazanowski said, but as a precaution, all employees are getting COVID-19 tests. Results could take up to six days.
Though no regulations would have prevented the restaurant from staying open this week, Mazanowski said, "it doesn't feel like the right thing to do for us."
As is the case at many restaurants, the business operates on such tight margins that even a short closure can cut deeply.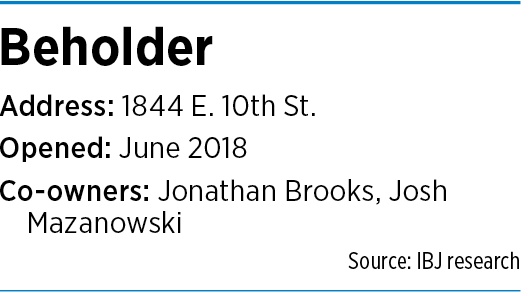 "Just being closed for one week is fairly huge for us," Mazanowski said.
On Wednesday, Beholder launched a fundraiser through GoFundMe to raise money to pay its employees and cover some business expenses. The fundraising goal is $20,000.
"I don't know whether it will work or not, but we tried it, anyway," Mazanowski said.
The disruption threatens to undo all the work Beholder did over the spring and summer to keep things going.
When the lockdown forced it to shift to carryout-only for several months, the restaurant revamped its menu to focus on things like burgers, wings, soups and pastas—sturdy comfort foods that could hold up well for carryout.
It didn't drop fine dining entirely—on special occasions like Easter, Mother's Day and Father's Day, Beholder offered fancy takeout dinners. It also sold bottles of wine at half price.
"We had a strategy. It worked for us," Mazanowski said.
When the lockdown ended, the restaurant went back to a fine-dining menu. It started hosting occasional paella parties on its patio. It recently added a tent to the patio, so it can continue to seat patrons outdoors as the weather cools.
Now, Mazanowski is just hoping to keep the dream alive until the pandemic passes.
"We do not want to close. I would be so heartbroken as an owner; I know Jonathan Brooks would be heartbroken the same, if we went out like this."
---
Gomez BBQ's owner: 'Eventually, things are going to get better'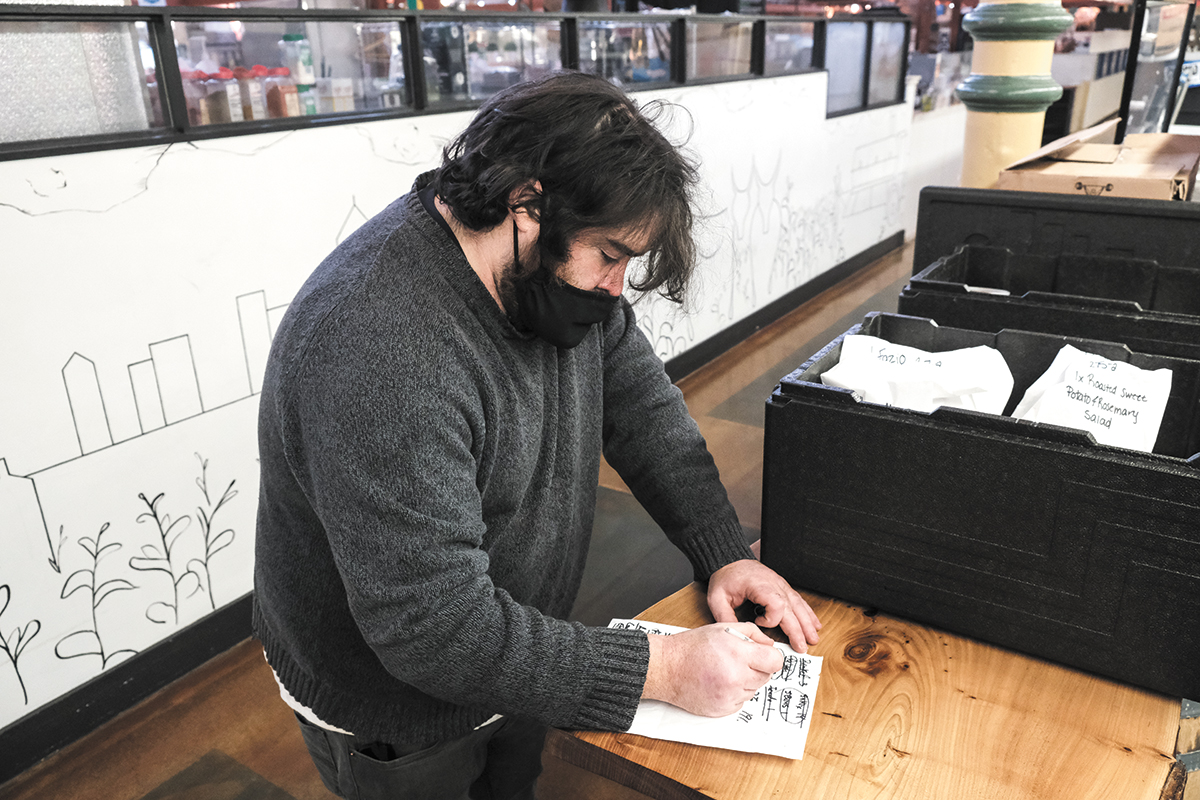 Barbecue restaurants don't typically cater to vegetarians—but the pandemic has forced Gomez BBQ to broaden its approach.
"I'm smoking tofu now, which I did not think I would ever say," said owner Mike Gomez, who opened his restaurant and catering business at downtown's City Market in 2017.
Gomez BBQ saw sales plummet 80% when the lockdown emptied downtown this spring.
Early on, "there was a few days every week when I didn't make any sales. There was zero sales," Gomez said. "It was a culture shock, almost."
He had to lay off his entire staff. A Paycheck Protection Program loan enabled him to rehire them, but under the condition that they had to help him think creatively about how to make money.
One of those ways has been adding menu items: microwaveable barbecue bowls, frozen items, smoked tofu and side items like cranberry relish and fruit-infused liquors.
"We're trying to do weird stuff that's fun so we don't go crazy," Gomez said with a laugh. "We've got to keep it fun—because [2020 has] been a drag."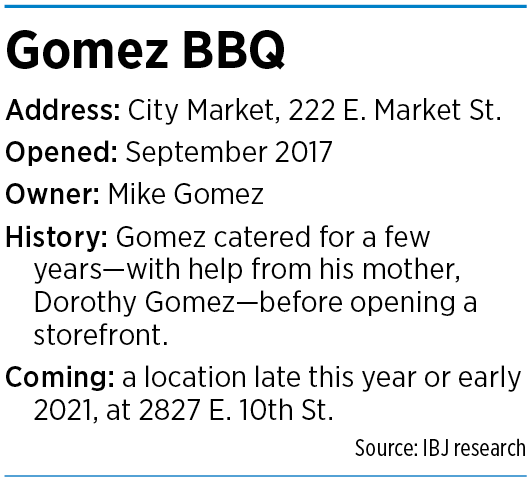 Early in the pandemic, Gomez built an online delivery platform where his business and other City Market vendors could connect with customers. Sales on the platform dwindled once lockdown restrictions ended, but Gomez said he's had success using some third-party platforms like Carmel-based Market Wagon, which connects customers with locally produced foods.
Gomez also has begun selling products at the weekly farmer's market in Carmel. "That's been a really great market for us."
All this diversification is a lot more work. Gomez said sales are still down overall about 50%, though they vary widely week to week.
But he's proceeding with plans for a second location, at 2827 E. 10th St., which should be ready to open next month or early in 2021.
And he's hopeful that he, and other restaurant owners, will make it through these difficult times.
"I think we'll make it. It's just not going to be easy," Gomez said. "Eventually, things are going to get better and eventually we're going to have a new normal."
---
Shapiro's fears lean times will last
Yes, Shapiro's Delicatessen still offers everything from pastrami sandwiches to chicken dinners, salad plates and dozens of desserts—but the menu isn't quite as overstuffed as it once was.
"We have eliminated about 20% of our offerings, some by our choice and some by vendors who no longer produce the product that we would sell," said the deli's fourth-generation owner, Brian Shapiro.
The pandemic also has led Shapiro's to eliminate breakfast and cut back its hours. It's now open from 10 a.m. to 7:30 p.m.; previous hours were 6:30 a.m. to 8 p.m.
Shapiro's did some carryout business before the pandemic, Shapiro said, which has been helpful as dine-in business has declined. But business overall is down 20% to 25%, he said, which means the business isn't breaking even right now.
"You don't make any money until you sell the last slice of pie," Shapiro said by way of analogy.
The downtown deli is on South Meridian Street, just southeast of Lucas Oil Stadium and the Indiana Convention Center.
Shapiro said he'd give Downtown Indy Inc. a "gold star" for its efforts to help downtown recover from emptied-out offices and a mere trickle of sporting-event and convention traffic, but he's frustrated at what he sees as a lack of government leadership regarding the pandemic.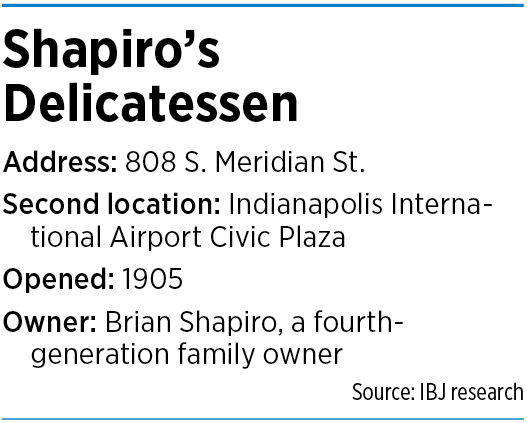 "The restaurant industry is suffering because, number one, people don't know what to do. There's a lot of confusing information from the federal government, state and local government. Locking people up in their houses doesn't necessarily help things, because it increases sexual abuse, mental abuse and child abuse," Shapiro said.
He wishes leaders had been more proactive at organizing public-health outreach: things like delivering face masks and cleaning supplies to high-risk neighborhoods, deploying mobile coronavirus testing units, and sending inspectors to businesses and public gatherings to monitor COVID-19 safety compliance.
Shapiro said he and his wife both tested positive for COVID-19 a few weeks ago and had mild cases of the illness—they believe she caught the virus at a gas station and passed the disease to him.
He predicted it will be about 16 months before his business, and the hospitality industry in general, gets back to 90% of the business it was seeing pre-pandemic.•
Please enable JavaScript to view this content.