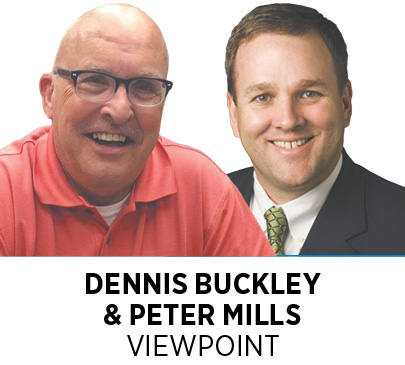 The buzz around infrastructure is high, with the pent-up need for infrastructure investment meeting a Congress and new administration eager to complete an infrastructure bill to help strengthen the country's economic recovery from the ongoing pandemic.
Further, Indiana's own Pete Buttigieg was confirmed as President Biden's choice to be transportation secretary, which makes him one of the higher-profile transportation secretaries in recent memory.
As Sen. Todd Young said when introducing former-Mayor Buttigieg at his confirmation hearing in early February, infrastructure investment will be critically important to the Hoosier state's maintaining its status as the "Crossroads of America." This is more than a slogan, of course—our crossroads status is key to our economic advantage.
Each year, an integrated intermodal network of ships, planes, trucks and trains moves an average of 57 tons of goods for each American. And here in Indiana, we have strong connections to each of those modes—with major air freight hubs, connections to both the Ohio River and Lake Michigan, and many of the nation's largest interstate highways traversing our state.
We also have 43 freight railroads operating over 4,000 miles of track, including Indianapolis-based Indiana Rail Road, whose 250 miles of track move everything from electricity-producing coal to coiled steel used in automobiles and allow Indiana customers to connect to each of North America's six largest railroads and to Chicago, the nation's largest inland freight port.
On the passenger front, Indiana has 10 Amtrak stations and regular service to Chicago and New York. Beech Grove is home to Amtrak's largest maintenance yard, which supports over 500 local jobs.
Indiana freight railroads moved 341 million tons of freight in 2019, taking 19 million equivalent truck trips off the roads. This not only eases congestion, but also reduces the taxpayer burden to maintain roads.
To make up for the pandemic-inspired backlog at coastal ports and to help power our economy to a stronger recovery, each mode needs to be at its peak. And we support efforts at the state and federal level to bolster U.S. infrastructure.
Fortunately, freight railroads are already pulling their weight, as the safest, most efficient, most environmentally responsible way to move freight over land. Freight railroads invest more private capital into technology, equipment, maintenance and expansion efforts each year than most highway departments invest in roads and bridges—six times the annual investment of the average manufacturer.
Consequently, rail rates (adjusted for inflation) are roughly half what they were in 1980, meaning shippers can move twice as much for about the same rate as they did 40 years ago. Technological advances and equipment investments have made recent years among the safest in history. Meanwhile, fuel efficiency has doubled since 1980, and moving freight by rail is four times as fuel-efficient as moving freight on the highway, which means it emits 75% fewer greenhouse gases, as well. In fact, the average train can move one ton of freight almost 500 miles on a single gallon of diesel.
In short, railroads of all sizes play a huge role in our economy and will continue to be essential to a robust recovery. Because railroads do not rely on the same government funding as other modes, the best thing lawmakers in Indianapolis and Washington, D.C., can do to ensure railroads are poised to lead an economic recovery is to "do no harm."
We hope members of both parties can unite to simply let railroads be.•
__________
Buckley is mayor of Beech Grove. Mills is president and CEO of The Indiana Rail Road.
Please enable JavaScript to view this content.