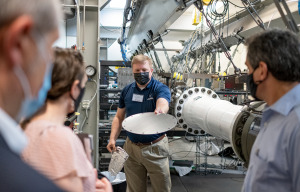 For years, Purdue University has been a research leader in the somewhat obscure field of hypersonics—controlled atmospheric flight at speeds ranging from Mach 5 (five times the speed of sound, or just over a mile a second) and Mach 10 (10 times the speed of sound, or just over two miles a second).
Recently, however, developing this technology has become a national priority. Over the last few years, both the Russians and the Chinese have boasted of fielding their own battle-ready hypersonic missiles—weapons that travel so fast they could cover hundreds of miles in minutes, leaving virtually no time to either intercept them or take cover.
The race to create comparable U.S. systems has supercharged developments at Purdue's Aerospace District, one portion of the university's $1.2 billion Discovery Park, a research and industrial center adjacent to campus that, when finished in the 2030s, will host more than 400 acres of laboratories, production facilities, housing and retail.
The 176-acre Aerospace District, which sits next to Purdue University Airport, was already off to a quick start, hosting (among a great many other things) its own rocket and jet engine testing facility, a Rolls-Royce research and development center, and a Saab factory that manufactures part of the airframe for the U.S. Air Force's new jet fighter trainer.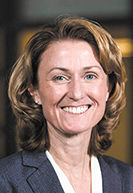 Hypersonics research, however, promises to speed things up considerably.
"Purdue has a very large story to tell around hypersonics," said Theresa Mayer, Purdue executive vice president for research and partnerships (in addition to supporting the development of grant applications and managing contracts, her office also administers the university's centers, institutes and research cores). "We're supporting national security and defense, and hypersonics is a very large part of that."
While much of the work in this field is either secret or proprietary or both, Purdue's interest in becoming a national center in the field is not. Last April, the university released a document called Purdue's Next Moves, outlining five strategic initiatives it plans to focus on in the coming years. In addition to advancing education, plant sciences, and racial equity, the 2021 list includes a National Security and Technology Initiative.
"U.S. leadership in advanced technology capabilities relative to its strategic rivals is narrowing, and swift action must be taken to reverse this trend to ensure long-term national security and economic competitiveness," the Next Moves press release states.
The four areas Purdue has chosen to pursue are cybersecurity, secure microelectronics, energetic materials and systems (basically, rocket and aircraft fuels and explosives), and last but certainly not least, hypersonic and space vehicles.
New testing
This summer, a series of events conspired to nail down that last goal.
On July 27, the university and research foundation announced plans for the construction of a $41 million,  65,000-squre-foot Hypersonic Applied Research Facility.
A few days later, Rolls-Royce announced it would expand its test facilities in the Aerospace District to develop high-altitude and hybrid-electric engines for U.S. military aircraft.
Shortly thereafter, at the two-day Hypersonics Summit held at Purdue with the National Defense Industrial Association (itself a major coup), it was announced that the university, in conjunction with industry partners that include Rolls-Royce, plans to build a Hypersonic Ground Test Center inside the Aerospace District.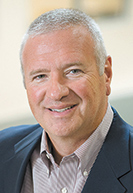 The center's amenities will include two state-of-the-art hypersonic wind tunnels and will offer highly secure workspaces where teams from competing aerospace companies can rub elbows without worrying about leaking data to a competitor. Purdue hasn't revealed which companies will use the place, but it will likely be a who's who of top-tier Western defense contractors.
"Our strategy has actually been to invest in the design of it," said Brian Edelman, president of the Purdue Research Foundation, the not-for-profit that owns and manages Discovery Park and its Aerospace District. "We're working with about a dozen companies to move into the scoping phase.
"When we have a design that meets the needs of most, it will be open for membership, and the members will help pay for the capital of the project and for operation. That's needed, because the scale of this project is well over half a billion dollars."
The choice of Purdue for such a facility makes a lot of sense, given that almost 40 of the world's top hypersonics researchers already work there. It also doesn't hurt that the PRF controls a great deal of shovel-ready land that's just waiting for brick-and-mortar projects. But Edelman asserts that the group's real secret sauce is its business-friendly attitude, and the ability to move rapidly.
"We've brought together a group of people who operate at the speed of business," he said. "That's critical when interacting with commercial parties that want to be adjacent to the researchers and students at the university."
For instance, when the Saab deal to manufacture Air Force trainers was on the cusp of finalization, the company's global CEO, who was driving from Indianapolis to Lafayette to seal the deal, decided he wanted to jigger the site of the plant so Saab would be able to "go through the fence" at Purdue University Airport and access the field.
"We did not actually own all the land beneath the site, nor did we have FAA approval to make such an agreement, but we were able to put everything in order in a few weeks," Edelman said.
Room to grow
Another key advantage the park enjoys is the ready availability of open land, about half of which is already rigged with roads and utility connections. While the rest hasn't been accessed by infrastructure, it would be easy (as compared to, say, building in a major urban area) to do so.
"It would be a relatively simple matter if a company wanted to start building tomorrow," Edelman said of the Aerospace Park's developed areas. "And we still have quite a bit of acreage that we can just put another cul de sac into. So we've got a lot of opportunities to add more. A lot more."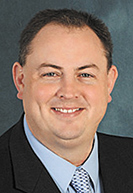 All this new hypersonics work could play out well economically for the state. One of the first participants is Rolls-Royce, whose relationship with Purdue spans many years.
"Rolls-Royce and Purdue have had a highly productive partnership that's lasted for decades," said Warren White, the company's head of assembly and test. "It was a natural fit for us in high-Mach testing, high-altitude and hybrid-electric testing."
In addition to becoming a ground-floor member of the consortium that will use and manage the Hypersonic Ground Test Center, Rolls-Royce is also already an on-campus tenant.
"We have an assembly and test plant for electronic controls," White said. "We have employees working in Zucrow Propulsion Labs [the rocket and jet engine test facility]. And we have professors and staff we work with there."
Though Rolls-Royce is deeply interested in hypersonics work, it's not the only area where it uses Purdue's help and facilities.
"These are expanding areas of research, and doing this on a research campus makes a lot of sense," White said. "The lengthy relationship we've had with Purdue, and the alignment of strategies from [Purdue] President Mitch Daniels and the state of Indiana, where the governor has stated many times that he wants to triple defense spending in the state. Rolls-Royce stands ready to help make that happen."
Mayer wants to develop an "ecosystem" of researchers, research facilities and, perhaps down the road, entrepreneurs starting hypersonics-related businesses at the Aerospace Park.
"We have put together a view of what it is we're trying to accomplish, and how it's beneficial for not only our region, but the entire state of Indiana," she said. "By bringing in multiple companies to do testing, this is going to build out a very vibrant center to support hypersonics."
'Expand the envelope'
The field needs all the researchers and facilities it can muster, because pretty much everything about hypersonic flight is tricky. Given the phenomenal speeds involved, even a minor failure on a vehicle is catastrophic. Also, missiles or aircraft optimized to fly at hypersonic speeds tend to fly about as well as a chicken at subsonic velocities.
"The reason is because an engine that's good at powering you to Mach 6 cruise is probably not very good at getting you off the ground," said Mark Lewis, executive director of the Emerging Technologies Institute at the National Defense Industrial Association, and a scientific adviser for the Hypersonic Ground Test Center. "One of the key things the hypersonic ground test facility will bring is facilities that allow us to expand the envelope. You can test one vehicle and one propulsion system to see if they can get you all the way up to hypersonic speed.
"It will be the premier facility for that."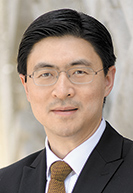 Lewis maintained that there are other reasons Purdue is a good place to work out hypersonics' many, many kinks.
"I look at Purdue with some reverence, because they have a president, Mitch Daniels, who has declared that research to support national defense is an absolute top priority," he said. "And they have a dean of engineering who says the same thing."
The dean of whom he speaks is Mung Chiang, who also serves as Purdue's executive vice president for strategic initiatives. He described this summer's events as putting the university in the lead.
"We are now the epicenter of hypersonic research and testing in the United States, period," Chiang said. "It will be No. 1 in the United States, and perhaps No. 1 in the Western hemisphere."•
Correction: This story has been changed to accurately describe the speeds accomplished at Mach 5 and Mach 10. It also has been edited to accurately describe what Saab manufactures in Purdue's Aerospace District. You can see all of our corrections here.
Please enable JavaScript to view this content.