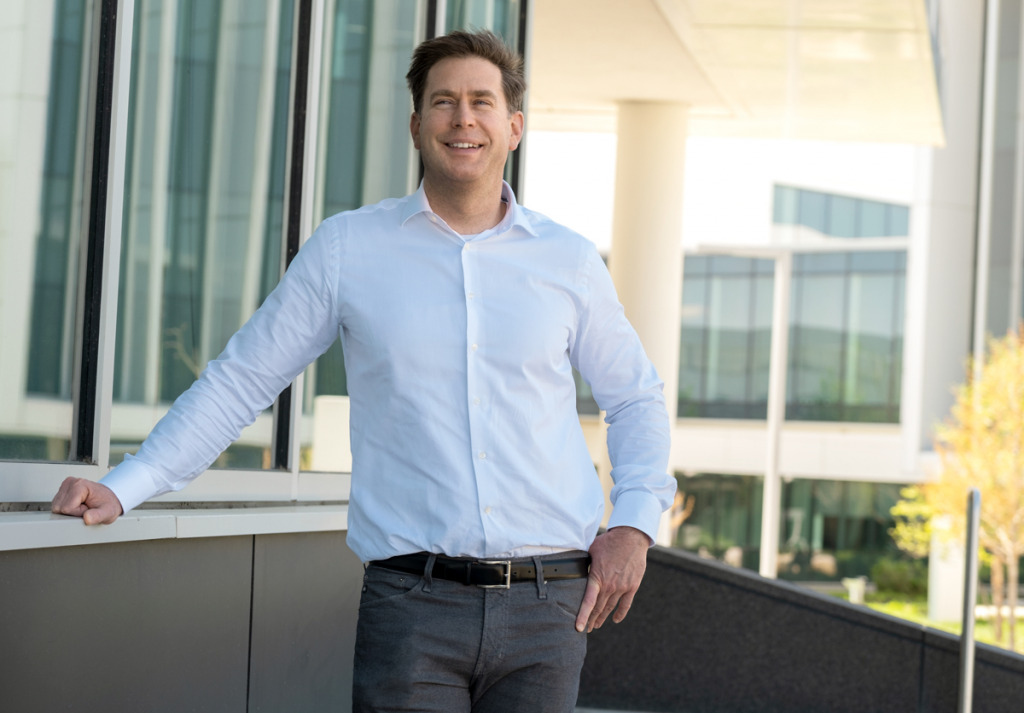 Matthew Sause could hardly have picked a tougher time to start his new job as CEO of Roche Diagnostics' North American operations in Indianapolis.
Sause took the helm of the 4,500-person operation in November 2019—just four months before the World Health Organization declared a pandemic and much of the planet went into lockdown.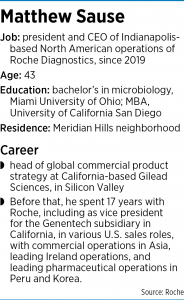 For Roche, the challenge was immense. The company's huge campus at 9115 Hague Road on the northeast side sells and services machines and software to help physicians, hospitals and laboratories throughout the United States and Canada analyze data and diagnose patients, along with machines and test strips for diabetes patients.
It's a hands-on process, with people from sales, information technology, engineering and other specialties calling on health officials and training them on the latest machinery and software.
When the pandemic hit, Roche had to do much of its business remotely, while continuing to develop new technologies to diagnose a range of diseases, from pregnancy disorders to cancer.
Sause, 43, had worked for Roche Diagnostics for 17 years before leaving in early 2019 for a brief stint at Gilead Sciences Inc., a biotech based in Silicon Valley in California, where he was senior vice president and head of global commercial product strategy.
He was hired back to succeed Jack Phillips, who resigned in August 2019 after nine years as CEO to become chief operating officer of Accelerate Diagnostics Inc. in Tucson, Arizona.
In Roche's diagnostics division from 2002 to 2014, Sause worked in sales roles in the United States, commercial operations in Asia and country leadership in Ireland. In the pharmaceuticals division from 2014 to 2019, he was president of country operations in Peru and Korea before becoming vice president for Roche's cancer operations in San Francisco, part of the company's Genentech subsidiary.
Sause talked about how the company has worked through the pandemic and the challenges ahead. He spoke by phone on April 6 from his home office in the Meridian Hills neighborhood. The following Q&A has been edited and condensed.
You chose a wild time to take over as president.
It's been a real exciting and dynamic first year on the job, I have to say. I joined Roche Diagnostics right before the pandemic started. And then with the pandemic, and Roche's role in the pandemic, we were pretty much all hands on deck from the moment I started.
Why did you return to Roche after leaving in 2019 for a new job in California?
I had a really fantastic opportunity to come back, kind of where I started, and [ended up leading] the organization here in North America at a real challenging time for the country with the pandemic.
So, it was a real honor and just really great to be back in the Midwest. I went to college in the Midwest, my family's from Wisconsin and Ohio. So, I'm kind of right in the corner of the triangle in Indiana. So, it's really great to be here.

You've worked around the world. What did you see that you want to turn into a personal mission?
I think what really stuck … was the importance of bringing access to health care. And that's something that's really reflected in how we are working to transform our organization here in North America, really increasing the amount of investment we have in our access team as well as a medical affairs team to work with medical societies.
We want to understand how to utilize some of our solutions, but then also work with different payers to ensure that access is given to a broad spectrum of patients in need. So, that's been a real big focus of mine.
When you talk about investment here, are you talking about investing in the campus or investing in products, investing in headcount?
All the above. So, we've invested in personnel but also on the campus in respect to making sure that we're appropriately staffed to be able to handle the needs the pandemic has placed upon Roche.
On the product-pipeline side, we have a number of innovative products that are coming in and are being reviewed by the FDA. In anticipation of positive reviews by the agency, we're making sure that we have the right resources in place to ensure broad access when they're authorized.
Of the 4,500 Roche employees who call Indianapolis home, how many actually work on the campus when you're working remotely?
We have over 3,000 on campus, but including those reporting into Indianapolis, it's 4,500-plus.
Your operation depends on having lots of trained staff to install and service this technology at hospitals and research centers. Are you investing in training young people from high school and trade schools and college?
That's correct. We've absolutely invested in a university program and internship program. We have a very successful internship program that we continued through the pandemic.
As a result of our increased presence in terms of testing in North America, that in a lot of ways has been driven by the pandemic, we've also had to invest in our field staff, which is our engineering, to make sure that the systems are up and running when they're needed, especially with the demand COVID has placed on us.
Has your company been doing vaccine research? I haven't seen the Roche name on any of the vaccine news over the last year.
No, our business is split into pharmaceuticals and diagnostics. We don't have a vaccine business unit at Roche. We are looking at different therapeutics in the COVID space, but our focus has been therapeutics and diagnostics. Vaccine would be something separate, and it's not an area of focus for us.
So, do you have any products or therapies for COVID-19?
We have some active investment in that area. And that is something that we're pursuing. But I would leave those topics to my pharmaceutical counterpart to comment more precisely on those, but, yes, of course, this is an area of interest for us, and we are pursuing.
Do you have any diagnostic machinery or software for COVID, or any other viruses?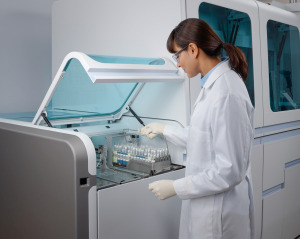 We do. We have our high-throughput Cobas 6800 and 8800 systems. Those performed the PCR test [a molecular test that detects genetic material of a virus].
We were the first ones to receive an emergency-use authorization for COVID-19 testing in the United States after the pandemic was declared. So, we've been actively engaged in providing that nucleic-acid testing since early March last year.
We also have two serology-based tests, which are antibody tests for COVID. We have a qualitative and a semi-quantitative spike protein test for antibody testing associated with COVID.
And we also have a molecular PCR-based point-of-care test, which tests for COVID-19 as well as flu A and flu B.
And we've also expanded our high-throughput COVID-19 tests on that 6800 and 8800 analyzer theory to also include simultaneous detection of flu A, flu B, as well as a COVID-19 active infection.
Has any of that technology been researched or developed here in Indy?
So, the R&D for that happened in our facility in California and the manufacturing of the high-throughput COVID test as well as the PCR point-of-care test happened in our facility in Brantford, New Jersey. And our logistics hub for distribution within the United States happened out of Indianapolis.
I'm unclear if there's been a lot of investment that has trickled into Indianapolis as a result of COVID, with all of these products being developed and manufactured elsewhere.
Oh, there's been significant investment, and I think you saw it reflected in those headcount numbers that we mentioned.
So, we invested significantly in staffing up and increasing our logistics footprint and as well created, you know, several hundred jobs related to support engineering as well as logistics.
How about other big launches of the past few years. How about the Navify software platform for cancer?
Navify absolutely is [big], and we're continuing to invest in the Navify virtual tumor board. So, that has been commercialized by our team and they're continuing to work in that area. And I know they're continuing to pursue some partnerships with different cancer centers.
So absolutely, the focus on digital as an intersection point between traditional diagnostics and clinical decision-making is a major focus for us going forward.
Do you oversee the diabetes side in Indianapolis, too?
So, the diabetes unit was split off as a separate business unit serving that patient population individually. Yes, they're still going strong. And they are also based on the Indianapolis campus as part of a separate unit that reports directly into Switzerland.
Can you talk about how their business is doing?
No, I wouldn't want to misrepresent it. And, yeah, they have a distinct reporting line to give them the autonomy they need. Because their business is very different. It's more pharmacy-based, consumer-based and is a bit of a different business model than our traditional diagnostics business.
But your side of the business is more medical-facing. What, if anything, are you doing to build brand awareness on the consumer side?
I think our profile has really increased as a function of the COVID pandemic. We got a lot of attention nationally for being one of the first tests authorized in the United States.
And so, I think in the past, we probably had less [consumer awareness, but] I think we certainly gained a significant amount as a result of the focus on testing that happened with the pandemic. And we believe that this awareness of testing as a means to make good medical decisions is something that's going to continue even after the pandemic.
What's the next big story out of Roche Diagnostics? What are you working on?
So, we have a lot of focus on innovative solutions for testing. And I think one of the ones that we currently have in front of the agency right now is a test for preeclampsia. This is an illness that affects pregnant women, typically associated with an increased amount of protein in urine and other systems.
This is a blood test that will help provide a definitive answer, a definitive diagnosis of preeclampsia, which can have an impact on the patient or on the management of the expecting mother.
And this is, I think, a real critical test that'll provide a lot of medical benefit to women in need and answer a lot of unanswered questions. It's also something that we're focused on ensuring broad, broad access for once it gets authorization, because there's definitely been historical disparities of incidence. It has affected traditionally disadvantaged communities more than affluent communities.
And in addition to working with the agency to get the approval, we're also going to be investing to ensure broad access to this once it's available.
So, what is the population of women who suffer from preeclampsia? Because I thought it was a historical disease from another century.
Yes, and I think that's part of the challenge with it. It's a devastating disease when it does affect a woman or the child. I think part of that is confounded by the fact that it's not well diagnosed. Globally, the incidence of preeclampsia can be between 5% and 14% of pregnancies.
Any other technology in the pipeline?
Yes. In the past, our cervical cancer portfolio for, like, HPV testing [human papillomavirus, a sexually transmitted disease] has been a big focus for us.
So last year, we got two key approvals. One of them was our HPV test, which, as you know, is important for allowing a definitive diagnosis of risk of developing cervical cancer. We got an approval for that on our high-throughput system.
We also got approval for another marker, an immunohistochemistry stain. And it's yet another marker that can be used to help provide insight into whether or not a woman has a risk of developing cervical cancer.
So, if a woman goes in and has a normal pap, and then an HPV positive, by doing this test, you're able to have a very strong understanding of the woman's risk of progressing on to the need for having a colposcopy, which would be a more interventional step in managing the risk of cervical cancer.
So that is another test that we're really excited about, because we think that has the opportunity to even further reduce the incidence of cervical cancer in the United States.
Sounds like you're keeping busy.
In spite of the pandemic going on, we were still really driving forward with our traditional key testing commitments, as well as delivering the testing in terms of COVID testing.
And another path that I would maybe want to mention—we also got approval for some of our transplant markers, which are critical for identifying the risk of a threatening infection in a patient that has undergone a recent solid organ transplant. We also received FDA approval for that on that same high-throughput system.
Were any of these technologies developed here? What is Indianapolis' role in all these tests you're talking about?
Our R&D Center for our molecular business is based in the [San Francisco] Bay area, California. For our immunohistochemistry test—those are our tests where we look at patient cells affixed to a slide read through a microscope by pathologists—those are researched and developed at our site in Tucson, Arizona.
The Indianapolis site is the headquarters for our diagnostics, both American commercial operations, as well as our logistics hub for North America.
So, our chief medical officer for Roche Diagnostics in North America, he's based here, as well as legal and government affairs, the commercial organization, our service, organization, communications.
Last question—something we always have to ask these days: Are there any plans to move your North American headquarters out of Indianapolis?
No, and thank you for asking. I mean, we've had tremendous public-private partnerships through this pandemic; we've had a tremendous partnership with the state.
And we really have felt a tremendous amount of support and partnership with the state of Indiana, and we're definitely committed to keeping it as we have it now…We're absolutely committed to the site here in Indianapolis.•
Please enable JavaScript to view this content.