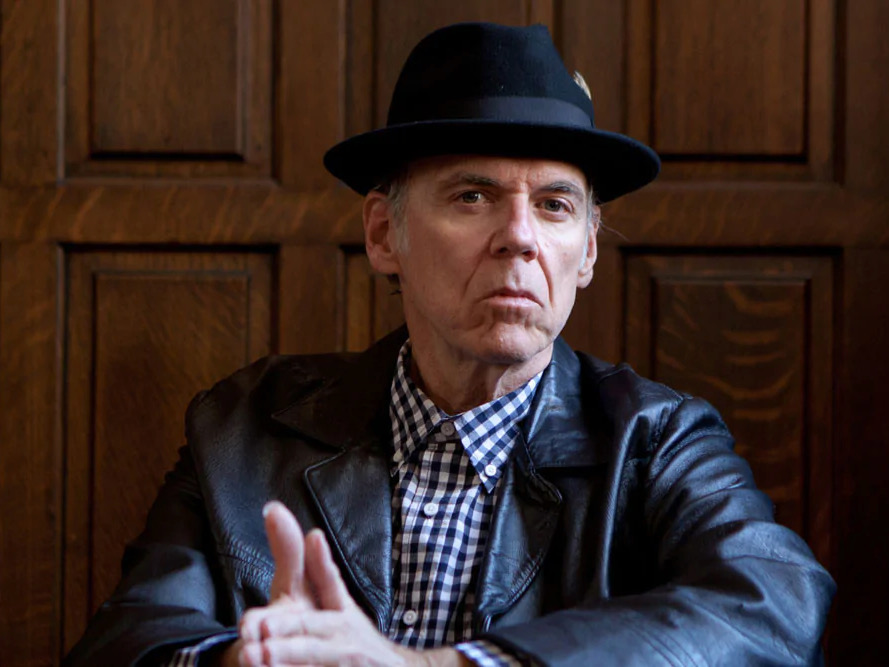 As John Hiatt sang in his 1990 hit "Real Fine Love," he was 18 when he "stole out of Indiana in the back of a pickup truck." The Broad Ripple High School dropout eventually built a towering songwriting career in Nashville, where he earned a lifetime achievement award from the Americana Music Association in 2008 and the BMI Troubadour Award in 2019.
On July 27, Hiatt will return to his hometown to share a bill with blues icon Buddy Guy at TCU Amphitheater at White River State Park.
"I love what was instilled in me from coming from Indiana: that sort of Midwestern engine that we all seem to have," Hiatt said during a phone interview. "I like that. My kids remark that they got the same thing from me. It's, 'OK, let's grab the tools and get it done.'"
Hiatt is the father of one son, Rob, and two daughters, Lilly and Georgia Rae. Lilly is a singer-songwriter who's released five albums. Hiatt reports that Georgia Rae is an expectant mother, meaning he and his wife, Nancy, will be grandparents for the first time.
For the record, Hiatt earned his GED in 2006. And Indiana did its part to honor the lyricist of "Thing Called Love," "Have a Little Faith in Me" and "Feels Like Rain" by giving Hiatt the Governor's Arts Award in 2013.
Hiatt talked to IBJ about being on tour with the Goners, the band he initially assembled for 1988 album "Slow Turning." Sonny Landreth plays slide guitar, while Dave Ranson plays bass and Kenneth Blevins plays drums.
What's it like to be out with the Goners this time?
The last time we played together was a "Slow Turning" reunion tour in 2018, which went really well. It was a lot of fun. This time it's even better, in certain aspects. We hit the ground running and found our groove pretty quick. I hadn't played with a drummer since the "Slow Turning" reunion tour. It took me a minute to get my bit sorted out. But it's like four bald tires on a car. Once we get up and going, it's a certain kind of thing we do. If we all had our treads it wouldn't sound right.
I tuned in to at least one episode of the livestreams you did with Lyle Lovett during lockdown. Did you enjoy doing those? Did you learn anything from sitting and playing to a camera?
It's a little disconcerting at first. As an older guy, I'm not necessarily tuned in to the whole video world. I think the younger people have an easier time with it, perhaps. But it was what we could do. Communicating music is communicating music, whether you're there in the flesh or you have a sense that what you're doing is going out to an audience on a video screen.
Are costs of being out on the road somewhat tough this summer?
Astronomical. But we're all in the same boat. It's more expensive to tour than it's ever been. But the value of sharing a communion of music with a roomful of people can't be measured in dollars and cents. Spiritually, it's probably even more rewarding than it's been in the past. You can't fill that void when you're making music at home. I think that more than makes up for the added financial costs of touring.
What are some line-item things that are eye-popping?
Diesel fuel, hotel rooms, you name it. Food costs, everything. Like a lot of acts, we had a hard time finding a tour bus. We started looking back at the end of last year. It was kind of a perfect storm. It was coming. Everybody was gearing up to go. But people are coming out, because they want to be a part of that musical experience again. It feeds the soul.
I read the 2021 biography Michael Elliott wrote, "Have a Little Faith: The John Hiatt Story." One of the threads to me is that you strive to make albums in so many different ways with so many different people. What motivates that?
I don't like to do the same thing twice. Musically, I think it's all about adventure. On the one hand, I'm a primitive-style artist: Three chords and an ax to grind. That's pretty much my milieu. I don't vary from that very much. So in turn, I like to put that constant into different settings. Early on, I admired artists like David Bowie. He would do that. Every record he made was different. I think Bob Dylan's done that over the years. Buddy Guy is a perfect example. Buddy has tried on all kinds of different styles. His unreplicable guitar playing and singing have always been the constant. I take inspiration from these kinds of artists.
We consider Lilly an honorary Hoosier. I imagine it's rewarding to see her career progress?
Absolutely. She's at a pinnacle right now. She's going out as part of a four-piece band, which is my favorite way to work: two guitars, bass and drums. They are so good. She's a rock star. All she needs to do is keep doing it, because people are going to figure out how good she is the more she plays.
Your 2021 album with Jerry Douglas, "Leftover Feelings," includes the song "Light of the Burning Sun," which is the story of your brother, Michael. He took his life in Hamilton County when he was 21 and you were 10. Is that a song you attempted to write before now?
Anyone who's been through someone near and dear taking their own life knows that it takes a lifetime to process something like that. I had no intention of writing about it until the day I could actually write the song. I've received a lot of help working through the issues involved with that kind of traumatic event. I think being able to write the song was the sort of final end result. I could kind of make my peace with the whole thing, just by basically being a reporter and telling the story as it unfolded.
You have a landmark birthday on Aug. 20, when you turn 70.
I feel like a kid, other than aches and pains and a bagful of medications I take with me when I travel. Everybody in my band is older than me. I'm the youngest by four months. None of which matters. We all play and we're grateful to play on any given night, whether I'm 25 or 85.
Please enable JavaScript to view this content.