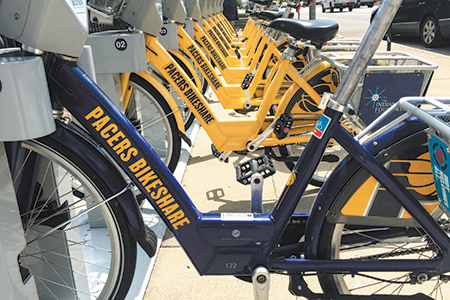 The Indiana Pacers Bikeshare program plans to use a $1.2 million federal grant to add 250 electronic bicycles in spring 2024, program officials announced Friday morning.
The e-bikes will be the first made available by the not-for-profit program, which currently offers 525 traditional bikes at 50 stations along or near the Indianapolis Cultural Trail.
"In nearly a decade of operation, the Pacers Bikeshare program has been a convenient way for residents and visitors to get where they need to go in town without the cost or carbon footprint associated with a private automobile," Indianapolis Mayor Joe Hogsett said in written remarks. "The addition of new e-bikes will add a whole new dimension of convenience to this mobility resource–one that just keeps getting bigger and better."
Officials said the federal Congestion Mitigation and Air Quality grant, combined with increased philanthropic support from the Herbert Simon Family Foundation, will make the e-bike additions possible.
The Pacers Bikeshare program was created as a public-private partnership between the city and Indianapolis Cultural Trail in April 2014. Since then, program riders have collectively ridden almost 20 million minutes, the equivalent of almost 38 years.
Officials did not say if the e-bikes would require higher fees than the traditional bikes.
Program users currently pay $1.07 to ride a bike, plus 15 cents per minute. Annual passes that offer unlimited 60-minute rides are $133.75.
Users check out bikes at station kiosks using the BCycle mobile app.
Please enable JavaScript to view this content.