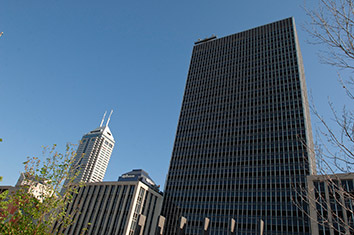 Indianapolis is getting serious about possible redevelopment of the City-County Building, now that half of the 28-story monolith is set to be empty within months.
City-county staffers are working on a request for information to hear directly from developers on the potential for the 735,000-square-foot center of local government at 200 E. Washington St.
In addition to possible uses for the City-County Building, local officials want to know about potential requests for city subsidies, according to Controller Ken Clark.
"I want to give everyone the opportunity to tell us what they would do with it," Clark told IBJ.
The building has its selling points, like its location smack in the middle of downtown Indianapolis, towering views of the cityscape, green space out front and a valuable 660-space underground parking lot.
But the garage alone has about $8 million in deferred maintenance, Clark told IBJ in a May interview. That's on top of decades of deferred maintenance throughout the 59-year-old structure—and an outdated layout, all the way down to the elevator bays.
The sheer amount of space the bays take up across all of the tower's floors "really cut down the ability of a developer to envision floors with an adequate amount of square footage," Mayor Joe Hogsett told reporters at an August 24 briefing.
And with so much office space becoming available since the beginning of the pandemic, it's unclear if another old, large office building would be in high demand.
So city-county staff are writing the RFI "very specifically to lean toward housing, as at least a part of the proposal," Clark said.
"The RFI would say, 'Could it be [housing]? Is there something in the design or layout of this building that precludes a residential conversion?' Like, tell us if we're crazy," said Deputy Mayor Jeff Bennett.
He emphasized promoting Indy's downtown as a neighborhood in addition to a business district to create a more "resilient" area.
"We're over-reliant upon workforce and convention visitors, tourists," Bennett said. "That's 150,000 to 250,000 people a day during normal times. But when they're all gone, restaurants and other service businesses can't make it on carryout only."
If the city comes across some proposals it likes, "there's no option that isn't on the table" for where the rest of local government will go, Clark said. Most law enforcement and criminal justice agencies are moving to the Community Justice Campus in the Twin Aire neighborhood by early 2022, leaving the City-County Building half vacant.
City estimates of the office space needed by the remaining government agencies are out of date thanks to the pandemic and increased remote work, according to Clark. But even under an old Office of Finance and Management plan, there was too much empty square footage to backfill, he said.
The city owns a number of buildings that would be a "piece of the equation" for a new HQ, including the former City Hall at 202 N. Alabama St. The city also has space in 200 different locations across Indianapolis, Clark said. Empty commercial space could also come into play.
But that's well into the future.
"The building doesn't go vacant until next year, so in terms of a timeline, it's not like there's some huge rush, necessarily," Clark said.
Please enable JavaScript to view this content.