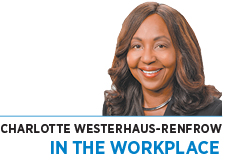 A great way to get ahead at work is to brag more, not less. Yes, you read that correctly.
You might be shaking you head skeptically. Many of us believe that co-workers and professional colleagues who engage in public "victory laps" and "end-zone celebrations" are annoying, obnoxious and self-centered.
If you share this viewpoint, you're not alone. It's been my experience that this cultural perspective is especially prevalent in Indiana. I have observed that Hoosiers tend not to brag about themselves. Likewise, research substantiates that this is especially true for women when rating their work performance. A recent study conducted by researchers at Harvard Business School and Wharton School at the University of Pennsylvania found men rate their performance 33% higher than equally performing women.
Perhaps what makes us uncomfortable with self-promotion is the rampant counterculture of unabashed boasting and gloating on popular social media sites like Facebook, Twitter and Instagram. It's no wonder this new bragging mindset is knocking at the door of workplace perceptions.
Let's be clear: It's important to promote yourself at work. You simply cannot sit back and wait for others to call attention to your efforts. If you're doing a great job, it is better to be understood and appreciated than underrated and overlooked. Self-promotion is necessary to create visibility to get ahead.
So, if you just won a grand contract, landed the big client or received a great promotion, how can you share good news? How do you call attention to your efforts without making the wrong impression?
Use supporting evidence. Facts don't lie. Research indicates that self-promoting behavior at work can be perceived positively if it is supported by evidence. "If you want to present yourself in a positive way and talk about your accolades, then it's really helpful to have external information or some sort of objective corroboration of how good you are at something," study co-author Erin O'Mara told Time magazine.
The study, originally published in the Journal of Self Identity, also finds that making humble claims about yourself is received more positively. O'Mara suggests slightly underselling your achievements and describing yourself modestly.
But don't "humble-brag." On the other hand, a recent study published in the Journal of Social Personality and Social Psychology found that humble-bragging (or "bragging masked by a complaint or humility") is actually less effective than just "straightforward bragging," because it comes across as insincere.
Maybe humble-bragging isn't a problem for you because you simply don't brag at all. And when it comes to your gender, this might not be surprising—research consistently finds that women are typically less likely to gloat or brag for fear of being labeled as self-absorbed or aggressive. When men do it, however, they are viewed as confident and competent.
Interestingly enough, this research discovered that honest self-promotion for men and women is better than humble-bragging because it comes off as genuine. "If you want to announce something, go with the brag and at least own your self-promotion and reap the rewards of being sincere, rather than losing in all dimensions," study co-author Ovul Sezer, assistant professor of organizational behavior at the University of North Carolina, told Time.
Sezer suggests encouraging a third party to brag about your good work and qualities, which is an effective and ethical bragging technique. "If someone brags for you, that's the best thing that can happen to you, because then you don't seem like you're bragging," Sezer explained to Time.
Be gracious and give thanks. Great results are rarely achieved alone. A primary reason people dislike bragging is because it comes across as someone trying to take all the credit for themselves.
To counter this perception, take the "self" out of self-promotion and instead share how you worked with your co-workers to accomplish the success. Consider phrases like, "After lots of positive feedback from our new vendor, I'd like to thank my dedicated marketing team for working countless hours to develop the proposal that won the job," or "There is no way I would have achieved my sales quota without the awesome work by the product development department."
While self-promotion can be uncomfortable, it's best to share the good news. Communicate the value of your exceptional efforts and accomplishments with others using demonstrative evidence, ample graciousness and gratitude to show you've earned what you've achieved.•
__________
Westerhaus-Renfrow is a clinical assistant professor of business law and management, and faculty chair of the undergraduate program at the Indiana University Kelley School of Business at IUPUI.
Please enable JavaScript to view this content.