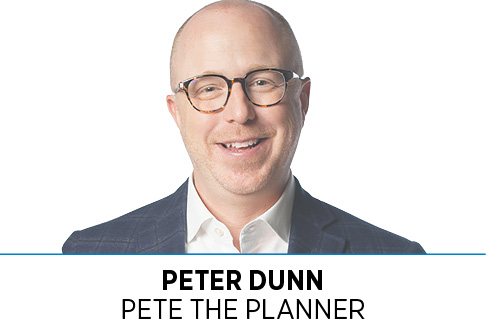 Dear Pete,
Like everyone else, I feel like my financial life is about to take a big hit. My base salary is $75,000, but I typically make another $75,000 to $125,000 in commission and bonuses. We've set our lifestyle based on $150,000 to $200,000, not $75,000. Based on the industry I'm in, I don't think I'll make a bonus or commission for the rest of 2020. We don't have much money saved, even in our 401(k). Where do I even begin to fix this major problem? I'm not quite sure the financial reality has hit my husband yet.
—Megan, Zionsville
I can't even begin to tell you how glad I am you took the time to reach out in an effort to get a plan in place. It's not easy to face the possibility of needing to completely remake your financial life. And as much as I'm not a fan of forced silver linings, your crossroads might save your financial life, not ruin it.
The reality is, a financial crisis was destined to strike your household at some point. In fact, based on your email, a financial disaster at retirement was inevitable. I'm not trying to salt your wounds, but understanding your current reality is important, whether your income would have dipped or not.
A common mistake for high-income households is, they find stability in the abundance of income, not in assets. Unfortunately, this is exactly what I fear has happened to you. Please don't feel criticized, Megan. Exploring why your healthy, six-figure income hasn't created a bigger safety net or nest egg is an important part of finding a solution to this major problem.
You can "solve" this problem in one of two ways. The first option isn't a permanent solution. And the second option is both a permanent solution and what you'll have to do, anyway, when the first option fails. Because it will.
Option one involves finding a way to maintain your lifestyle until your income recovers. It might involve liquidating whatever assets you have, going into debt and/or trying to find a side gig. You can make option one work for a while. I've seen it work for hundreds of people.
As millions of people are learning right now, while your financial problem might not necessarily be your fault, extreme changes in your financial decision-making can be the solution. This can be a frustratingly nuanced realization. And it's also option two.
Megan, you did not cause your major financial problem to happen right now. However, it was going to happen to you eventually. And unless you adopt option two soon, you will find yourself in this position again.
You need to make substantial cuts now. The bigger categories such as housing and transportation provide big opportunities to make efficient slashes, but I admit those cuts can be both painful and humbling.
In a bittersweet twist of fate, it's actually hard to have a consumer spending problem right now. Strangely, that's good news for you. You should be able to slash spending by a good $2,500 to $3,000 per month.
All I know about you are the clues you left in your email. I know you don't have much savings, but you are an incredibly accomplished salesperson who is unlikely to have the same sales opportunities as you did in past years.
I've come to learn two things about great salespeople over the years. First, they tend to sell themselves on the idea that they're better off financially than they really are, because they seem able to create money out of thin air with their next sale. Second, and more important, they're great problem-solvers.
Your situation is a problem that needs solving. Retask your brilliant mind to rebuild your financial life from the ground up. Base your budget on a more reasonable, sustainable income level, and use additional income to stabilize your finances—as opposed to destabilizing your finances with consumer spending that creates an increasingly large number of monthly obligations.
As to your husband, he knows. But like you, he's probably just holding out hope that option one works. It doesn't. Work together to make option two a reality and save your financial life now before you convince yourself it really isn't broken.•
__________
Dunn is CEO of Hey Money, a subscription-based financial-problem-solving company, and Your Money Line, an employee-benefit organization focused on solving employees' financial challenges. Email your financial questions to askpete@petetheplanner.com.
Please enable JavaScript to view this content.