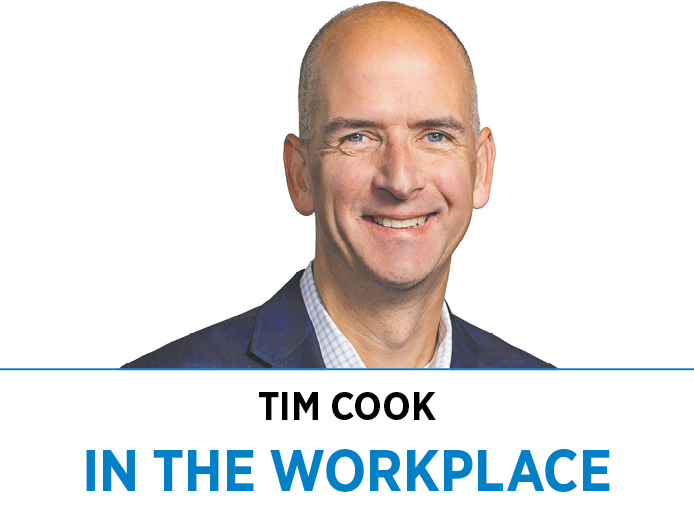 The historical timeline of the business world is littered with phrases that reflect the zeitgeist of the moment. We are currently in the throes of navigating "The Great Resignation." Now that moment has spawned the buzzy catchphrase "quiet quitting."
Quiet quitting is the so-called practice of employees working only during their defined on-the-clock hours—no more, no less.
As the CEO of a firm that prides itself on the open relationship we try to promote with our nearly 500 employees, I'm not a fan of the term quiet quitting. I think it undermines trust, a collaborative spirit and a positive work environment.
"Quiet" seems to imply employees are trying to pull a fast one. "I'm going to work when I want to work and not tell you what I'm up to." The "quitting" part is even worse. It's misleading and makes employees sound lazy.
Blend the two, and the result is a relationship that's transactional at best and dysfunctional at worst—greedy employers trying to coerce every last ounce of productivity out of their hostile, indignant workforce.
As destructive as I find the stereotypes it promotes, the idea of quiet quitting seems to align a bit too cozily with a post-COVID world. Distance has become a core part of how we interact. As an example, meetings that used to be in person now happen over Zoom. Sometimes the participants don't even turn on their cameras. If that sort of behavior is the norm, the notion of quiet quitting fits right in.
I think there's a better way for employers and employees to frame their relationship with each other. It starts with transparency and communication.
At KSM, we recently began having conversations with all our people about being intentional in how they spend their time each workday.
In the accounting and advisory world, performance is often spoken of in terms of charge hours. But once you subtract client-facing hours, continuing education and PTO, our people have a substantial number of discretionary hours that make up the rest of the year. It's how they spend those hours where we've focused the conversation.
That conversation centers around how our people can use that time most valuably in their professional and personal development based on their needs and career interests. Those discretionary hours could go toward technical reading; business development; community engagement or diversity, equity and inclusion engagement; mentoring; or building nontechnical core skills as a client-serving professional.
An indispensable part of this process is the collaborating and partnership that occur between our people and their team leaders in crafting what makes the most sense for each individual.
Our objectives are simple: Ensure our clients continue to receive best-in-class service, enrich the development of our people and our culture, and promote a smarter work-life balance by favoring value-added productivity over busyness.
The key to our being able to succeed will be in acknowledging that one size can never fit all.
Some of our people want to make a more robust time investment in the accelerated development of their career, and we fully support that. Ambition is not a bad word within our walls.
We have other employees who love KSM, the work they do and our culture, but they seek a different balance between life and work. They don't want to quiet-quit—they want to be honest about how many hours they want to work and for us to assist them in managing those boundaries.
Still others aren't sure what they want. Careers evolve. They don't have all the answers; they just want an open dialogue.
Not having all the answers has been our mantra since the start of COVID. We have been trial-and-erroring our way through the new normal, the next normal and the TBD normal. Our one constant has been to double-down on open communication and transparency every step of the way. We recommit to that every day.
We are working and living through great volatility. Sometimes our baser impulses draw us to ratcheting up division and rancor. But we can just as easily focus our energies on positive outcomes.
I'd love to see us retire terms like ghosting and quiet quitting. Better yet, let's dispense with labels altogether and simply focus on supporting one another. Maybe then the only thing we won't be able to quit is celebrating one another's successes.•
__________
Tim Cook is CEO of KSM, an advisory, tax and audit firm based in Indianapolis
Please enable JavaScript to view this content.