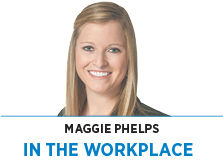 It's the thing that's there in the back of your mind as you do the dishes. It's there when your eyes open in the morning. As you're trying to fall asleep, it's there, keeping you from much-needed rest. It's "lurk work."
A friend recently introduced me to this term; she and her husband use it to describe the kind of work that lingers. The important things that hang over us until we finally cross them off our "to do" list. It can be work we procrastinate, but this work is not confined to just the work we put off. It's all the stuff we feel like we have to do; it doesn't fuel us or feed our souls, and we dread it.
Lurk work is different for everyone, depending on your work context, your style, your preferences, and even your home life. I think we can all safely say—the lingering that this work does isn't serving anyone. Whether it's rolling around in the back of your mind or jumping to the front of your cognition and staring you right in the face, as long as the work is not getting done and you're bothered by that, it's sucking the energy right out of you.
I'm sure I'm not alone in wanting to preserve my energy for the things that matter most to me. I started thinking about the concept of lurk work and, naturally, I started trying to figure out how to dispel it entirely. I don't have time for this!
Easier said than done, I'm afraid. In my work at Bloombase, I'm learning about the way our brains operate. I'm an amateur, honestly, but the more I learn and explore practices of things like mindfulness, the more I realize this lurk work is just some of the billions of pieces of information our brains are filtering through in any given moment.
Like so many things, much of it exists in our minds without our even realizing. It's lurking at times when we are not cognitively aware of it. Therein lies our first challenge—wrestling it to the forefront of our brains. Noticing it. As soon as we can manage that, we can go about managing it.
By nature, lurk work is not the kind of thing we enjoy thinking about. It continues to lurk because we allow it to. As soon as we notice it, even slightly, we tend to throw it onto our cognitive back burner.
In an effort to tackle it, I've been playing with the lurk work that taunts me.
When I notice it, I grab it. I lasso it toward me and I stare it in the face. And we have a conversation. How important are you, really? Why am I avoiding you? What it is about you that I dread?
Call me crazy if you like. But after asking myself these kinds of questions, I'm finding some things that work (and I'm learning some things about myself along the way). A few times, I've simply decided to throw the work away. I'm not throwing it on my back burner to ruminate and show back up later; I'm deleting it. I'm deciding that, "I thought this was something that I needed to do, but it's not. Goodbye." And life goes on. So far, this is my favorite type of confrontation I've had with my lurk work because it means I get to simply move on.
Other times, I've been able to give the work to someone else or have them help me with it. Even if tackling this thing is sucking the energy out of me, is it not possible that it is the type of thing that would fire someone else up?
And then there are the situations when I realize the work must be done, and I'm the one to do it. It's time to hunker down and "just do it." In an ideal world, we wouldn't have to spend our time on anything that doesn't give us energy. But in the world of reality, at times, we must.
I believe all this business with lurk work is about first noticing it and then managing our energy. No matter the situation, we always have a choice in how we spend our time and energy. Even when we feel the weight of the things we "must" do, there is an opportunity to stare them in the face and ask questions. If we don't, the energy vampire, "Lurk Work" will keep to its antics, in the dark of night and in the back of our minds, growing stronger and stronger the more we ignore it.
What's your lurk work? Are you ignoring it or inviting it in for a conversation?•
__________
Phelps is chief innovation officer at Bloombase. She can be reached at maggie@thisisbloombase.com.
Please enable JavaScript to view this content.