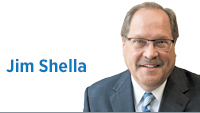 I was in line to pick up lunch one day several years ago at a sandwich shop on the near-north side. The person in front of me turned out to be the general manager at a TV station, one of the competitors for the TV station where I worked.
We started a conversation and, at one point, he asked me if I ever considered going to work for another station. I told him I was under contract, and you could tell that he understood that meant I was also working under a noncompete clause. End of conversation. End of potential opportunity for me.
So, let's talk about noncompete clauses. They are a hot topic here and around the country.
The Indiana Senate is considering a bill that would outlaw noncompete clauses for doctors. You see, medical networks use noncompete clauses to keep doctors from going to a competing network. The Senate bill is intended to address health care costs by creating more competition among those hospital systems. State senators should consider other occupations and other motives while they're at it.
At the same time, the Federal Trade Commission is considering a proposed rule to eliminate noncompete clauses in every line of work. The comment period on the proposed rule ends in March. My comment: Get 'er done!
I'm watching intently because I have seen firsthand how employers benefit and workers are held back by the use of the noncompete clauses that appear in too many employment contracts.
I worked at WISH-TV for 34 years. During that entire time, I was under a personal services contract (renegotiated every two to five years), and every contract contained a noncompete clause. Some called for a six-month noncompete period, and some called for a one-year noncompete period.
In one of them, the clause read like this: "Artist [that's me] … agrees that upon the expiration or earlier termination of this contract, regardless of contract date, artist will not thereafter for a period of twelve (12) months, render or perform any on-the-air services, or make any on-the-air appearances, live or recorded, over the facilities of any broadcast video source (which includes, but not limited to, commercial television stations, community antenna television systems, radio stations, cable companies, wireless cable companies, low power television stations, low power or extraterrestrial video transmission, cellular video broadcasting, TELCO video distribution, computer/Internet/world wide web distribution) whose area of coverage includes Station's market …)."
It goes on, but you get the idea. Later in the contract, I was required to agree that the terms were reasonable. My bosses were prepared for a potential legal challenge.
It all meant that, unless I took a job in a different city I couldn't work for a year in my chosen profession unless I continued to work at WISH. My negotiating power at contract's end was therefore severely limited. Other stations have similar contracts.
(In rare cases, co-workers were able to persuade a competitor to pay them for a year to do off-air work while waiting for the noncompete period to expire. Angela Buchman comes to mind.)
The FTC believes that noncompete clauses are an unfair method of competition. It says 30 million workers would benefit from the elimination of noncompete clauses. Worker salaries would increase $250 billion a year or more, according to FTC analysis.
This is America. We believe in competition. We need to encourage it.•
__________
Shella hosted WFYI's "Indiana Week in Review" for 25 years and covered Indiana politics for WISH-TV for more than three decades. Send comments to ibjedit@ibj.com.

Click here for more Forefront columns.
Please enable JavaScript to view this content.