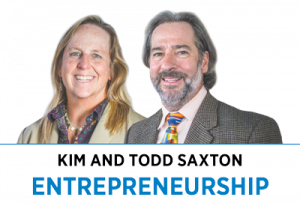 "Up and to the right!"
This is a phrase frequently uttered in venture circles, including at pitches, portfolio reviews and board meetings. We all like to imagine the startup journey as a steady progression of more, more, more. More customers. More sales. More features. More investment. More employees. The resulting visual is a nice hockey stick graph with constant growth—with a line at a 45-degree angle into the indeterminate future.
The reality is rarely this straightforward, literally or figuratively. In the terms of evolutionary biologists, the progression is more like a punctuated equilibrium model. It comes in bursts of activity after an inflection point, followed by a plateau or relative stability.
An advance in a product feature, for example, might open doors to new customers. That leads to revenue and team growth, and hopefully substantiates the pitch to raise additional funds. Landing a new potentially large client can similarly cause a positive inflection. Securing a funding round enables a startup to build product and team, hopefully leading to new customers and growth. But the startup must be prepared to take advantage of and manage the opportunity created by these inflection points.
Unfortunately, inflection points are rarely all positive. Losing a key team member or a major customer, or having a product fail in the field, can lead to significant declines in revenue, customer trust and optimism.
The inability to raise investment at the desired level might be an outcome of too many negative inflection points and not enough positive ones. What causes these negative inflection points is what we call hidden "debtbergs," which are a series of decisions and missteps that lurk beneath the surface. So a startup must be prepared to head off negative inflection points.
We would like to suggest three important takeaways from viewing the venture journey as a series of inflection points.
◗ Expect to shift resources over time. For a venture of any size to capture the benefit of an inflection point in one dimension requires redeploying assets in other dimensions. For example, an advancement in product must lead to building the marketing and sales capacity to land new customers and revenue, and the support team to ensure customers get the benefit.
◗ Don't swim too hard during plateaus. A Kelley colleague sometimes uses a surfing metaphor to describe the entrepreneurial journey. Surfing requires patience and being still in the water, or paddling gently to maintain position, until the right wave comes along. To surf then requires a significant burst of energy to catch the wave and avoid the "competitors" trying to ride the same line. Paddling furiously between waves creates wasted energy and depletes strength for the right wave.
◗ Plan for financials and cash to reflect reality. Plugging a constant 10% quarterly growth rate into a spreadsheet might feel good, but it rarely reflects the reality of revenue growth. Landing new customers is likely to come in surges following a new marketing campaign, product offering or hiring a salesperson. Expanding sales within existing customers follows a pattern that should become repeatable—often a three- to six-month pilot to show proof of outcomes, followed by a limited rollout across units or locations, and hopefully enterprise deployment over a one- to three-year period.
Understanding how these inflection points translate to cash needs before revenue is realized is essential for growing the venture. Savvy investors recognize and respect a more nuanced and realistic approach to forecasting. Sales increases might be followed by plateaus as the new sales are integrated.
Inflection points can also happen at the technological or societal level, as well. Advances in glass engineering led to telescopes and microscopes, allowing us to see farther and deeper than ever before. This new technology enabled advances in immunology that considerably lengthened our life expectancy.
More recently, the internet paved the way for massive technological change and market development. These platform technologies all created tremendous entrepreneurial opportunity, with inflection points leading to job and wealth creation. But they can also result in bursting bubbles or retrenchments.
Is this concept only for entrepreneurs? We would suggest it applies more broadly to our individual journeys through personal and professional life. A new job, meeting a life partner, graduating, or starting a new exercise routine can lead to positive inflection points. An injury or sickness, downsizing at your company, a lost relationship, or a change of location due to a partner job change can lead to negative inflections.
Whether positive or negative, don't spend all your energy swimming against the current—float with it and find the right time and opportunity to paddle hard to your next inflection point!•
__________
Kim Saxton is a clinical professor of marketing at IU Kelley School of Business at IUPUI. Todd Saxton is an associate professor of strategy and entrepreneurship at IU Kelley School of Business at IUPUI. They are co-authors of "The Titanic Effect: Successfully Navigating the Uncertainties that Sink Most Startups."
Please enable JavaScript to view this content.