Is it the right time to lift the mask mandate?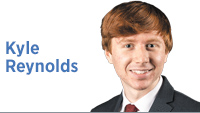 There is no reason or justification for states and localities to continue to restrict the freedoms of individuals and businesses.
Vaccines are beginning to become widely available; the fears of so-called "super-spreader events" and unmanageable increases in infection rates associated with the easing of restrictions have largely been refuted; and, perhaps most important, the choice of whether to wear a mask should never have been taken out of the hands of private citizens to begin with.
The most vulnerable segments of our population have now largely been vaccinated and are subsequently at a much lower risk of contracting and dying from COVID-19. And, in Indiana, the vaccine has now been made available to anyone over the age of 16. We are well on our way to achieving herd immunity, and thus, should be well on our way to reopening and lifting restrictions.
There exists a fear among proponents of mask mandates that, as soon as the restrictions are lifted, we will become vulnerable to uncontrollable increases in positivity rates. That's demonstrably false. Texas and Mississippi, both of which largely removed their COVID-19 restrictions in early March, have seen significant decreases in case numbers. Weeks after removing its mask mandate, Texas experienced its lowest test-positivity rate since the start of the pandemic. And Mississippi experienced its lowest level of COVID-19 hospitalizations since May.
But, perhaps most important, this pandemic has resulted in an unprecedented overreach of governmental entities into the lives of private citizens and businesses. Governors, including Indiana Gov. Eric Holcomb, and local leaders used their emergency powers to institute months-long mandates and restrictions. These ranged from forcing residents to wear a mask in any public venue to restricting the number of customers businesses would be allowed to serve.
These emergency powers exist, however, to allow for swift unilateral action in the event of a crisis, not to permit those in power to indefinitely usurp liberties and freedoms from private citizens and businesses.
Thankfully, after over eight months, Holcomb—under intense scrutiny from conservatives—finally lifted the statewide mask mandate. Notably, this easing of restrictions comes as the Legislature is actively taking efforts to curb the governor's emergency powers. Unfortunately, despite state mandates endings, many Indiana counties and cities, including Indianapolis, are choosing to keep restrictions in place.
It's far past time to return the choice of whether to wear a mask to the people. People who are fearful of contracting the virus or who feel they're in a high-risk demographic can choose to wear a mask. If any private business owners feel it's their social responsibility to require customers to wear a mask, that's their prerogative.
However, it should not fall to government, and certainly not to a single executive, to mandate that such an action be required. Such mandates are blatant infringements upon a person's right to self-govern in a country founded on the ideals of individualism and freedom.•
__________
Reynolds is a business student at Indiana University studying economics and public policy analysis. His writing has appeared in The Washington Times, The Washington Examiner and The Daily Caller.Send comments to ibjedit@ibj.com.

Click here for more Forefront columns.
Please enable JavaScript to view this content.