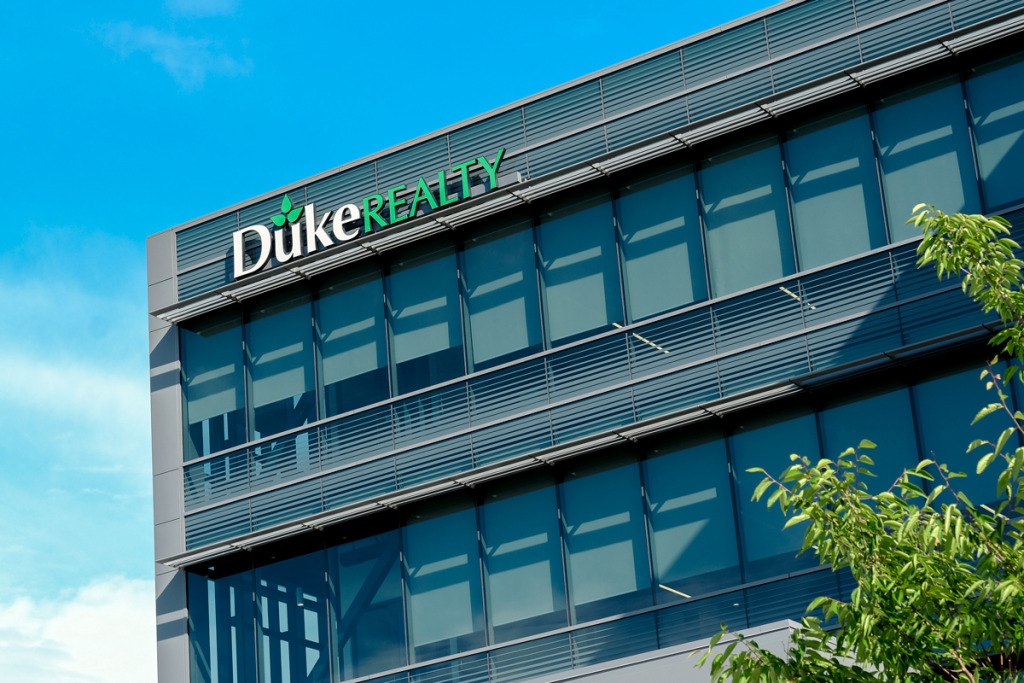 In a matter of weeks, Duke Realty Corp. is expected to go from being one of the largest and most prolific industrial real estate companies in Indianapolis to becoming a small part of a large West Coast-based developer.
It's painful for some Duke employees to watch the locally based company's name—and many of their jobs—disappear. But Duke's legacy will linger beyond its pending $26 billion all-stock acquisition by industrial-sector behemoth Prologis Inc., expected to close early next month. Shareholders are scheduled to vote on the deal Sept. 28.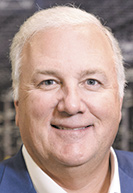 The sale is also a hard pill to swallow for Duke's CEO, Jim Connor. He said it's difficult to let the company go, even as he prepares to join the board of San Francisco-based Prologis. He said a tinge of guilt still lingers from June 13, when he shared with his employees that Duke was accepting a buyout offer from its biggest competitor, even though he felt it was the right business decision.
"Worst [expletive] day of my life," Connor recalled.
He made the announcement on the front steps of the company's headquarters at Keystone at the Crossing—a structure that has been sparsely used since it opened in early 2020, just a few weeks before the pandemic. The news left many employees (some of whom had worked there for three decades or more) in tears,and just as many speechless. Connor said he felt numb as he delivered the news.
"I was standing there, with a 50-year anniversary banner across the front of the building at my back, talking to our team—people that I've known for [decades] and people that had built this company and done all the incredible heavy lifting. … I had to stand up and tell them that the decision had been made and that it was going to happen."
The making of Duke
Duke's run in Indianapolis has brought numerous business parks to central Indiana, such as Keystone at the Crossing, Park 100 industrial park and Parkwood Crossing, as well as multiple downtown office buildings, including Simon Property Group's headquarters at West Washington Street and Capitol Avenue. The firm's success has also led to many new companies—Scannell Properties, Ambrose Property Group, PK Partners and Strategic Capital Partners, to name a few—as Duke alumni struck out on their own.

Duke was founded in 1972 by John Rosebrough, Phil Duke and John Wynne and went public in 1993 with an initial public offering that raised $310 million. It is the 11th-largest public company in the Indianapolis area, according to IBJ research, with nearly $1 billion in revenue in 2020. It has 160 million rentable square feet of industrial assets in 19 logistics markets throughout the United States.
Industry insiders say the company's legacy will survive its buyout. After all, Duke's roots are deeper than just industrial development. Until 2017, it was in a variety of sectors, including office, retail, medical, and even residential and apartments. It exited all but industrial as part of a strategy shift in response to the financial crisis of 2008-2009. Within 10 years, 80% of Duke's holdings were industrial, with the remainder in the medical office sector, which it also has since offloaded.
Connor said he thinks narrowing its focus put Duke in a position to thrive and survive.
"I think we'd be in a very different place" if the company had held onto all its assets, Connor said. "And it wouldn't be a good place. Had we not made that decision, would we be selling? Probably not, because Prologis wouldn't have an interest in us—they wouldn't want to buy all this other stuff. Would financially we be where we are now, with our stock price and our performance that we've had? No, I think we'd be struggling."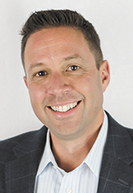 Steve Schwegman, senior managing director and market lead for Chicago-based brokerage JLL's Indianapolis office, said Duke has long been known for sowing deep roots in Indianapolis.
"Anytime you lose a headquarters, it's a sad thing for the business community," Schwegman said. "But they've built quite a legacy—one that will live on."
Schwegman is a Duke shareholder and favors the merger. "I think a lot of the Duke culture is maintained by those developers … so, in a way, their innovation and training has been built out from Duke's fundamentals," he said.
Connor said Duke is a proud company and that pride has continued since the sale was announced.
"Our entire leadership team is so proud of our associates that have maintained this culture," he said. "All the buildings, the financial performance, but most of all, we've continued to outperform the market since we made this announcement. We're still leasing space. We're still building buildings. We've improved occupancy. Nobody has mailed it in."
Under the proposed deal, outgoing company executives said, Duke employees shouldn't need to find jobs immediately because of the severance package human resources officials secured from Prologis.
"Our employees are all shareholders, so they'll see the benefit" of the merger, Connor said. "We also went to extreme lengths to make sure that all of our associates were treated very generously, in terms of their severance, to the point of where nobody needs to rush out and get a job."
But Duke is still helping with the job hunts. Duke said about 40 employees will join Prologis—either permanently or on a short-term basis to end the fiscal year—while the remaining nearly 300 employees will be laid off. Prologis said the final number is yet to be determined.
Members of Duke's executive ranks—ranging from the heads of various divisions to Connor himself—are making calls to help employees land new gigs.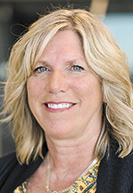 Jenny Bean, chief human resources officer for Duke and a 26-year employee, has made calls or written letters for most of the company's staff, including many of the 172 based in Indiana. She said the sale was a shock for her and most every employee, but she sees it as her job to help her co-workers find new jobs.
"I've never worked this hard, and to have such a yucky outcome … and with all that craziness, there's been a lot of extra hours," Bean said. 
Duke insiders like Gene Rodriguez Miller, senior manager of communications and public relations, said Bean is being too modest about her role in helping fellow workers.
"She's underselling the work she's doing—she is calling these companies trying to get us placed," Miller said, sitting across a table from Bean, fighting back tears. "I don't even see her trying to land a job, because she doesn't have the time; she's too busy trying to find everybody else a job."
'We still had so much growth'
Connor said that, while he understands some employees felt betrayed by the decision to sell, he ultimately thought it was the correct move. It came after months of behind-the-scenes discussions between the companies.
Prologis first made a formal offer in November 2021 that Duke's board rejected because it didn't believe the offer provided strong value
for shareholders.
In May, Prologis made another offer—this time around $24 billion—that was also rejected, before Prologis went public with its intent to buy Duke.
"We thought they could do better [with a higher offer], but we knew they were close—it was a record-setting price at that time," Connor said. "Ultimately, they improved the offer [a few billion dollars] and … the board knew our investors wouldn't sit still, that it was too much money" to turn away.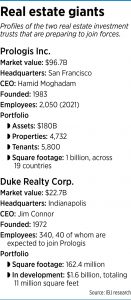 The board finally agreed to a sale worth $26 billion. Under those terms, Connor's shares are worth about $10 million.
Connor said Duke grew at a rate of 14% in 2021, and Prologis' final offer was a 31% premium on that growth.
"Last year was our best year ever. We didn't want to sell the company. But it was too good a deal for our investors. We had to make the deal," he said.
At the time the proposed merger was announced in June, Prologis CEO Hamid R. Moghadam said in a written statement that his company "admired the disciplined repositioning strategy" Duke had employed over the past decade.
"They have built an exceptional portfolio in the U.S. located in geographies we believe will outperform in the future," Moghadam added.
While most experts and some at Duke believe the decision to sell was smart, that doesn't make it any less painful for employees.
Bean said she disagrees with the company's decision, particularly because of Duke's growth trajectory. The company has long viewed Prologis as a competitor, even though Duke is only about a quarter the size of Prologis in market value.
"In my personal opinion, it wasn't right, because, if you look at our balance sheet and what we're doing today, we're outperforming" everyone, Bean said. "We still had so much growth on the West and East Coasts—we weren't done."
David Funke, principal of real estate management consultancy DW Funke Advisors, said a company's sale is difficult for executives and employees. But, financially speaking, he said the timing was right.
"It would seem to be common sense that, if you're going to sell a monstrous industrial company, that it's a good time to consider selling when the market is probably as strong as it will be in our lifetime, which it is right now for industrial," Funke said.
Bean and others said it will be tough for Prologis to replicate Duke's community involvement. For example, Duke has long offered a down-payment assistance program for first-time home-buying employees, a benefit started by former Duke CEO Tom Hefner, who donated his bonuses to establish the program. That money now is expected to be redistributed to local charities that focus on addressing housing challenges, she said.
Duke has also participated in community days of service each year, and it's held monthly blood drives with the American Red Cross since the pandemic began.
"I think that's going to be a huge hit to Indianapolis," Bean said.
Prologis said it maintains deep ties to all the communities in which it does business. Spokeswoman Jennifer Nelson said  the company supports community groups through its foundation, year-round volunteering and a corporate day of service.
Down the road
It's hard to know for sure what Prologis' long-term plans are for Indianapolis, though the company is among the biggest players in the local industrial market. It's been involved in numerous projects on the south and west sides and taken on partnerships with companies such as locally based Browning Investments.
When the merger was announced, Prologis Chief Financial Officer Tim Arndt said in written remarks that the deal "increases the strength, size and diversification of our balance sheet while expanding the opportunity for Prologis to apply innovation to drive long-term growth."
JLL's Schwegman said he expects Prologis to continue investing in Indianapolis because it's such a strong Midwestern market. About 23 million square feet of industrial development is under construction across central Indiana, according to his firm's research.
"I don't think they can have quite the impact as Duke, just by virtue of the fact that they're not based here," he said. "That said, Prologis has already done a lot. With them, there's a, 'Have your cake and eat it, too,' mentality. If they continue to do that, they can have a strong impact in our community."
For some, the more immediate question will be what becomes of Duke's new headquarters building, a $28 million, four-story property it builtwith PK Partners at Keystone at the Crossing. The 78,000-square-foot building is already starting to empty out, though the remaining employees are expected to continue using the structure until at least mid-2023.
Prologis is based in the 8888 Keystone Crossing building, directly across the street from Duke's headquarters.
Connor said he expects Prologis to list the Duke headquarters by the first quarter of 2023. Even without being listed, the property has already attracted interest, he said.
For Bean, the loss of Duke is a blow she never expected to face. But she said that, up until the end, she's committed to making sure her co-workers are well cared for.
"It's always the right thing to do—treat people well as they walk out the door," she said. "That is important to me … this wasn't our time to leave. And we built something here that is going to be hard to replace."•
Correction: The original version of this story incorrectly identified Jim Connor's future role at Prologis. He will be a member of the firm's board of directors. You can see more IBJ corrections here.
Please enable JavaScript to view this content.