In the post-COVID world, flexibility has emerged as the name of the game.
Indiana University Robert H. McKinney School of Law is tapping into that flexibility by launching Indiana's first part-time hybrid J.D. program.
IU McKinney is the only law school in Indiana to have a part-time program, and now it's also the only Hoosier law school to add a hybrid option to its curriculum.
The program was inspired by the "new normal" of the post-COVID world.
"We tried to keep the best of both worlds: enough online presence to ensure the flexibility, enough live sessions to ensure students actually get to know each other, get to know the faculty, take advantage of the physical resources that we have here," IU McKinney Vice Dean Max Huffman said.
Huffman said the flexibility also opens up opportunities for people across the state who want to attend the Indianapolis law school. Even now, the roster includes students from Jasper, Valparaiso, Columbus, Kokomo and Terre Haute.
The program will be a mix of online quizzes, discussion posts and lectures.
In the first two years of the hybrid program, students will come to campus only on Monday and Thursday evenings, rather than five evenings a week. They'll take about 10 credit hours per term—and five in the summer—and will complete in-person exams at the end of each semester.
After the first two years, hybrid students will have the option of taking up to 30 credit hours of electives online.
Huffman said the program is in full compliance with the American Bar Association. Other law schools around the country that offer hybrid programs have had to seek a variance from the ABA's Section on Legal Education and Admissions to the Bar, which allows a maximum of only 30 credit hours to be offered online.
"We've also retained the 30-credit hour cap maximum on the number of fully online credits that are available, with the result being that students can do this whole thing even at this reduced in-classroom time, but the program fully complies with the ABA standards for what a JD degree should look like," Huffman said.
Like the existing part-time J.D. program, IU McKinney's hybrid program will take four years to complete. There will also be the option to accelerate the timeline after completing the initial hybrid sequence.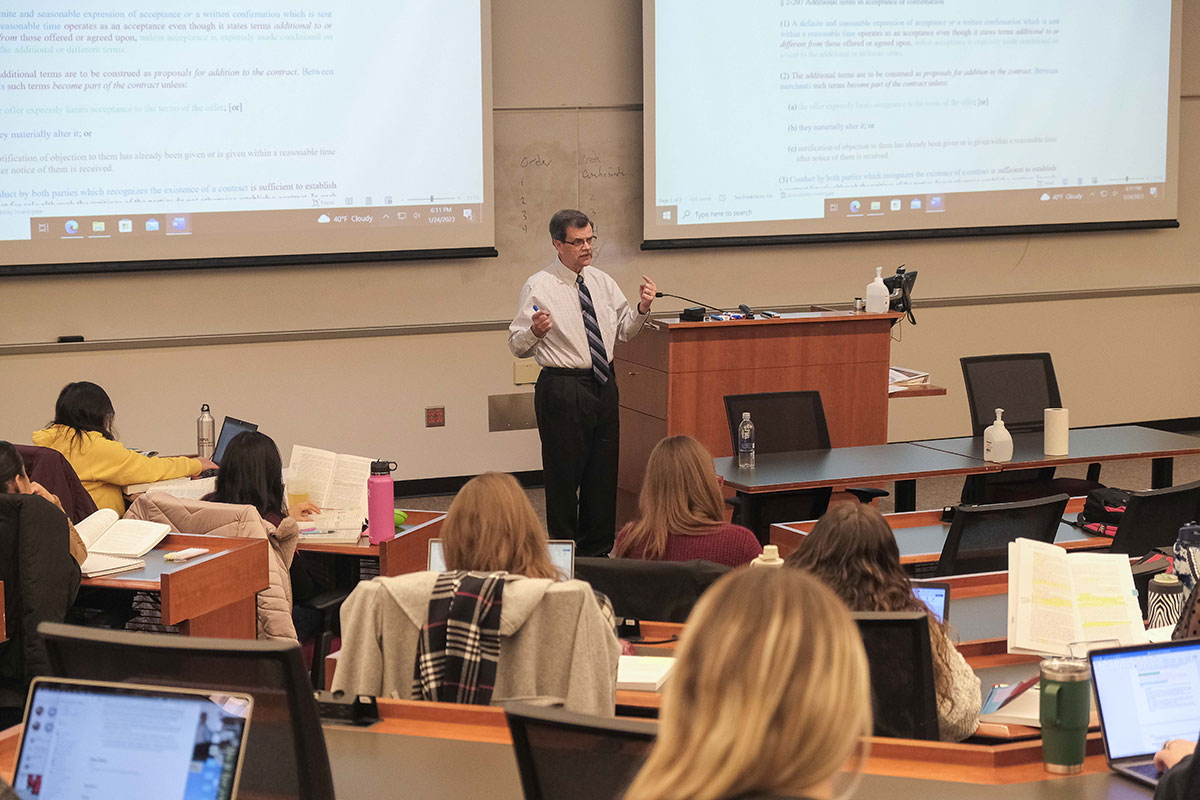 Student experiences
Already, students in IU McKinney's evening program tout the value of its flexibility.
That includes second-year IU McKinney student Hannah Kendrick, who is a legal extern for the Legislative Services Agency at the Statehouse by day. By night, she takes classes just down the road.
"I knew that I always wanted to either have a job or be doing an internship during my time at law school," Kendrick said. "The part-time program gives me the opportunity to have my daytime freed up so that I can get actual legal experience."
Cassie Tripp is in her final year in IU McKinney's part-time program. Like Kendrick, she works as a legislative assistant during the day before heading to class in the evenings.
Tripp said she sees value in the hybrid option.
"The idea that I've heard of this hybrid program, where they can do part of it online instead of physically going into class every day, every week, seems honestly fantastic," Tripp said. It gives you a break from just constantly going all day for those who are working full time."
IU McKinney Clinical Professor of Law Joel Schumm will be one of the professors teaching the hybrid courses ­—specifically, a criminal law course in the summer.
"I'm already starting to think about how I'm going to modify and improve the course to make it hybrid," Schumm said. "I'm excited about the opportunities that will allow me as a professor, but also the students in terms of promoting their learning, as well."
With the hybrid program, Schumm said professors will be able to conduct student assessments throughout the semester rather than a final exam.
Then and now
Schumm himself graduated from IU McKinney's part-time program. He said the school hasn't changed too much since he graduated in 1998.
"It really hasn't changed much since I was a student to now and until the hybrid kicks in in the fall," Schumm said.
Like Schumm, IU McKinney Vice Dean Cynthia Adams, who also is a clinical professor of law, attended the IU McKinney part-time program, graduating in 1983.
"I wish I had this opportunity at the time that I was going to school," Adams said. "That would have made my life a lot easier, and I think that this is great that we're now offering this to our evening students."
Adams said the law school has been considering a hybrid option for a few years. After getting feedback from students, the program came to life.
"Various students have asked for more flexibility in their Monday through Friday evening offerings, and there's more and more demand for some level of remote learning to give these students more flexibility," she said. "We're hoping that this type of hybrid program is going to allow us to reach more people in rural counties, as well as people even in the local area that might have otherwise felt that their schedules wouldn't permit them to go five days a week."
The school has hired an instructional designer to help with the planning and creation of the hybrid courses.
The pandemic was almost like a trial run of what the hybrid program could look like. With experience teaching remotely, professors are planning and preparing for how they want to shape their classes.
"A lot of us have done online aspects to our classes during COVID. We're sort of required to do that because of the circumstances," Schumm said. "But this will allow us—with the course designer, and with several months to prepare—to do it in a more thoughtful way."
The school's admissions office has already started receiving applications for the program.•
Please enable JavaScript to view this content.