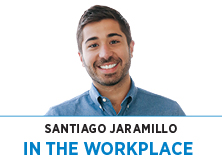 This summer, we reached a historic moment for racial justice and equality in the United States. The deaths of Ahmaud Arbery, Breonna Taylor and George Floyd set a long-overdue movement into motion that has sparked crucial conversations throughout society, including the workforce. It's been encouraging to watch leaders nationally engage in discussions about what it means to cultivate more diverse, inclusive and equitable workplaces.
But the vast majority of companies still have a long way to go.
Emplify recently gathered data from more than 1,000 employees to discover how things are going when it comes to diversity and inclusion efforts. It's encouraging that 85% of respondents believe diversity and inclusion should be a top priority at their company. However, more than half of the respondents shared that their organization isn't communicating frequently enough about its diversity policies and practices. Maybe that's why 39% wouldn't say they're proud of the progress their company is making on issues related to fairness, diversity and inclusion.
While approaches like implicit-bias training are well-meaning, they do little to remedy deep talent-strategy and culture problems. Truly making diversity and inclusion part of your organizational heartbeat is like performing cultural open-heart surgery: It's serious and the road to recovery is long, but in the end, your organization will be stronger and healthier than before.
No matter where your organization is in the process of building a diverse and inclusive workplace, continuing to make progress on and communicating these efforts with employees is crucial. Here are four steps to ensure your organization's progress on D&I doesn't stall, while involving and communicating with employees throughout the process.
Establish a baseline.
If it has been a few months since you began the important work of making D&I part of your organization's heartbeat, it might be time for another EKG. Consider surveying employees to establish a baseline to measure your efforts against.
Your culture lives in the hearts and minds of your employees, so asking for their feedback will help you get an accurate understanding of how employees perceive the progress you're making with D&I. Asking for candid feedback is a surefire way to let your employees know you're serious about changing the aspects of the culture that aren't inclusive or don't promote diversity. Your goal during this crucial step is simply to listen and learn with an open mind.
Share what you learned.
Once you've gathered insights from employees, thoughtfully repeat these learnings back to employees to close the loop. This step will ensure they feel heard and that you're taking their concerns seriously. Validation is extremely important in D&I efforts. Validating the results of the survey says, "Your perceptions have merit and we WANT to change."
Create an action plan and communicate it to employees.
Armed with insights, you can now create a detailed action plan with the steps the organization will take to correct the problems surrounding diversity and inclusion that came to light in the survey. Create a plan with goals and deadlines and communicate the plan with employees.
However, make sure your goals are realistic. For example, building a diverse workforce probably won't happen in a quarter, but you could make productive changes to your talent-acquisition process in an effort to build a more diverse candidate pipeline. As you make progress on your plan, communicate milestones to employees and be intentional about celebrating "wins."
Rinse and repeat.
Making meaningful progress on embedding D&I into your culture will require careful listening, planning, time and many employee-feedback cycles. Once you've completed your first action plan, prepare to start the process again. This time, you'll have a baseline to measure against when you survey employees and will be able to get a real sense of the progress you're making toward a diverse, inclusive and equitable workplace.
Now, more than ever, we as leaders must reaffirm our commitments to building cultures of care and inclusivity that acknowledge, appreciate and celebrate everyone.•
__________
Jaramillo is co-founder and CEO of Emplify.
Please enable JavaScript to view this content.