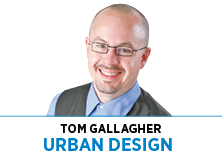 It has been more than 20 years since I moved to Indianapolis. I have now lived more of my life here than anywhere else. The places and the people of this city have made me the person I am today.
Places can help us feel safe or increase our anxiety. In this time of division, we should recognize that places can also connect or divide us. They can give us a reason to gather or keep us from meeting. This is one of the highest callings of a city as a physical place—to facilitate the most meaningful relationships of our lives.
A regular touch point of my personal history is Maple Road, or 38th Street as most know it today.
Landscape architect George Kessler established a park and boulevard system for Indianapolis in 1908 that included a framework of roads, both beautiful and purposeful, that connected neighborhoods, parks and green corridors across the city. By plan, Maple Road was an urban parkway, flanked by a double row of trees with ample room for pedestrians and lined by humanely scaled commercial and apartment buildings.
By the time my narrative entwined with that of Maple Road, the street had become something very different.
In the 1970s, the interstate highways had made their mark on Indy, tearing through primarily black and underprivileged neighborhoods. Maple Road was completely redesigned as an "urban penetrator," with multiple lanes intended to aggregate and move vehicular traffic quickly and efficiently to and from the highways. The narrow concrete walkway on either side barely qualifies as a sidewalk. All this was a further drag on an area already in decline from the midcentury "white flight" to car-oriented subdivisions. It cemented 38th Street as a dividing line between predominantly black neighborhoods to the south and mostly white neighborhoods to the north.
My profession has taught me to see the potential of places like 38th Street. As a much younger, newly transplanted urban designer, my curiosity about its potential led me to one of the most meaningful learning experiences of my life.
I was introduced to a remarkable group of local leaders, representatives from both sides of 38th Street—a mix of ages, genders and races. They were all regular folks, volunteering their time. What made this group exceptional was that they were sitting together arguing, laughing, wondering, strategizing and hoping. What they had in common was their wish to humanize the corridor, making it a center of community rather than a divider of neighborhoods.
I am forever grateful to the people of color in this group—those from whom I most needed to learn—for embracing me, bringing me into their communities and teaching me. By their example and through their stories, I learned what it means to be poised, patient and passionate. And I learned the power of granting people a little unearned grace. They taught me to not lose youthful enthusiasm for grand ideas, a necessary skill when experiencing how insurmountable some of the problems can be.
A gut-wrenching story told by my Maple Road friends centered on the rezoning of a parcel for a national chain pharmacy. The Maple Road group advocated for a building that responded more appropriately to the neighborhood, scaled like other historic buildings in the area, mixed-use if possible but at least engaged with the sidewalk rather than built in the middle of a parking lot. The company, confronted with the loss of their petition or a change to their standard design, chose a cynical and divisive route to victory. Manipulating fragile relationships in the neighborhood, they advanced the narrative that the people north of 38th Street didn't want the predominantly black neighborhoods to the south to have a drugstore.
This is what makes systemic racism so insidious. It hides in plain sight. Worse yet, it is easy to manipulate with statements that might not be true but are easy to believe given our history.
In the end, the neighborhood got the pharmacy it wanted and deserved but mostly in the form proposed by the company. The store (since abandoned) brought a modicum of economic activity to a struggling area but reinforced the car-oriented approach that led to the downturn of the neighborhood in the first place. It affirmed far-flung corporate ownership and single use rather than mixed-use, fine-grained, walkable urban development.
Now, 20 years have passed. To be sure, there has been legitimate progress. Rapid transit has arrived in the form of the Red Line, and the Purple Line is on its way. Tarkington Park is maturing as a more inclusive public space. Yet, we've not done enough—I have not done enough.
In all that time, what has not changed is the core threat to the neighborhood: the virtual highway that runs through it. One less lane of cars in each direction replaced by more pedestrian way and protected bike lanes would be a meaningful but not revolutionary improvement. The broader civil engineering community has embraced such "road diets" as ways of increasing the efficiency of road networks, and cities have seen them as a way to reduce crashes and pedestrian deaths.
If we need further proof of the threat that the conditions of 38th Street pose, the construction of a bridge has begun that will take the Monon Trail over it, offering users unimpeded safe passage. Still, I cannot help but wonder if this bridge won't become yet another reason to avoid addressing meaningful issues with the street itself. I hope we will be inspired to do more by the man whose name the bridge will carry, Marshall Walter "Major" Taylor, the black professional cyclist who broke down barriers in his sport.
The worldwide demonstrations with which we began this month have touched us all in some way and highlighted broader issues we have avoided. As an urban designer, I realize the privilege I have of helping people shape their communities as a reflection of their values—helping them create the settings for their own stories. But the urban and environmental design professions are less for their lack of diversity.
Bringing diverse communities together—in our careers and in our neighborhoods—can highlight our differences, but our differences don't make us weak. They are the seeds of making us stronger than we could have ever imagined. Nor should we fear giving up the essence of who we are to advance together.
The story of the great American melting pot is a flawed narrative. Our country will be truly beautiful, powerful and resilient when we aspire to the metaphor of a mosaic where every piece is magnificent, every piece is necessary but, most important, each piece is less without the other.
As so many in a far better place to make the point have said, "black lives matter" is just the minimum. Black lives are wanted, black lives are needed and we all will be better for walking the walk together. There is willingness to embrace a new narrative. It's time we write one together.•
__________
Gallagher is a principal and urban designer with Ratio and a professor-in-practice of urban design at Ball State University. Send correspondence to TGallagher@ratiodesign.com.
Please enable JavaScript to view this content.