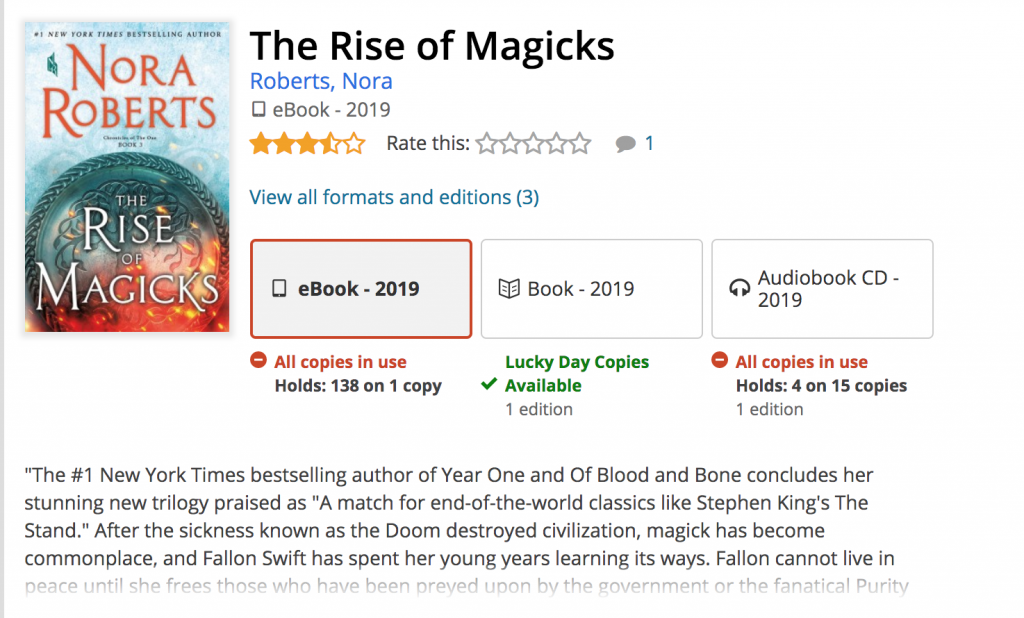 As library patrons shift their reading habits online, libraries and publishers are clashing over library access to e-books—and library wait-list times are soaring as a result.
The dispute has been simmering for years, but it flared up after New York-based Macmillan Publishers on Nov. 1 began limiting libraries to one copy of each new e-book title for the first two months after publication.
Libraries gain access to e-books by paying for a license that typically offers access to the title for a limited amount of time or number of checkouts, accessible to one patron at a time. So the new Macmillan policy means that all library systems, no matter their size, will have only one copy of new Macmillan e-books to offer patrons for the first two months after the books' release. The policy does not apply to e-audio books.
In a July letter to its authors and illustrators as well as agents, Macmillan said it was changing its library e-book policy to protect sales amid a changing marketplace.
To date, no other publisher has announced plans to follow Macmillan's lead. But the change is nonetheless significant because Macmillan is one of the five largest publishers in the United States, and the new rule also applies to Macmillan's numerous divisions, including Farrar Straus & Giroux, Henry Holt and St. Martin's Press.
In the letter, Macmillan CEO John Sargent said that 45% of the publisher's U.S. e-book reads are now coming from library patrons who borrow the titles for free. "It seems that given a choice between a purchase of an ebook for $12.99 or a frictionless lend for free, the American ebook reader is starting to lean heavily toward free," Sargent wrote.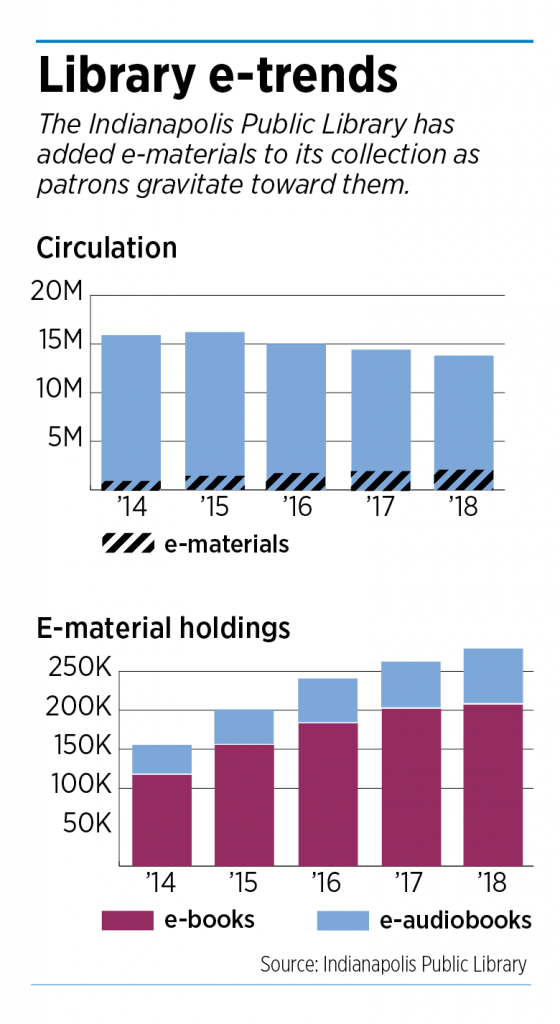 According to the Association of American Publishers, during the first six months of this year e-book sales totaled $492.7 million, down 3.8% from a year earlier.
Macmillan declined an interview request from IBJ.
The Association of American Publishers also declined to comment for this story, saying that as an industry trade group it refrains from commenting on its members' business decisions.
For their part, libraries say they're already struggling to meet demand for e-materials for various reasons, and Macmillan's policy change makes things even worse.
"These types of changes in the industry are really changing what public libraries can do to serve their public," said Deb Lambert, the director of collection management at the Indianapolis Public Library.
How e-book lending works
The conflict reflects the fact that e-books and e-audiobooks differ from their analog counterparts in  significant ways.
Libraries' access to e-materials is significantly more expensive, which means libraries often can't add as many copies of popular e-books to their collections as they might wish. Also, publishers can limit access to electronic materials in ways that are not possible with physical materials. Add in the fact that patron demand for e-materials is steadily increasing, and you've got a recipe for problems.
A concrete example: the Indianapolis Public Library has 88 print copies of the best-selling Delia Owens novel, "Where the Crawdads Sing." As of Sunday, 109 people were waiting for the book, which works out to 1.23 patrons waiting for each copy. In comparison, 320 patrons were waiting for 101 copies of the e-book version—3.2 patrons per copy. And 400 patrons were waiting for 60 copies of the e-audiobook—6.7 patrons per copy.
There are several reasons for this.
Lambert said the library spends, on average, $20 to acquire one physical item. But e-books cost an average of $55 per item and e-audiobooks cost an average of $66.50 per item, which limits the number of copies libraries can offer.
Another issue is that, typically, libraries aren't purchasing the e-books. They're instead buying a license that allows them limited-time access to them. Under typical licensing agreements, libraries pay to access an e-book for one of two lengths of time: either 26 checkouts or one year, whichever comes first, or 52 checkouts or two years, whichever comes first. Once the licensing period expires, a library must pay for a new license if it wants to keep the item in its collection.
For some of the most popular e-materials, Lambert said, "things are at a six-month hold and there's nothing we can do about it."
After Macmillan instituted its one-copy limit for new e-book titles last month, wait times for those titles got even longer.
The e-book version of Nora Roberts's new novel, "The Rise of Magicks," for instance, had 137 holds as of Sunday at the Indianapolis Public Library. The novel is published by St. Martin's Press, a division of Macmillan, which means that the library has only one copy of this e-book and won't be able to access additional copies until Jan. 19.
In comparison, the library currently has 50 print copies of the book, with 66 people on the waiting list.
A licensing business
So what makes e-materials so different from physical materials?
In large part it's because libraries typically don't purchase e-materials, said Kenneth Crews, a copyright attorney with the Los Angeles law firm Gipson Hoffman & Pancione. "It has been much more prevalent for publishers to choose to license e-books."
U.S. copyright law includes a concept called the doctrine of first sale—once a work has been lawfully produced and sold, the purchaser can do what he or she pleases with it. A retailer, for instance, can resell the book to a customer, a library can keep the book on its shelf indefinitely, or an individual can give the book to a friend.
But the doctrine of first sale doesn't apply if the book isn't actually sold, Crews said. "The market has changed, and if the market changes from sale of the copy to the license of the copy, the first sale doesn't kick in."
Instead, access to the material is governed by the terms of the licensing agreement.
Crews said publishers may choose to license e-books to protect sales, or out of fears that users might reproduce it without authorization. "Licensing becomes a way of imposing restrictions."

Path to discovery
Libraries, though, dispute publishers' assertions that library borrowing hurts book sales. Many borrowers, libraries say, are also book buyers.
"We're providing avenues for patrons to discover these books and titles that they otherwise wouldn't have," said Christy Walker, communications manager at Carmel Clay Public Library.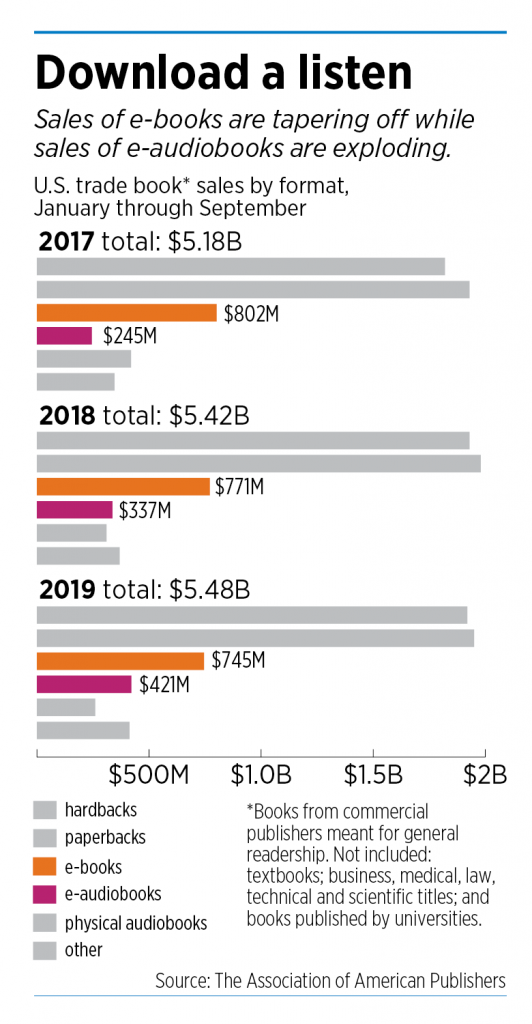 Librarians are also skeptical that Macmillan's new e-book policy will do anything to protect its sales.
"I don't think it's going to be the payday they're intending," said Lisa Lintner, director of the Johnson County Public Library.
Lintner said she suspects patrons will endure the longer waits rather than choose to buy e-books.
The situation is also affecting which titles—and how many of them—libraries can add to their collections.
The Indianapolis Public Library's annual collections budget is $5.5 million. It spends about $2 million of that on e-materials, including e-books, video and databases.
In 2016, Lambert said, the library tried tipping the balance a bit. It put an extra $200,000 toward acquiring e-materials, leaving less money for the purchase of physical materials.
The library reversed that approach after a year because patrons noticed the change and complained, Lambert said.
With its collections budget stagnant over the last several years and demand for e-materials growing, the library isn't able to keep up, Lambert said.
The situation also means that libraries are less likely to keep e-materials in their collection over the long term, because of the continuing cost of doing so.
Hard choices
E-book restrictions are also pushing libraries toward more popular titles at the expense of less popular ones.
Libraries are willing to purchase a wide variety of print books, including less popular titles, because once they purchase the book they can keep it indefinitely, said Alan Inouye, senior director of public policy and government relations at the American Library Association.
But with e-books, libraries may hesitate to purchase titles that only get a couple of checkouts over the duration of the license, Inouye said. "If you're paying $60 and it's only getting loaned twice a year, wow. That's a lot of money for two checkouts."
Tensions are likely to escalate as interest in e-materials continues to climb.
The Indianapolis Public Library's e-material circulation has steadily increased in recent years, even as overall circulation has declined.
At the Carmel Clay Public Library in Hamilton County, digital items account for 15% of the library's checkouts for the year to date, up from 10% in 2018.
"We know that our patron base wants to be reading e-books," Walker said.
Demand for e-audiobooks is especially strong. According to the Association of American Publishers, during the first six months of this year publishers sold $278.6 million worth of e-audiobooks, up 33.8% from the same period in 2018.
Walker said that while some readers remain attached to the experience of reading print books, they feel no similar bond to physical audiobooks.
"Nobody really has fond memories of juggling a 12-CD audiobook in the car," she said.
Shortening borrowing times
To address the growing wait times for e-books and audiobooks, the Indianapolis Public Library has adjusted its default lending period for e-books and e-audiobooks, from 21 days to 14 days, and it's lowered the limits on how many e-materials patrons can check out and put on hold. The changes took effect Nov. 18.
In August, the library system also implemented what it calls a "Lucky Day program," in which it makes available a small selection of popular e-materials for a seven-day checkout period with no waiting. The Indianapolis Public Library, which offers e-book access through third-party provider Overdrive, helped Overdrive develop the Lucky Day program, Lambert said.
"We're trying to find different tools to help us manage this situation," Lambert said.
The American Library Association is also working to address the problem on a larger scale—in August, it began reaching out to members of Congress about libraries' concerns.
"What they might do remains to be seen," Inouye said. "We're still working through that. But there's a definite interest in learning what's going on."
Please enable JavaScript to view this content.