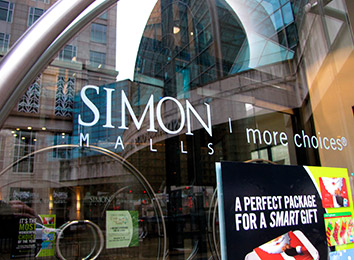 Marion County's plan to extend the city's stay-at-home order through May 15 could derail Simon Property Group's plans to reopen its Indianapolis malls this weekend.
The announcement—from Indianapolis Mayor Joe Hogsett and Marion County Public Health Department Director Dr. Virginia Caine—comes one day after news reports said that Indianapolis-based Simon planned to reopen its malls, including 10 properties in Indiana, on Saturday.
Hogsett's chief of staff, Thomas Cook, told reporters Thursday morning that the administration plans to discuss reopening Marion County malls with Simon leadership on Thursday afternoon.
But he said Castleton Square Mall, Circle Centre and the Fashion Mall at Keystone won't likely be allowed to reopen Saturday under Marion County orders.
Simon officials did not immediately respond to a request for comment and did not return a message seeking comments on Wednesday about plans to reopen.
Dr. Caine told reporters Thursday that she is "very concerned" about letting large retailers reopen when cases continue to increase.
Marion County has seen the state's highest number of cases of COVID-19 in Indiana, with 5,295 cases and 300 deaths through Tuesday.
"When we already have over 100 cases a day, opening a large retail establishment would just increase our numbers dramatically, put other citizens at risk considerably and it may undo all the good work we've put in place related to our shelter in place and staying at home philosophy," Caine said.
The city and state stay-at-home orders currently require malls to be shut to in-person shopping. Stores can offer pick-up service, however.
The state's stay-at-home order expires at midnight Friday, and Gov. Eric Holcomb has indicated he intends to start reopening the economy in some rolling fashion. When asked earlier this week about Simon's plans, Holcomb said he had talked with Simon officials but did not tell the company what would be included in his new order, which he will announce Friday.
City officials say the local order may have to be be adjusted to comply with the new state requirements that Holcomb will announce on Friday. The state has the authority to preempt local governments but it can also allow local governments to set more stringent rules.
But local officials said the goal is to issue an order "subsequent to the new statewide order that to the greatest extent allowable will continue current restrictions" on all non-essential business through May 15.
According to the city, restaurants may continue serving takeout and delivery, and grocery stores, pharmacies and other essential businesses will remain open.
Golf courses and farmers markets will be allowed to open May 2, provided that they put in place proper social-distancing protocols and strict sanitation practices are implemented.
The city has also asked county residents to wear a face mask or covering while out in public.
"It's clear from talking with state leaders and community stakeholders that the challenges we face here in Indianapolis are unique—a city filled with large venues, densely populated neighborhoods and active business centers," Hogsett said in written comments. "To ensure that we see continued progress in our fight against this virus, we must recommit to our social distancing efforts even as we plan for the future."
Hogsett told reporters he doesn't expect to be at odds with the governor about the state's reopening plan. The city will work collaboratively and cooperatively with the governor and his staff to implement the state's orders.
So far, Holcomb has not restricted counties from implementing restrictions that are stricter than the state's, except for prohibiting any county from issuing a travel warning that's higher than the states. Cass County, for example, this week further clamped down on who is allowed inside retail establishments after seeing a spike in cases.
"We are simply suggesting that Indianapolis has a fundamentally different perspective … that may very well be substantially different than other areas of the state," Hogsett said. "The governor … has to keep into consideration the needs, desires, the pressure and the vulnerability of all 92 counties. Dr. Caine and I have the unique responsibility of charting a course for the city of Indianapolis and the Marion County residents."
"If the state tomorrow articulates fundamentally different directives or lessens restrictions, we certainly will work with them in trying to implementing hose as consistently as the message we're offering today," he added.
Please enable JavaScript to view this content.