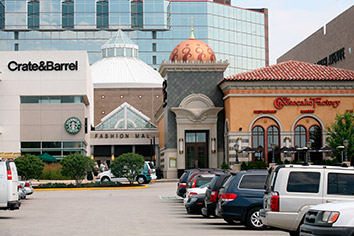 Indianapolis-based Simon Property Group plans to reopen 49 of its malls and outlet centers by Monday, according to a memo obtained by CNBC.
The planned reopenings include all 10 of Simon's Indiana properties, CNBC reported. That includes Castleton Square Mall, Circle Centre, the Fashion Mall at Keystone,  Greenwood Park Mall and Hamilton Town Center in the Indianapolis area.
The Indiana properties are scheduled to reopen Saturday, according to the memo. Other reopenings will occur on Friday, Sunday and Monday.
The openings target states where governors are beginning to lighten restrictions aimed at limiting the spread of the coronavirus. Indiana Gov. Eric Holcomb has said he plans to ease stay-at-home restrictions in this state starting Friday.
At his Tuesday afternoon COVID-19 press briefing, Holcomb said final guidelines and decisions about reopening businesses, including malls, have not been completed. The governor said he talked with Simon Property CEO David Simon because Simon wanted to offer feedback on his industry, but did not tell Simon what will be in Friday's announcement.
Simon, the nation's largest mall owner, owns or has a stake in more than 200 retail properties in the United States. It shut them all down on March 18.
A Simon spokeswoman did not immediately respond to a request for comment from IBJ.
CNBC said business hours at the reopened properties will be limited to 11 a.m. to 7 p.m. Monday through Saturday, and noon to 6 p.m. on Sunday.
That schedule will allow for overnight cleanings, according to the memo. CNBC said Simon also will regularly sanitize high-touch areas, such as doorknobs and escalators.
In addition, CNBC said Simon will encourage shoppers to take their temperatures before visiting, and will offer free temperature tests at all properties.
Simon will encourage shoppers to wear masks, according to CNBC. The news service said Simon will provide hand sanitizing packets and masks approved by the Centers for Disease Control and Prevention to shoppers who request them.
To encourage social distancing, Simon will limit occupancy at the properties and mark floors to direct traffic flow, CNBC reported.
Retailers will have the choice whether or not to reopen. Many, including Macy's, have furloughed the majority of their store employees.
Please enable JavaScript to view this content.