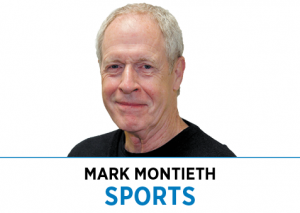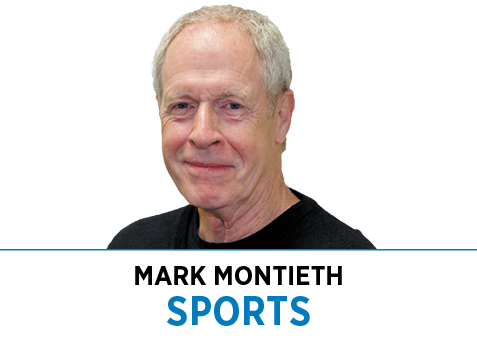 It ended inappropriately and anti-climactically, with a meaningless and uncontested layup amid resounding boos—from his own fans, no less. Quite a way to celebrate a lifetime milestone.
Fifty-three years ago this week, Rick Mount scored 61 points in Purdue's 108-107 loss to visiting Iowa. It remains the single-game scoring record for a Big Ten player and stands as one of college basketball's all-time-greatest shooting performances when the game's meaning and opponent's quality are considered. But it's also full of what-ifs that haunt and intrigue Purdue fans to this day. Mount, too.
What if the three-point shot had existed for college teams in 1970? What if the number of foul calls hadn't favored Iowa so dramatically? What if a technical foul had not been called on Purdue's fans for throwing paper onto the court to protest the officiating? And what if it's true the last-straw fling of wadded-up paper that caused a turning point actually did come from a savvy Iowa fan?
So many questions infiltrate the memories of a game that remains entrenched in the consciousness of people old enough to have seen it or heard it or played in it. Mount's startling performance, however, stands out most of all. The state's foremost marksman peaked that afternoon by hitting 27 of 47 field goal attempts and seven of eight free throws.
"I just couldn't miss," Mount recalled. "Well, I missed 20 shots, but I was really on."
Austin Carr scored 61 points for Notre Dame just a couple of weeks after Mount but did so against an inferior opponent, Ohio University. Evansville's Scott Haffner scored 65 in 1989 but had the benefit of a three-point shot—and hit 11 of them. Mount's performance came in a showdown against a highly ranked opponent.
Purdue entered the Feb. 28 game 9-2 in Big Ten play, having lost at Iowa in its conference opener and at Northwestern. Iowa was 11-0. The Boilermakers needed a victory to keep hope alive for a share of the league title.
Iowa had superior balance, with four players averaging more than 17 points per game, including two—John Johnson and Fred Brown—who would go on to have lengthy NBA careers. It appeared to have the better team based on records and its earlier six-point victory over Purdue in Iowa City, although the Boilermakers were missing two key players—Larry Weatherford and William Franklin—who had been suspended for that game.
Purdue, meanwhile, had the momentum of 30 consecutive victories in its 3-year-old arena, which wasn't yet named for Athletic Director Red Mackey, and of never having lost to a Big Ten opponent there. It also had Mount, who was on his way to becoming the Big Ten's all-time leading scorer and a second selection as a consensus first-team All-American.
"If Iowa beats us on our own floor, they'll be a great champion," Purdue coach George King said before the game. "Our crowd will make our place jump, believe me."
The arena jumped all right. Too much for Purdue's own good.
The game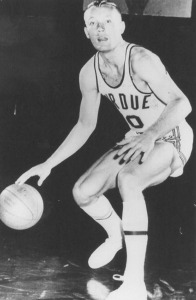 Iowa didn't give any special attention to Mount, preferring to defend him aggressively with one defender and limit his teammates. Mount, who had scored 53 points in the earlier game at Iowa, took full advantage, scoring Purdue's first 10 points and 32 of its first 39. Iowa, however, managed a 49-47 halftime lead after trailing by as many as 10 points late in the half.
Purdue fans were hopping mad by then and had shown their disapproval by throwing paper onto the court to protest calls. The Boilermakers had been called for 21 personal fouls in the half, and all the starters except Mount had spent extended time on the bench as a result. The fans' mood worsened in the second half when Iowa was called for just four fouls, three Purdue starters fouled out, and Mount had to play the final seven minutes with four fouls. Overall, Purdue would make eight more field goals than Iowa but attempt 18 fewer free throws and get outscored by 17 points at the foul line.
Early in the second half, as fans continued to toss paper wads, Purdue assistant coach Joe Sexson took the public address mic and implored them to stop. The public address announcer also warned them that the referees would call a technical foul if they continued. But soon after, with 12:57 left, Purdue guard Steve Longfellow was called for a foul, and the Iowa player was awarded a layup despite taking an extra step after the whistle had blown. A wadded-up paper from a game program came flying out of the stands and, sure enough, a technical foul was called.
The three-point play, technical free throw and field goal off of the bonus possession amounted to six points for Iowa and a 73-70 lead.
Speculation has persisted that the offending paper was thrown by an Iowa fan. Rick Snider, a former Purdue player whose career had ended prematurely because of a motorcycle accident and was working as a radio analyst, said as much.
"That would be a great tactic," Purdue's veteran play-by-play announcer John DeCamp replied.
The theory didn't win majority approval, however. DeCamp called the crowd's behavior that day "the worst I've seen at Purdue, ever." And Bruce Ramey, sports editor of the Lafayette Journal and Courier, pointed out only 24 tickets had been distributed to Iowa fans, making the odds about "500-to-1" amid the capacity crowd of 14,123 that a visiting fan had the savvy and gall to litter the court and inspire a technical foul on Purdue.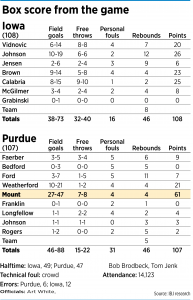 The Boilermakers recovered to take a nine-point lead with less than four minutes remaining but couldn't hold on. Mount scored his 59th point with more than six minutes left but missed four shots before his futile last-second layup. His final two misses were short jumpers on which he thought he was fouled. He complained to the referees and repeated his opinion to reporters afterward.
"I got it right on the arm," he said quietly. "But what could I say?"
Some media outlets said it for him. The Chicago Tribune reported "one of the hacking fouls was obvious from the stands and nothing was called." And the Sports Illustrated reporter covering the game wrote, "The referees definitely were not protecting [Mount]. They weren't protecting anybody from Purdue."
Which is why Purdue fans were booing the referees rather than cheering Mount when the final buzzer sounded.
Moving on
As it turned out, the game's outcome didn't matter. Iowa won its final two games to finish undefeated in Big Ten play and capture what still stands as the university's lone unshared championship. Only conference champions could compete in the NCAA tournament then, and Iowa was given a legitimate chance of challenging for the championship in the 24-team field because of its high-powered and balanced offense. It had scored 116, 108, 113 and 115 points in its final regular-season games, but after drawing a bye in the tournament lost its first game to the eventual runner-up, Jacksonville, 104-103 on a last-second tip-in.
Mount moved on as well. Seven days after the loss to Iowa, in his final college game against Minnesota, he broke the Big Ten career scoring record that had been held by IU's Don Schlundt since 1955. Two days after that, he signed a contract with the Pacers during a press conference televised live in central Indiana by Channel 13. He then dropped out of school and began a new life.
All these years later, Mount's record-setting barrage has only grown in stature. The fact that he did it with a diet limited to two-point field goals adds an air of mystery. It's not uncommon to hear claims that he would have scored more than 80 points with the benefit of a three-point line, but a review of the game's shot chart in 1986 resulted in the estimation he would have made 13 three-pointers and scored 74 points.
Whatever the number, it was a historic shooting exhibition.
"I got as close to him as you can get to a man," Iowa's Chad Calabria, who defended Mount most of the game, told reporters. "But I couldn't stop him. It's not just his accuracy—it's his quick release. That cat's so quick, he's already in the air before you can do anything about it."
The fact that the game can't be viewed again adds further mystique. It was televised, but stations made a practice of recording over tapes in those days as a cost-saving measure. Mount said he once had film of the game, shot for scouting purposes with a single camera from the top of the arena, but he loaned it out to someone and never got it back. If a copy exists, it has yet to resurface.
Playing to win
What's as clear as black and white is that Mount remains Purdue's all-time leading scorer with 2,323 points despite playing before freshmen were eligible for varsity competition. It's highly unlikely his mark will be broken now that standout college players turn professional as quickly as possible. Any Purdue player good enough to challenge Mount's mark would likely leave after a season or two.
The 61-point single-game record seems more vulnerable with the three-point shot having become so prevalent, but in all the years since Mount's outburst, only one Big Ten player has even reached 50—Michigan State's Terry Furlow in 1976. Few college coaches today would permit a player to shoot more than 30 times in a game, much less 47. Defenses are generally better, too.
A Purdue teammate, however, has a point of his own to make: Mount wasn't being selfish that day.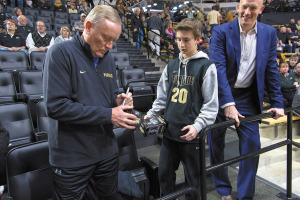 "I never saw Rick in it for himself," said Longfellow, an Elkhart native who lives in San Diego. "I came from a coaching family, and I would have recognized that. It was one thing that always impressed me. I'm not saying he wasn't cocky, and he could say things that irritated people. But he really wanted to win."
Mount agrees. He had already surpassed 50 points his senior season at Purdue and had done it in high school, as well. Scoring in droves was his norm but never his primary ambition. He was frustrated not to get more shots in the final minutes against Iowa, but only because he was his team's best scoring option. Weatherford, whose shooting accuracy was 10% below Mount's, missed three shots down the stretch and drew criticism from King for one of them.
It's a game Mount will never forget. But never fully appreciate, either.
"I was in my zone that game," he said. "When I hit 59, I didn't know I had 59. I never thought about getting my points; I just went out there to win. I was going to shoot a lot because I was the best shooter in the country."•
__________
Montieth, an Indianapolis native, is a longtime newspaper reporter and freelance writer. He is the author of three books: "Passion Play: Coach Gene Keady and the Purdue Boilermakers," "Reborn: The Pacers and the Return of Pro Basketball to Indianapolis," and "Extra Innings: My Life in Baseball," with former Indianapolis Indians President Max Schumacher.
Please enable JavaScript to view this content.