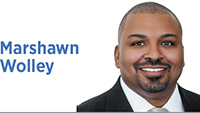 Slating as we know it might be coming to an end, but we should all be concerned about what comes next.
Adam Wren of Importantville got an exclusive from Mayor Joe Hogsett on his view of slating. Hogsett's campaign committee was quoted as saying, "While there are historic reasons for its existence, it has become clear in recent years that the decades-old convention endorsement process no longer serves such a purpose." Hogsett goes on "to call on the Marion County Democratic Party to commit itself to an open primary process in next year's municipal elections."
Over the last several years, Rep. John Bartlett has authored legislation at the General Assembly to eliminate the slating process—even forgoing the process altogether for multiple elections.
This primary also featured several high-profile races against the slate, including multiple elected officials who chose not to participate in the slating process.
The Marion County GOP did not implement a full "pre-primary convention" (slating) for all candidates this year. If slating isn't dead, then it is on life support.
In this emerging brave new world, it is important to pause and consider both the implications and the possibilities of what either an improved slating process or primaries without party-endorsed candidates might mean.
One of the hard realities of the current process is that precinct committee people—the folks who show up at the slating process to vote on the party standard-bearers—don't carry the same clout they once did outside of slating. There was a time when precinct committee persons were part of a political machine that provided benefits to holding the position. While the work of precinct committee people remains critical on Election Day, as they usually find the people to work the polls, their collective influence has diminished due to the ability of party chairs to appoint individuals during the slating election process—or stiff an election. Another part of the tradition.
State party rules make provisions for a precinct review committee that serves at the pleasure of the chair but could be leveraged as a committee to provide the necessary appointments for a slating process, in the event some version of slating survives. If slating disappears, candidates will no longer face a slating process where they must earn the vote of precinct committee people and pay fees for the pleasure of participating in the tradition.
Anyone can run now, but if they aren't endorsed by the party they are "running against the slate."
In the absence of a slate, could Democrats run as Republicans and Republicans as Democrats? Would we even really need party affiliations? While money doesn't always win elections, there is also the very real concern that moneyed interests will have outsized influence on the political process without a party apparatus that can either blunt the effects of money or give people without financial resources a fighting chance.
Whatever the brave new world is shouldn't undermine candidates who lack means and connections in the process.
It would be corrosive to the politics of our community if we did not increase the diversity of the kind of candidate who can run for office in our zealous efforts to eliminate a tradition that served its purpose for a time but must now evolve to meet the needs of the present moment.
If slating dies, let's replace it with something that improves the process for identifying candidates who must be responsive to all residents and not just people who can write significant checks. After all, in politics, money and connections mean a lot, but they can't mean everything.•
__________
Wolley is president and CEO of Black Onyx Management, Inc. Send comments to ibjedit@ibj.com.

Click here for more Forefront columns.
Please enable JavaScript to view this content.