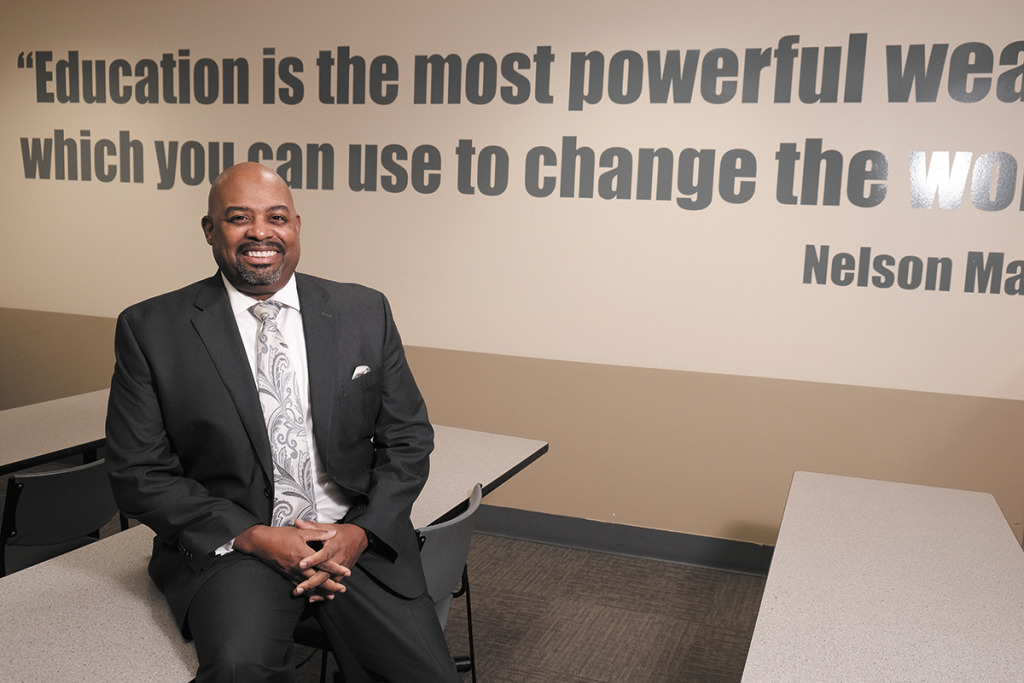 Martin University sits in a prominent spot along Interstate 70, its enormous glass sphere drawing attention from drivers whizzing by. And yet, the state's only predominantly Black college is often overlooked.
It has less than 300 students enrolled, making it one of the state's smallest colleges. And it's less than a decade past a crisis that nearly destroyed it.
But Martin University—under the leadership of a president hired less than two years ago—is making moves to expand its enrollment, its reach among Black adults and its presence in the community.
The school recently announced a partnership with Ivy Tech Community College that aims to create a pipeline for minority students to complete degrees in education or cybersecurity.
And the university is transitioning to an "urban work college," a school in which students work off campus in their field of study while earning their degree. The gigs are high-paying, earning students $18-$20 an hour.
The changes come about seven years after financial problems and students' low academic success threatened Martin's future. In 2014, the Higher Learning Commission—the accrediting agency for the university—put Martin on probation.
But then former Indianapolis Public Schools Superintendent Eugene White became president, cleaned up the financial problems and put Martin on more stable footing. Martin University moved off probation in 2017.
Two years later, the school hired Sean Huddleston, who jokes that White's job was to turn Martin University around—and his job is to "turn it up." And that's just what he's trying to do.
"It's been exciting and challenging and interesting. Kind of all of the above," he said.
The average age of a Martin University student is 38.
Since its founding in 1977, the school's mission has been to serve low-income, adult learners, especially Black residents in Marion County.
More than 95% of its students are categorized as low-income and many are the head of their households.
Huddleston said many students reported in a survey that they work at least 36 hours a week, in addition to going to school. But the survey found their average annual income was just more than $17,000. That indicated to Huddleston that many were working multiple part-time jobs while also trying to earn a degree.
That can create a challenging learning environment. To solve that problem—and help students get relevant and valuable work experience—Martin University is set to become a work college, thanks in part to a $1 million grant from Lilly Endowment last year.
The work-college model will be called Martin Works and will be offered initially to students enrolled in four programs, with plans to expand to others.
Students enrolled in information technology, business administration, psychology and addictions counseling will be the first to participate. They'll work paid apprenticeships at Indianapolis companies in fields related to their majors, putting in 10 to 15 hours a week and earning an average of $18 an hour.
"We will actually embed work experience in our degree programs," Huddleston said. "We're really, really excited about that. We've identified a couple of the areas that are high-demand, high-paying career areas."
Huddleston said school leaders want students to work with the employers through their time at Martin and then secure a full-time job upon graduation.
"That's the value proposition that we were presenting to our students—that if you're already working, anyway, why not get a different job and make more money in your field of study and get trained so that you don't have to wait until you graduate to be able to make a living wage?" he said.
Closing equity gaps
Last month, Ivy Tech and Martin University announced a partnership both schools say will create a more diverse and technology-based workforce and close some of the equity gaps in higher education in Indiana.
Going forward, Ivy Tech students who earn their associate's degree in cybersecurity will have guaranteed admission to Martin University to pursue a bachelor's in a newly created cyber-entrepreneurship program, which combines Ivy Tech's cybersecurity certificate with Martin's business administration degree.
Information technology degrees are a specific focus of the partnership in an effort to increase diversity in the growing, high-paying sector.
"Developing this cyber degree is such a win," Ivy Tech President Sue Ellspermann said. "We want to and need to attract more students of color, as well as women, into tech."
She said that, with a cyber certificate from Ivy Tech and a business administration degree from Martin, students can graduate and immediately earn six-figure salaries.
The partnership also focuses on increasing the pipeline of teachers of color by offering guaranteed admissions into Martin's School of Education—plus scholarship opportunities—to Ivy Tech students who complete associate's degrees in elementary and secondary education. Representation matters, the schools' leaders say, so putting in the effort to attract minorities to the education field will pay off tenfold.
Gov. Eric Holcomb, in a statement commending the partnership, said the partnership will not only help minority students succeed but will also help employers be more inclusive.
"Together, Martin University and Ivy Tech will capitalize on each other's strengths to improve the education and top-level employment of minority students," he said. "This collaboration will not only help our state reach its goals for a more diverse and technology-based workforce, it will also aid employers as they strive to be more inclusive."
Huddleston and Ellspermann said they began discussing a partnership back in March after they realized the schools serve many of the same students.
Huddleston said when he began digging into Martin's data, he realized that many students had started their degrees at five different Ivy Tech locations in central Indiana before eventually transferring to Martin. They tended to stay longer and graduate at a higher rate than other students, he said. We've always had articulation agreements, but we really wanted to put more teeth into it and so we came together to identify programs that we could jointly design and work to get students through," he said.
Ellspermann said the partnership will initially serve Ivy Tech students in central Indiana but could grow to Ivy Tech locations across the state as Martin launches online education options.
The pandemic forced Martin University to start offering online classes, which it hadn't done before. Now, the university is seeking to earn approval to offer online learning more formally going forward.
Martin will also help credential Ivy Tech faculty to teach dual-enrollment classes to high school students.
In addition, the school is opening a Center for Racial Equity and Inclusion, which aims to assist organization leaders in central Indiana in their efforts to strengthen not only diversity in their organizations but also inclusion and equity. The center will offer workshops, lectures, seminars and consulting to Ivy Tech and other organizations across central Indiana.
Huddleston said organizations often increase diversity by bringing in a lot of people of color, but those employees tend to stay at the bottom of the organization, rather than climbing the ladder. "As we graduate our students, we want them to be able to go into a workplace or to be able to start businesses in environments where they would be able to excel," he said.
The university also feels a responsibility to be a convener and leader for conversations in the larger community about equity, inclusion and race. Huddleston hopes the center can serve that purpose.
Joe Perkins, chair of the Martin University Board of Trustees and corporate counsel for regulatory and global business operations at Allison Transmission, called the partnership smart and strategic, saying it's the right move for Martin University. It allows both institutions to have impact and make a difference, he said.
The future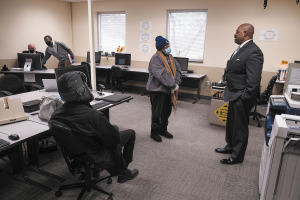 After "tumultuous, tumultuous times," Huddleston said, Martin is in a good place.
COVID-19 has reduced enrollment (from about 300 to about 250). But he said the university has been able to make it without cuts or furloughing employees, thanks in part to a roughly $950,000 Paycheck Protection Program loan and nearly $400,000 in CARES Act money (half of which went directly to students).
Huddleston said that, as changes come to higher education—an enrollment cliff is forecast for 2024 and beyond as the number of 18- to 21-year-olds in the United States falls and that cliff is expected to create a crisis for small, private and liberal arts colleges—Martin will persevere, in part because of the type of student it serves.
Martin generally doesn't enroll the traditional college students (18- to 21-year-olds looking for a residential experience) so the cliff shouldn't affect the university too seriously, Huddleston said.
Innovation will be key for higher education providers in the future, he said. And as a small school, Martin is well positioned to innovate and "push the envelope."
"I think because we have moved much closer to and focused on helping to put people into the workforce and that we have a new, much stronger and intentional focus on partnerships, that we will be able to weather the storm and grow," he said.
Ellspermann said more and more working adults nationwide are going back to college, and that's going to continue, especially as adults who have already earned a certificate or degree return for another as the workforce changes.
"I believe institutions like Martin, like Ivy Tech are best positioned, and we are designed to serve this working adult population that traditional four-years were not designed to do," she said. "Now, they're trying to adapt, but serving adults is already in our DNA."
Perkins, who joined the board after White announced he would retire, said he's been impressed with Martin leaders who have focused on helping the university to gain solid financial footing.
"My experience is similar to a lot of people. Once you start to get to know a little bit about Martin University and its history, it's the kind of place that gets under your skin and you really want to help it continue its story and be successful."
Huddleston and the board of trustees have worked to re-establish Martin as a "communiversity"—a place for academics but also a place where the community can come together—which is reflected in the various new initiatives, including the Center for Racial Equity and Inclusion, but also its continued efforts to host food drives and toy drives that benefit the community around the university, Perkins said.
"I think that where Martin sits right now, it's really well positioned to have a really bright future," he said.•
Please enable JavaScript to view this content.