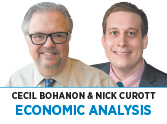 Health authorities tell us that wearing a face mask in public likely confers its wearer little protection from a potential COVID-19 infection. However, if the mask-wearer is himself infected with COVID-19, the mask provides significant protection to bystanders. This is a near-perfect textbook example of what economists call an externality.
Most goods and services confer the bulk of their consumption benefits to the buyer. We can be confident the buyer will buy the "right" amount of such goods because he knows the benefits and gets them himself. However, if the good primarily generates benefits for others, the buyer neither knows their magnitude nor has much incentive to incorporate those other consumers' benefits into his calculation—the benefits are external.
All this was worked out about 100 years ago by English economist Alfred Cecil Pigou, who proposed government subsidies for goods that generate significant external benefits.
Whether and how to use government power to best deal with the externality problem depends on the circumstance. Public campaigns to encourage mask wearing coupled with providing face masks at no charge seem an obvious and reasonable Pigouvian policy. Using fines and arrest threats are clearly more costly. Suffice it to say that what makes sense in downtown Chicago might not be ideal in rural Montana.
Often, private-property rights play a key role in mitigating externality problems. My house, my rule: If you refuse to mask up, you can't come to my party. As we write, several major retailers are instituting mandatory mask wearing in their establishments. In the words of the National Retail Federation, "Shopping in a store is a privilege, not a right." One California mall is offering its own private Pigouvian subsidy: "complimentary parking, iced coffee, a fresh pastry, or a sprinkles cupcake just for wearing a mask."
Debating mask wearing as a matter of individual liberty largely misses the boat. The real issue is determining what mix of private and public mechanisms are best suited to address the externality problem. Will Pigouvian policies and private mechanisms work in stemming the COVID spread, or will the long arm of the law come out in full force?
As one Florida mayor pointed out, "It's tough to enforce social distancing at private parties." We do not relish SWAT teams busting up student off-campus parties in the fall. As economists often say: There are no solutions; just trade-offs. And COVID trade-offs are grim.•
__________
Bohanon and Curott are professors of economics at Ball State University. Send comments to ibjedit@ibj.com.
Please enable JavaScript to view this content.