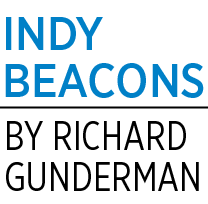 One hundred years ago, in 1920, both the state of Indiana and the U.S. Congress ratified the 19th Amendment to the Constitution, extending to women the right to vote. In 1893, New Zealand became the first to extend suffrage to all women, a step nations such as France and Italy would not take until 1945. A key figure in the U.S. women's suffrage movement was Indianapolis resident May Wright Sewall.
Born in Wisconsin in 1844, Sewall graduated from what would become Northwestern University in Chicago in 1866. She then taught in Mississippi and Michigan before teaching at what would become Shortridge High School in Indianapolis. In 1882, she co-founded the Girls Classical School, serving as principal from 1895 to 1907.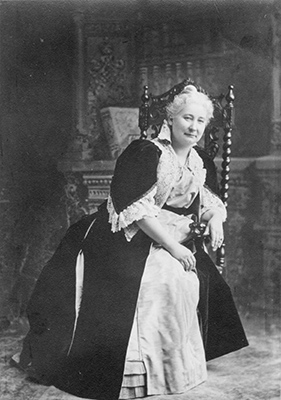 Sewall believed girls should receive an education equal to what boys receive. Her school avoided confining its curriculum to traditionally female subjects such as art and music and instead taught classical studies and natural science. Girls also took courses in physical education and what would later be called home economics.
Sewall had no doubt that women would benefit from education as much as men. Dismissing the notion that a "woman's mind could never compass the acquisitions and endure the discipline which would alone fit her for man's equal partner in life's duties," she cited as evidence "the ease with which women bore away prizes" as soon as they were admitted.
Sewall also co-founded and played leadership roles in a number of local organizations with missions outside women's suffrage, including the Indianapolis Women's Club, the Propylaeum (Greek for "gateway to culture"), and the forerunners of the Indianapolis Museum of Art and Herron School of Art.
In 1878, Sewall co-founded the Indianapolis Equal Suffrage Society, leading a nearly successful effort to secure women's suffrage in Indiana in the early 1880s. From 1882 to 1890, she chaired the National Woman Suffrage Association, and from 1899 to 1904, served as president of the International Council of Women.
Sewall was often confronted with the argument that women had been created to serve men, to which she responded, "To make it the object of one's life to please another person is to forget God, to quench conscience, to lose sight of the personal ideal; it is an object of life as belittling to the one who demands it as to the one who pursues it."
Sewall also wrote, "No reason on earth can be given by those who claim suffrage as a right of manhood that it does not make it a right of womanhood also. … If the natures of men and women are so alike, what harm can be done by elevating them to equality? If they are so different, what right can there be in refusing representation to those who might take juster action?"
In an 1888 letter to fellow Indianapolis resident and candidate for president Benjamin Harrison, Sewall and fellow suffragist Susan B. Anthony wrote that the law recognizes women as citizens during tax collection, at the police station, and in the prison, so why should it not also recognize them "at the ballot box, which is the sole safe-guard of the citizen's liberty?"
After selling the Classical Girls School in 1907, Sewall departed Indianapolis. In the run-up to World War I, she became a prominent advocate for peace, serving as one of 60 delegates on Henry Ford's Peace Ship when it set sail for Europe in 1915. She moved back to Indianapolis in 1919 and died at 76 in 1920, just one month before ratification of the 19th Amendment.
Buried in Crown Hill Cemetery, her modest marker lies between the large monuments of Hoosier poet James Whitcomb Riley and President Benjamin Harrison. In the eyes of one of Indiana's greatest authors, Booth Tarkington, however, it was clear that her contemporaries regarded her as "one of the three most prominent citizens of Indiana."
__________
Indy Beacons pays tribute to the city's bicentennial in 2020 by telling the stories of famous city residents. It appears the second and fourth issues of every month. Gunderman is chancellor's professor at Indiana University.
Please enable JavaScript to view this content.