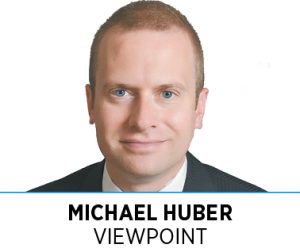 For the next three weeks, Indianapolis will be the capital of college hoops and challenged to deliver a safe and exciting return of post-season basketball. There's no playbook for hosting an entire NCAA tournament in the midst of a global pandemic, but Indy's reputation for rising to the occasion earned us this shot. Can we seize the moment to sell our community, too?
There's a saying about successful college athletic programs: "They don't rebuild, they reload." After a year of unprecedented economic disruption and hardship, Indianapolis is well-positioned to both rebuild from COVID and reload with talent to drive our economy forward.
Rebuilding our business community is job one, as the impact of public health restrictions, wary customers and sluggish spending, and oppressive uncertainty has been crushing. But with cases down and vaccinations up, there's light at the end of the tunnel.
And even in the darkest days of the pandemic, the Indy Chamber tried to be there with a flashlight. Soon after the tournament was canceled last year, we gathered a small group of business owners, corporate and civic partners at The Hi-Fi in Fountain Square to come up with a game plan for helping local employers through a global catastrophe.
Over the last 12 months, we've distributed more than $21 million in loans and grants to small and start-up businesses, working closely with the city of Indianapolis and enlisting a broad coalition of public, private and philanthropic groups to put a full-court press on COVID relief and recovery efforts. Our team answered thousands of questions from employers struggling with issues, from safety protocols to marketing support, and routinely connected companies with specific resources for more support.
There's so much left to be done. But the city that's poised to pull off this remarkable NCAA tournament is also remarkably resilient, considering the challenges of the last year.
We're all eager to welcome fans to support their teams and support local restaurants, retailers and other businesses. But there's an even bigger economic victory to be earned over the next three weeks—showcasing Indy not just as a perfect host, but also a potential hometown.
The tournament can jump-start our post-COVID talent strategy. In today's economy, jobs and investment follow people to growing communities. Even as the pandemic reshuffles demographic trends, success still starts with a strong and growing workforce.
In a recent analysis for the Central Indiana Corporate Partnership, the Brookings Institution praises Indianapolis as a Midwestern technology hub but notes a troubling loss of productivity in our advanced industry sector. Strengthening our high-tech industries depends on attracting and retaining educated workers with sought-after skills—and because they have their choice of where to live and work, we have to make Indy a first-round draft pick.
A few years ago, the Indy Chamber connected with CICP on a talent attraction and image marketing concept called Life in Indy. Research suggests that while sports culture is thriving in our community, most individuals outside Indiana have no perception of what building a life here could look like for them. And when stacked up against metros like Austin, Denver, Cincinnati, Columbus and others, Indy is often overlooked or undersold.
Thanks to the generous support of the Lilly Endowment and investors in our Accelerate Indy regional strategy, we've launched LifeInIndy.com. This new lifestyle blog outlines neighborhoods, things to do, career opportunities and connection points through the eyes of our residents—real stories to help visitors see themselves as future friends, neighbors and co-workers, also offering connections to a network of resident ambassadors called Indyfluencers.
We may be in the fourth quarter of the COVID crisis (not to belabor the basketball analogies), but we're also playing a longer game of economic competitiveness—matched up against other major metros for talent and the business opportunities that it brings. That's why Life in Indy deserves its own shining moment as Indianapolis basks in the return of March Madness.
Huber is president and CEO of Indy Chamber.
Please enable JavaScript to view this content.