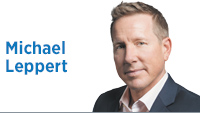 "Oh, the weather outside is frightful," is my usual call out the window whenever I see the slightest hint of snow. If someone put me on the committee to produce the list of winter-storm names for the year, "Frightful" would be my pick for "F" every year.
The Weather Channel began producing a list of winter-storm names during the 2012-2013 season, and during this 10th year of the run, the folks in charge chose "Frida." Yawn. No offense to any humans in town, but the Old German root of the name, "fried," actually means "peace." No wonder no one can even remember Winter Storm Frida this year.
Winter Storm Landon was set to bring the apocalypse last week, which is when I became aware that these storms were being named. I admit that I have been sleeping at the switch on this one. But when I checked the forecast on my Weather.com app, the forecasted storm had a name right there on the screen.
Landon? If Landon mixed it up with Frida, it would certainly be a coin toss as to who would win. Landon means an open, grassy meadow, which of course is as peaceful as imagery gets.
I don't know if it's healthy to name any storms, hurricanes or blizzards. But if we want to name the weather, let's be creative about it.
I played golf a couple of years ago on a course next to Lake Michigan in some of the thickest fog I've ever seen. It never lifted, even after 4-1/2 hours and a small fortune's worth of golf balls that were knocked into the weather-induced oblivion. That 2017 fog deserved a name. Let's name it like it ran in the Kentucky Derby that year. Aha! There was a horse named Thunder Snow in that field! That will do just fine.
Historically, naming winter storms has happened sporadically since the 1700s. In the good old days, the storms usually got named while they were in progress or soon after. Names like the "Schoolhouse Blizzard" in 1888 or the "Knickerbocker Storm" of 1924 have names that sound like horror flicks. That makes more sense than naming either of them Betty or Jimmy, and before we even know how fierce or tame the storm turns out to be.
The Weather Channel has standards, though. For a winter storm to officially receive a name, it must cause storm warnings from the National Weather Service to a population of at least 2 million people. Or the geographic area the warnings cover must be "at least an area of 400,000 square kilometers, or slightly larger than the state of Montana," according to The Weather Channel website.
So, the naming comes from the size of the warnings, whether the storm turns out to be Snowmageddon or not.
How about we name extreme weather that is recurring? Parents of baseball- or softball-playing children can attest to the fact that, when it's already uncomfortably chilly outside in early spring, it is always 10 degrees colder at the ballpark. More precisely, where the parents are sitting. Who needs the "Farmers' Almanac," when Little League parents could publish an invaluable almanac all their own? In that almanac, this predictable spring weather phenomenon also deserves a name. Not Frida or Landon. I suggest something more like "Hell on Earth."
What's in a name? In the era of branding, plenty. And though I think The Weather Channel can do better, I really like this year's name if we get far enough in the alphabet to use the "T." Hopefully, it will have been aptly named: Tad.•
__________
Leppert is an author, educator and a communication consultant in Indianapolis. He writes about government, politics and culture at MichaelLeppert.com. Send comments to ibjedit@ibj.com.

Click here for more Forefront columns.
Please enable JavaScript to view this content.