---
Since John Marshall High School shut its doors five years ago, far-east-side leaders have sought to transform the 40-acre property into a neighborhood-focused hub offering social services and other programs. Now, they could get their chance.
The Indianapolis Department of Metropolitan Development has started soliciting ideas for what could be done with the site, which it is purchasing from Indianapolis Public Schools for $725,000. The request for qualifications and information is an initial step in finding an operator or developer.
The moves put the city squarely in the driver's seat for determining a strategy for the property at 10101 E. 38th St.
But behind the scenes, multiple community groups spent a year working out a plan for the property. IFF Indianapolis—a branch of a Chicago-based not-for-profit focused on community-centered development—and Indianapolis consulting firm Thomas P. Miller and Associates led that effort and formed a group called the John Marshall Collaborative. The collaborative is expected to submit a bid to the city for a project it's calling the John Marshall Opportunity Hub.
Other proposals might be forthcoming as well. But already, numerous community organizations have committed to being involved with the John Marshall Opportunity Hub.
The hub proposal was endorsed by IPS and community members in 2022. The hub would offer educational programming and employment certification courses from Ivy Tech Community College, a logistics training program and food distributions from Gleaners Food Bank of Indiana, neighborhood-based support services from the Community Alliance of the Far Eastside, a business development space from Next Studios, and wellness programs offered by Eskenazi Health.
"The goal for everyone is to have this as an anchor for revitalization in the neighborhood," said Abbe Hohmann, president and owner of Indianapolis-based Site Strategies Advisory LLC, which has been involved in crafting real estate strategy for IPS since 2014.
"Only time will tell how successful that will be. But if you have some significant entities there who want to see it succeed and are willing to put the time, money and effort into starting up something special, it could certainly be a catalyst for the area."
The John Marshall Opportunity Hub project would include:
◗ 165,000 square feet of conventional leasable space inside the school.
◗ Nearly 77,000 square feet of education and training space.
◗ About 38,000 square feet of business development space.
◗ 17,500 square feet of support services.
◗ Up to 100 units of transitional housing.
◗ An eight-acre business park with a focus on minority- and veteran-owned businesses.
It would also feature a community garden and outdoor playground as well as a gymnasium, auditorium, kitchen and entrepreneurial spaces.
The John Marshall Collaborative proposes leasing space to tenants for $6 to $10 per square foot, with a goal of relying on existing capital, government funds and private fundraising to invest in improving the site a few parts at a time, rather than taking on extensive debt.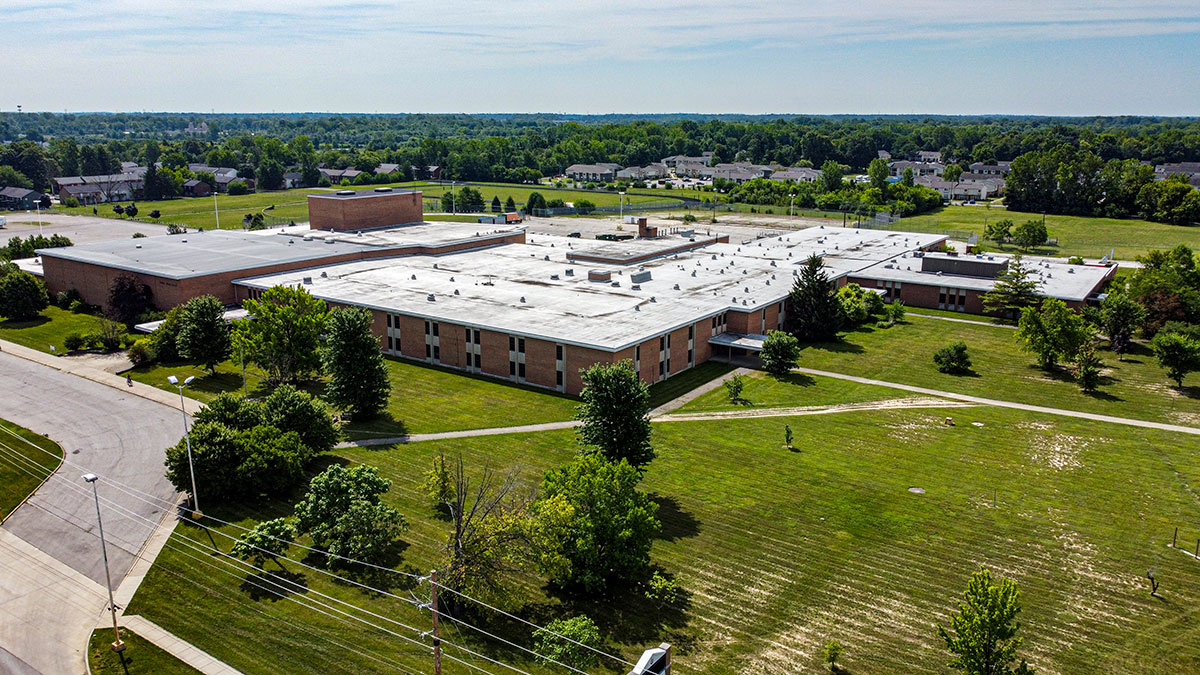 Steep investment
Representatives with the city's Department of Metropolitan Development declined three requests to make someone available to speak with IBJ about the Marshall property, saying it's too early in the process to discuss plans publicly.
The city is required to use a formal bidding process to determine what to do with the building, something Hohmann said could better serve the community in the long run because it helps to flesh out ideas and can engage more people.
"This proposal from IFF and its collaborators is attractive; there could be others that are, too," she said. "You don't know until you seek out proposals."
Any reuse of the property is expected to be costly. Initial IPS estimates said the site had at least $17.5 million in repairs and deferred maintenance, including replacement of the HVAC system, most windows and roof of the 342,000-square-foot school building. A more recent maintenance report from IPS, however, pegged the cost far higher—around $44 million.
The collaborative's proposal projects an investment of $30 million to $50 million, meaning there might be a funding gap. That's something organizers weren't ready to discuss in detail.
"We have a number of partners who are critical to having this come together the right way," said Mike Higbee, vice president of economic development and community resiliency for Thomas P. Miller and Associates.
"It's all positive, and we're really looking forward to having an open discussion about this soon, but out of respect for all the folks who are part of this, we don't want to get out ahead of it."
A representative for IFF did not return calls requesting comment.
Regardless of whether the collaborative's proposal is chosen or another idea wins out, east-side leaders expect to have a voice in the property's future.
Samantha Douglas is president of the Far Eastside Community Council, which represents the interests of the area's 85,000 residents. She said she expects any plans to take into account several ongoing efforts on the far-east side, including redevelopment of the Town & Terrace apartments.
"The city will tell you, 'No, there are no formal plans where these have anything to do with one another,' but when you step back and look at it, [these projects] all do feed into each other," Douglas said. "I think there's a trickle down of having this attention brought to these areas that need development. It's not random or sporadic—10 years from now, this area is going to be incredible."
She said as efforts to redevelop John Marshall progress, she expects continued dialogue between a selected development group and the residents, much like what has happened over the past year in forming the IFF proposal. Past endeavors to improve the east side have often left out the voices of those who live there, Douglas said.
"You come up with a plan and then invite residents in once it's time for implementation," she said. "They need to be at the table from the inception, and the ideas needed to come from residents. That's how you get buy-in, or else you end up building a lot of things on the far-east side that residents just won't use."
Community-rooted
Last year, the Indianapolis office of the Local Initiatives Support Corp. deployed an economic inclusion agenda aimed at addressing those very challenges during redevelopment efforts.
Megan Bulla, senior communications officer for LISC Indianapolis, told IBJ the agenda is meant to provide a neighborhood, along with city and regional leaders, with tools that can help them craft a cohesive strategy for development—something Douglas and others said would be of great benefit to the far-east side in discussions about John Marshall.
"A community-rooted approach to economic inclusion builds wealth within underinvested communities and reduces economic inequities by connecting more people, places and small businesses to regional economic opportunity," Bulla said.
The strategy was developed in partnership with the Community Alliance of the Far Eastside—also known as CAFE—which acts as a community development organization and offers social services to the neighborhood's residents.
Kendra Nowell, CEO of the organization, said the neighborhood has been active in discussing what should come from the reuse of John Marshall. That could include a grocery store—the far-east side doesn't have one, anywhere—along with the development of some affordable housing, though some residents have been cold to that idea, given the current housing density, particularly near the former school.
But she added that she expects any developer selected for the project—whether it's the John Marshall Collaborative or another group—will have a mandate from the city that residents be given an opportunity to weigh in on what comes next.
"Sometimes there's a sense of feeling that the far-east side has been forgotten about," Nowell said. "I think the city has recognized they need community and resident voices, and over the years, they've become more present, requesting conversations and convening with the community. It's not just the city coming into a community and doing what the city wants.
"It may not be 100% perfect, but there has been a shift in making sure that they do have our voice involved in various projects that take place on the far-east side. We don't expect there to be any difference on what happens with John Marshall."•
Please enable JavaScript to view this content.