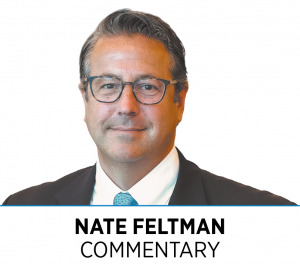 Last year's announcement that IUPUI will be reconstituted has enormous repercussions for the future of downtown Indianapolis.
Fifty-three years after the creation of IUPUI, Indiana University President Pamela Whitten and then-Purdue President Mitch Daniels realized a separation was necessary to unlock the potential of Indiana's two largest research universities in our capital city. That potential, along with the boldness of the decision, earned Daniels and Whitten the distinction of IBJ's Newsmakers of the Year for 2022.
As state and city leaders grapple with reinvigorating downtown and contemplate the future economic drivers for the region, arguably nothing holds more promise than the further activation of two of the state's most powerful research engines. Collectively, IU and Purdue annually pull in external research funding from federal and private sources well in excess of $1 billion. As both universities further build out their respective research muscle in Indianapolis, the region will benefit from an economic multiplier effect.
Centers of university research attract talent, provide students with cutting-edge experiential learning and often provide the raw material for innovative new startups. Existing industries in the region can benefit from the access to talent and new discoveries. New companies are attracted to research hubs and often establish joint research facilities.
Planning is well underway at both schools for their next chapters in Indianapolis. In anticipation of strengthening its research heft in Indianapolis, IU recently named a new vice chancellor for research for the Indianapolis campus, Phaedra Corso. And expansion plans are already in the works for IU's School of Nursing, as well as IU's Luddy School of Informatics, Computing and Engineering in Indianapolis. IU also announced plans to increase the number of STEM grads in Indianapolis in conjunction with a new downtown science and technology corridor, dubbed the IU SciTech Corridor.
Simultaneously, Purdue is moving full steam ahead on plans to strengthen its Indianapolis presence as an extension of its West Lafayette campus. Purdue announced that it will grow the number of students in Indianapolis by more than 1,000 and will open a branch of its Purdue Applied Research Institute in the city. Purdue President Mung Chiang envisions a "hard tech" corridor between West Lafayette and Indianapolis that will involve public-private partnerships like the Lebanon LEAP district where Eli Lilly and Co. will expand its operations. Microelectronics, biopharmaceuticals and aerospace have been identified by Purdue (as well as the state), as growth opportunities for central Indiana.
While the schools in the short term are naturally focused on their individual efforts in Indianapolis, intentional collaborations between our state's top two research universities could unlock the next economic drivers for our city and state. A proposed joint biosciences engineering institute is an example of playing to both schools' strengths. IU strengths in medicine and health sciences, paired with Purdue's engineering prowess, could lead to extraordinary new discoveries and the creation of new companies.
I've had the pleasure of serving as co-chair of an IU taskforce focused on ideas that can help propel the future IU Indianapolis into one of the premier urban research universities in the country. The group, dubbed the "Dream Team," is made up of area business, civic and not-for-profit leaders and will make our recommendations to President Whitten this Spring. President Whitten's charge to the taskforce is to dream big.
That's good advice not only for the future of IU Indianapolis, but also for all leaders in our city as we work to strengthen the vitality of our city and downtown core.•
__________
Feltman is publisher of IBJ and CEO of IBJ Media. Email comments to nfeltman@ibj.com.
Please enable JavaScript to view this content.