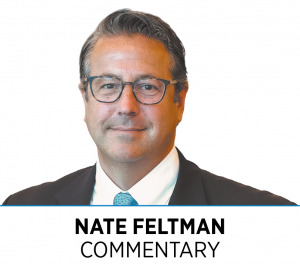 It might not always be obvious, but in the media business, we like when communication goes both ways. Of course, our job is to provide you with news and information, but your feedback and opinions are important to us, too.
Consider IBJ's issue about downtown Indianapolis, published on Feb. 17. In recent years, as some peer cities have experienced faster growth compared with Indianapolis, the city's business and civic leaders have debated ideas that could spark downtown's continued development. Of course, concern for downtown's vitality intensified following the pandemic and violence that rocked Indy and cities across America.
IBJ's editorial team led by Editor Lesley Weidenbener has been listening to the concerns about a downtown where more than $9 billion in projects and improvements are in the works, but where the challenges of crime, cleanliness and the effects of remote working persist.
Late last year, in large part due to readers' questions and concerns, IBJ decided to dedicate an entire issue to the state of downtown. Due to the importance of the topic (and its complexity), IBJ invested significant time and resources into the Feb. 17 issue, which was a 56-page print edition—20 pages more than the average IBJ print issue.
I'm incredibly proud of IBJ's reporters, editors, designers and production professionals who worked together to produce our "Downtown at a Crossroads" issue. The positive feedback that we have received over the past two weeks has been overwhelming.
Bill Stephan, the recently retired Indiana University vice president for government and economic engagement, wrote: "The best and most timely and important work ever undertaken by IBJ—certainly over the 30 plus years in which I've been a reader." Public relations veteran Lou Gerig posted on LinkedIn: "Probably one of the most important pieces of work for all people who love Indianapolis to read."
We've incorporated your feedback in other ways.
After a couple of challenging years due to the pandemic, attendance at IBJ Media events hit an all-time high last year. While certainly the content is always a draw, we often hear from attendees that the opportunity to network with leaders in our community and make new contacts is a significant reason why they attend.
Following our sold-out Commercial Real Estate & Construction Power Breakfast last year, Melissa St John, founder and CEO of Relocation Strategies, approached me with the idea of creating a pure networking event for the real estate industry. Our team liked the idea so much that we decided to create a new professionals networking series that is starting with Bourbon & Brokers on March 9 at Blend Cigar Bar. We'll combine networking with a high-end bourbon tasting experience.
Our decision to pursue a statewide growth strategy also was influenced by feedback we received from longtime Inside INdiana Business television viewers throughout the state. Business leaders, policymakers and educators expressed their desire for more information that can help them make better business and policy decisions. The expansion of our Engage Indiana event series, as well as our launch of new regional digital products this year, will better connect business professionals throughout the state and provide critical information for decision-makers.
Your feedback is imperative to our mission of delivering trusted news and resources that inform current and aspiring businesses, not-for-profit, government, civic and community leaders. Keep the ideas coming and thank you for your commitment to IBJ Media.•
__________
Feltman is publisher of IBJ and CEO of IBJ Media. Send comments to nfeltman@ibj.com.
Please enable JavaScript to view this content.