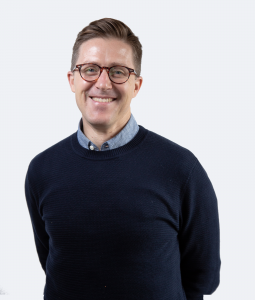 Indianapolis-based venture studio High Alpha on Thursday announced the launch of High Alpha Innovation, a company founded to help established—often big—companies create and grow startup firms.
Already, High Alpha Innovation has several big-name customers, including Indianapolis-based diesel engine maker Cummins; Dublin-based security products maker Allegion Plc, which has its North American headquarters in Carmel; and Santa Clara, California-based Silicon Valley Bank.
Elliot Parker, 45, who joined High Alpha two years ago as managing director of business design, is CEO of High Alpha Innovation, a stand-alone company with seven full-time employees. It draws on some of the High Alpha employees for added assistance.
Prior to High Alpha, Parker served as a principal at Boston-based Innosight, a strategy consulting firm founded by the late Harvard Business School professor and best-selling author Clayton Christensen, who developed the theory of "disruptive innovation."
Parker also worked as the manager of business development and new ventures at Indianapolis-based medical device maker Roche Diagnostics and was a manager at Carmel-based consulting firm Wilson Perumal & Co.
High Alpha Innovation plans to announce its first co-created startup in early June.
"We expect to grow quickly," Parker told IBJ. "Our big ambition is to launch 100 startups in the next five years. That is going to require a lot of people."
High Alpha Innovation will share ownership of the startups it launches with the bigger companies that help co-start them, Parker explained. The percentage of ownership will vary for each deal.
High Alpha Innovation, which launched in stealth mode in February and is funded through a "small investment" by High Alpha, has been "profitable right out of the gate," Parker said.
"We are running profitably so I don't anticipate that we will raise any capital for High Alpha Innovation," he said. "That said, we are building new venture studios and startups with corporate partners, each of which will require capital investment as we go, including from outside investors."
The companies High Alpha Innovation partners with could make a substantial profit from the startups they help launch, but they also will gain information and potentially intellectual property from the startups, Parker said. "We think the benefits will be strategic and financial."
"Startups are learning machines. They allow companies to learn faster than they would by themselves," Parker added.
Additionally, when startups make a mistake, it's much less costly—because it's done on a smaller scale—than it would be for a bigger firm, Parker said. "Simply put, startups make cheaper mistakes."
Big companies have had innovation divisions or departments for years.
"What a lot of companies are doing with their innovation [divisions] flat out doesn't work," Parker said. "It ends up looking like innovation theater. A lot of money gets spent, and there's no enduring change and no enhanced profitability. We want to help big companies innovate more effectively, and we think we've got a proven model that can do that.
"Every innovation leader and executive I meet is trying to figure out how to work with venture studios or launch their own corporate studio," Parker added. "We believe the venture studio is an ideal model for overcoming the innovator's dilemma and helping companies increase the quality and quantity of their innovation efforts through startup formation."
Since its founding in 2015, High Alpha has raised $135 million in capital and launched 17—mostly local—tech companies, including Lessonly, MetaCX, Base, Zylo, Sigstr and Doxly.
All High Alpha Innovation co-created startups will have software as a component, Parker said.
"This is a major expansion opportunity for High Alpha as we serve our corporate partners and look to scale the studio model across different industries and geographies," High Alpha partner Mike Fitzgerald said.
Please enable JavaScript to view this content.