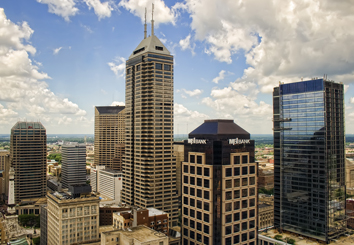 Organizers on Tuesday announced the formal launch of a business and community task force that will try to address issues facing downtown Indianapolis stemming from the pandemic and social unrest.
The Downtown Indy Rebuilding and Recovery Committee will be co-chaired by Lacy Johnson, a partner at law firm Ice Miller LLC., and Thomas K. McGowan, president of commercial real estate company Kite Cos., organizers said.
The effort is being organized by Downtown Indy Inc., a public-private partnership that supports downtown.
"Our intent is to put forth a solution-focused approach to rebuilding downtown as we navigate the dramatic impact that COVID-19 is having on our downtown," said Sherry Seiwert, president and CEO of Downtown Indy Inc., in written comments. "We are assembling business and civic leaders representing businesses large and small, private and public, to outline essential drivers toward the reemergence of a thriving and inclusive downtown and a vibrant core."
The task force will start meeting July 13 to begin drafting a tactical blueprint for downtown recovery. Over the next six months, members will gather data and form strategies for business recovery and creating opportunities for and supporting Black-owned businesses.
Topics will cover safety/security, affordability, livability, and homelessness.
"The immediate focus will be on building consumer confidence and enticing continued and equitable investment in downtown," organizers said.
Members of the committee include:
– Brad Chamber, president/CEO, Buckingham Companies
– Tamara Cypress, CSR consultant, Black Onyx Management Inc.
– Mamadou Diallo, owner, J Benzal Menswear
– Rick Fuson, president/COO, Pacers Sports & Entertainment
– Chris Gahl, senior vice president, Visit Indy
– Craig Huse, CEO, Huse Culinary
– Malina Jeffers, cultural entrepreneur and board member of Indianapolis Downtown Marketing Inc.
– Lacy Johnson, partner, Ice Miller LLC
– Angela Smith Jones, deputy mayor, city of Indianapolis
– John Lechleiter, downtown resident and former Eli Lilly and Co. CEO
– David Lies, vice president, OneAmerica
– Cebronia Luft, founder and owner, Pavilion at Pan Am
– Thomas McGowan, president/COO, Kite Realty Group Trust
– Derrick Richardson, owner, DR Salon
– Sherry Seiwert, president/CEO, Downtown Indy Inc.
– Rev. Mary Slenski, interim rector, Christ Church Cathedral
– Rick Trimpe, vice president, Hertz Investment Group
– Pete Ward, COO, Indianapolis Colts
"It's time to get back to business," McGowan said in written comments. "We are at a critical crossroads for downtown and we need to demonstrate that downtown is open and ready to welcome back employees and visitors and encourage them to join the thousands of residents in supporting Downtown businesses struggling through these challenging times."
Downtown Indy said it plans to be part of marketing effort in collaboration with the city of Indianapolis, Visit Indy and key civic partners that will announced Wednesday.
"Part of this rebuilding effort is getting the word out that downtown is open and reminding folks that what they love about downtown is still here, including beautiful parks, great outdoor experiences, abundant restaurants and engaging attractions," Johnson said.
Downtown's importance to the health of the overall city can't be underestimated, officials say. While downtown represents only 1.6 percent of the county's total land area, it generates more than 11.3 percent of the property taxes for Marion County and 8 percent of the county's sales tax revenue.
According to a recent report, downtown's property tax revenues have grown at an average annual growth rate of 7.7 percent per year over the last seven years, while Marion County has growth at a 3.3 percent rate over the same period.
Please enable JavaScript to view this content.