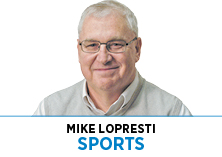 Now that the Colts have had a few days to move on from Andrew Whatshisname, it's time to get up to speed on—How does the NFL love to put it?—oh, yeah, the next man up.
OK, Jacoby Brissett has been a starter before for Indianapolis, so he's not exactly anonymous. But that was just as a temp back in 2017, when he was keeping Andrew Luck's spot warm. Now the Colts are his team—lock, stock and empty Luck stall—and when asked the other day what he needed to be to make this work, he had a quick two-word answer.
"Jacoby Brissett."
So here it is, Jacoby Brissett 101. It's common knowledge that he has a bazooka for an arm, came here on a trade from the New England Patriots, and now has the opportunity of his life. There's more, with 20 Questions about Jacoby.
◗ When did he become one of the hottest high school prospects in the state of Florida?
Well, by his senior season, he had a touchdown-interception ratio of 32-1. Yep, that'd draw attention.
◗ How'd he keep occupied in high school when not playing football?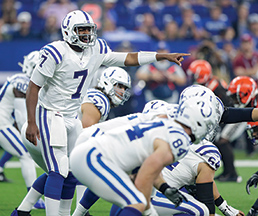 By all accounts, he was a terrific guard for the basketball team. Matter of fact, he liked that sport better. Had he taken a different path with a different-shaped ball, he might have played in Indianapolis in Hinkle Fieldhouse, not Lucas Oil Stadium. Butler's Big East rival Xavier recruited him. Roy Williams at North Carolina was said to be interested, too.
◗ Who was the retired guy living not far from Brissett's high school, and happening to know a little about football?
Bill Parcells. He took notice of Brissett's talents early on and became something of a mentor.
◗ Who was not happy the night Brissett announced the Florida Gators as his college choice?
His mother, Lisa Brown. She wanted him to go to Miami. Apparently figuring she'd be upset with his decision, he informed her of his choice … by text. Clearly, he'd rather face the meanest linebackers in the land than an angry mom.
◗ What Florida assistant was instrumental in luring Brissett to the Gators?
Charlie Weis. Post-Notre Dame.
◗ Where was Brissett's first college start as a Florida freshman?
Baton Rouge, against No. 1 LSU. Gulp. He went 8-for-14 with two interceptions, and the Gators lost 41-11. They don't call it Death Valley for nothing. Welcome to the SEC, kid.
◗ In a self-written bio early in his college years, what did Brissett list as a career goal?
To be a television sports analyst. Wonder what Brissett, the talking head, would have to say about this Luck business?
◗ What did he do 187 times in a row, after he transferred to North Carolina State?
Throw a pass without an interception. In two seasons with the Wolfpack, he had 43 touchdown passes, and had only 11 picked off.
◗ How many quarterbacks were taken before the New England Patriots drafted him in the third round in 2016?
Four. Jared Goff and Carson Wentz you're probably familiar with. Paxton Lynch and Christian Hackenberg, maybe not so much.
◗ Who was Brissett's agent when he was drafted?
Nobody. He didn't have one.
◗ He threw 55 passes for the Patriots in 2016. How many touchdowns and interceptions?
None, and none. But he ran for a touchdown. And he got a Super Bowl ring.
◗ What do Martin Luther King Jr., Michael Jordan and Warren Buffett have in common?
According to the Colts' media guide, they are the three people Brissett would most like to join for lunch. Presumably, he'd order macaroni and cheese, since that's listed as his favorite food.
◗ Who is the last quarterback not named Luck or Manning to win a postseason game for the Colts?
That'd be Jim Harbaugh, in 1995. He has since gone on to other things and is now trying to figure out how Michigan can finally beat Ohio State.
◗ Brissett wears No. 7. Who was the last No. 7 to start at quarterback for the Colts?
Curtis Painter in 2011. You might recall that didn't turn out well. Among other past Colt No. 7's: Bert Jones, Gary Hogeboom and Tom Tupa.
◗ What could you buy with Andrew Luck's $15 million salary and bonus scheduled for this season?
Seven Jacoby Brissett contracts. The Colts seem pretty confident Brissett won't be one-seventh the quarterback.
◗ What happened four times when Brissett started for the Colts in 2017?
Indianapolis won a game. The Colts went 4-12.
◗ What happened 52 times?
He was sacked. Brissett got hit more often that fall than a practice tackling dummy. If the offensive line hadn't been upgraded since then, he might have announced his retirement last Saturday night, too.
◗ Brissett threw seven interceptions in his first full season as a starter, in 2017. How many did Peyton Manning and Andrew Luck throw in their first seasons?
Manning had 28; Luck, 18.
◗ Who asked the classic question any astronomer would love, "If the sun is hot, how is outer space cold?"
That would be Brissett, on his highly entertaining Twitter account. He has also wondered aloud about what is on the other side of a black hole, and what part of a pig's skin is actually a football. At last check, he had 45,000 followers, but with all the past week's publicity, that number seems certain to rise.
◗ What was Andrew Luck's record in season openers for the Colts?
He went 1-5. Remember that, if things don't go well next week in Los Angeles, and you call the Colts to demand refunds for your season ticket. You have to give a man time. Especially now.•
Lopresti is a lifelong resident of Richmond and a graduate of Ball State University. He was a columnist for USA Today and Gannett newspapers for 31 years; he covered 34 Final Fours, 30 Super Bowls, 32 World Series and 16 Olympics. His column appears weekly. He can be reached at mjl5853@aol.com.
Please enable JavaScript to view this content.