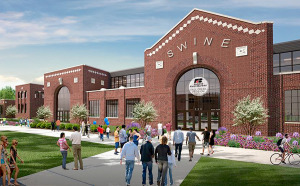 Visitors to last year's Indiana State Fair were among the last civilians to walk through the fairgrounds' almost-century-old Swine Barn. Work began early this year to replace the rapidly aging, highly aromatic structure with a nearly all-new building called the Indiana Farm Bureau Fall Creek Pavilion.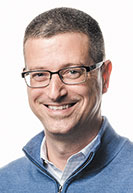 As the name implies, it will be used for far more than pig judging.
"We're going from an open-air barn that served only livestock needs for three weeks out of the year during the Indiana State Fair to a multiuse building," said Ray Allison, chief development and strategy officer for the Indiana State Fair Commission. "It will still serve livestock first and foremost but be able to do other types of events as well."
Design and construction for the $50 million project is being handled by Indianapolis-based Schmidt Associates and the Indianapolis branch of New York City-based Turner Construction.
Not much of the old swine barn survived   demolition. Only the original façade, which will be incorporated into the new building, remains.
When completed (just in time for the 2023 Indiana State Fair), the pavilion will offer 197,000 square feet of interior space. A new wing will house the staff of the next-door Public Safety Center, which currently resides in its own building. That will be demolished to make room for the extension.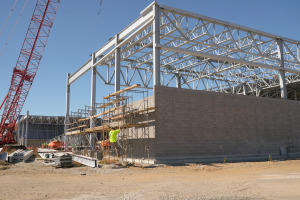 The Swine Barn is the latest step in a years-long, ongoing process to convert the approximately 1-million-square-foot fairgrounds from a somewhat rough-at-the-edges, farm-centric campus into a year-round, multiuse complex hosting everything from concerts to sporting events to small and medium-size consumer shows. The grounds' other animal facilities have already been upgraded to host a broader range of activities, along with the animal shows they were created for.
"They're always designed and rebuilt with livestock in mind, so that we can continue to host livestock shows during the Indiana State Fair, plus any number of other livestock shows throughout the year," Allison said.
But while Fall Creek Pavilion will no doubt host a few weeks of animal competitions and shows each year, it will mostly be devoted to less fauna-intensive gatherings, including athletic contests. Indeed, it's already booked to host the 2025 NCAA Division II Indoor Track and Field Championship.
"This particular building was designed with indoor track and field in mind," Allison said. "There's about 80,000 square feet of clear-span space in this building, and it was sized so that a 200-meter indoor track surface could fit inside."
But the smell
It must be said, however, that the new pavilion faces a challenge that few other multiuse meeting/event locations contend with—the fact that the state-of-the-art facility will, for three weeks each summer, be overrun with hundreds of odorous pigs. How, exactly, does one cleanse their distinctive bouquet from the premises, so that one could hold, say, a wine expo the week after?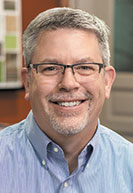 This very real concern was the subject of many meetings.
"For the 17 days of the fair, we have to be ready for that smell," said Kevin Shelley, principal project manager for Schmidt Associates. "So there was a lot of discussion about the number of openings around the building, with overhead doors, to allow air in. And we needed floor surfaces that don't absorb smell. Also, the ventilation system is set up so that there's one level of exhaust for day-to-day use and another entire level for during swine use."
The fairgrounds also has its own pig-odor expungement protocols, refined over many decades.
"To be fair, the livestock folks do a great job cleaning up after themselves," Allison said. "And the fair has operations in place to get those places cleaned out. They've been doing this for years, and they've got it figured out."
Pre-conversion assessment of the Swine Barn found that the structure was on its last legs and would need to be either demolished or rebuilt soon. On the bright side, Turner Construction didn't find any schedule-busting surprises during its demolition phase—no long-forgotten fuel-storage tanks or asbestos-filled subbasements to contend with.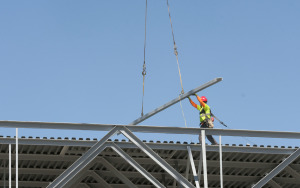 To try to avoid such problems, the company pored over the building's old architectural plans and even quizzed a longtime employee over possible building features that might have been forgotten.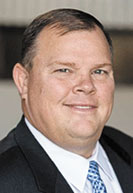 "We didn't really find too many unforeseen conditions," said Tim Krueckeberg, project executive for Turner Construction. "We were very successful with that."
The only architectural feature that had to be worked around was the precipitous incline upon which the Swine Barn sat.
"One of the things that's unique about this building is that, between the front of the building on the fairgrounds' Main Street and the rear of the building, there's probably a 13- to 14-foot upward slope," Shelley said.
This was dealt with by creating an elevated, 14,000-square-foot lobby space overlooking the show floor.
The construction team is also working to avoid any setbacks caused by supply chain chokeholds. Like other firms, managers are ordering vital and hard-to-find items well in advance and shortening their supply chain by procuring more items locally. Schmidt also worked to accommodate design changes necessitated by which parts were available.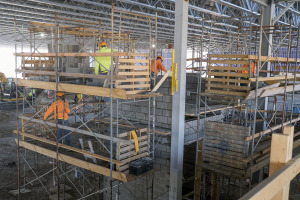 "Structural steel joints are huge right now," Krueckeberg said. "Having them manufactured and delivered used to take about 10 weeks of lead time. Now it's over a year. We were able to get some steel trusses on site by having them fabricated locally, here in Indiana. It ended up being both a schedule and a cost savings."
Builders absolutely expect to meet their 2023 deadline.
"We've worked very hard during the preconstruction phase," Krueckeberg said. "We identified some of the material and supply issues that everyone's facing right now, and we built our schedule around some of those constraints."
Leaning on experience
It also doesn't hurt that, when it comes to reconfiguring an animal barn, this isn't the Indiana State Fairgrounds' first rodeo. Or second.
"During the late '90s and early 2000s, similar processes were done with both the Sheep Barn, which is now the Blue Ribbon Pavilion, and the Draft Horse Barn, which is now the Champions Pavilion," Allison said. "Those buildings were both basically torn down and rebuilt, with some historic elements left intact. This process isn't new for us."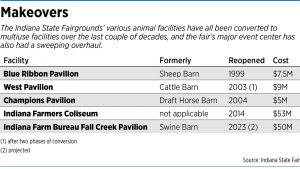 Fall Creek Pavilion is the last of the animal facilities on the fairgrounds' Main Street to receive a makeover—a project that's taken 25 years and north of $200 million to accomplish. But work on the campus is far from finished. The Indiana State Fairgrounds Master Plan (for which Schmidt Associates served as team leader) shows rehabilitations and upgrades in store for everything from the Grandstand to the Celebration Plaza/Free Stage Area to the fairgrounds' entrances and perimeter fencing.
"It's been a significant investment over the last 25 years to either rebuild or remodel the majority of our major buildings to make them more accessible and usable on a year-round basis," Allison said. "But we've certainly seen that pay off. The fairgrounds provides about $197 million in direct economic impact to our city and state annually, hosts more than 400 events annually, and employs approximately 1,000 workers."•
Please enable JavaScript to view this content.