A 14-acre equine oasis in Cicero has provided a life-changing experience for Christian Travis' 13-year-old son, Liam.
Liam rides his favorite mule, J.R., nearly every Thursday at Agape Therapeutic Riding Resources, located at 24970 Mt. Pleasant Road.
The not-for-profit organization serves children and adults with disabilities and offers therapeutic riding, equine-assisted learning and a mobile miniature horse program for seniors.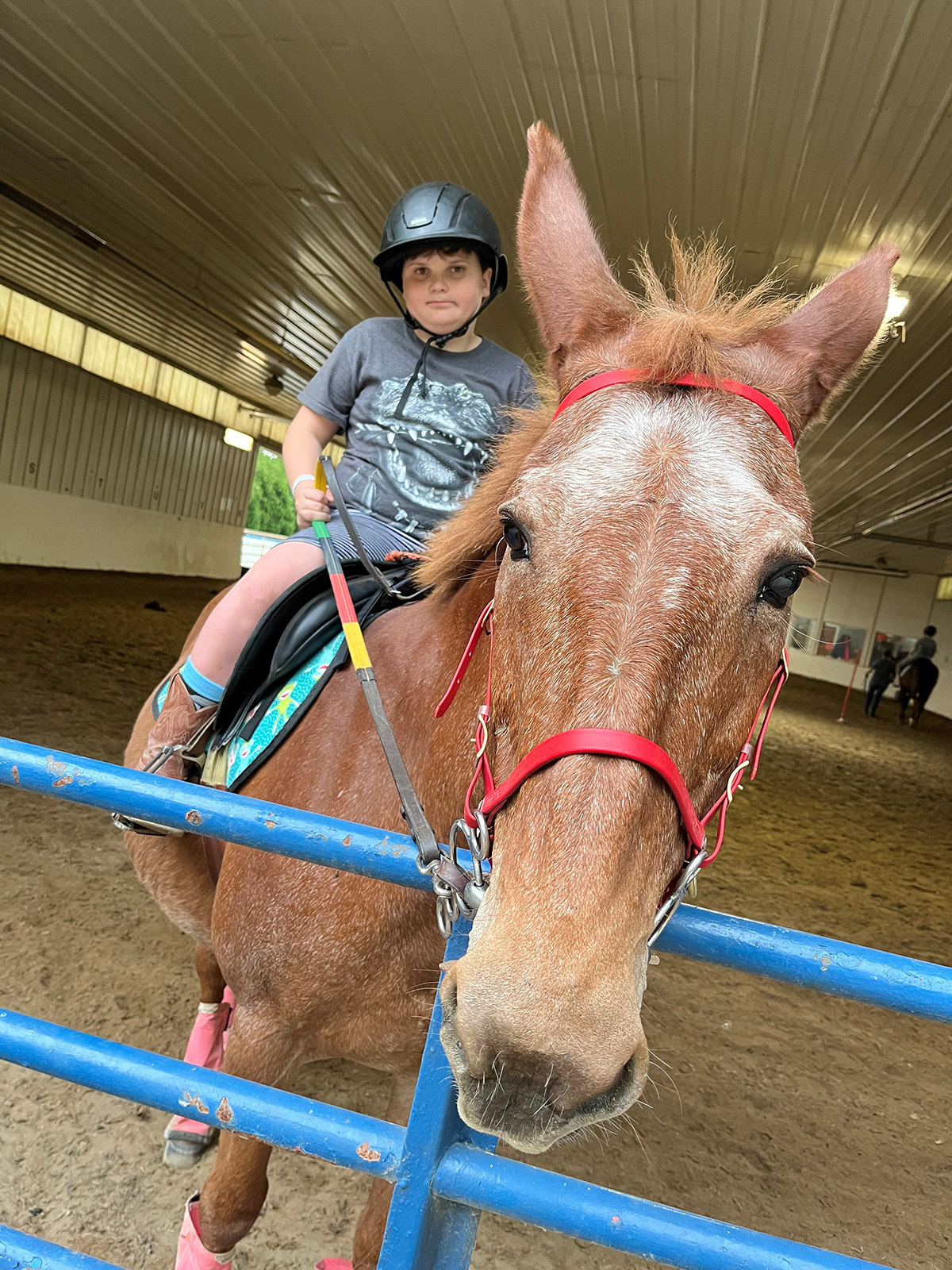 Doctors diagnosed Liam with ADHD, anxiety and depression when he was 9 years old. He developed Tourette syndrome early in the pandemic, which "led him down a dark path," according to his mother, because kids and adults at school did not understand.
"As most people that have dealt with depression know, it doesn't matter how great of a family you come from, how great of a home you have," Travis said. "You can have two parents and live the American Dream and depression is still there."
Liam's mother said her son has long connected with animals, who are therapeutic for him. Their family volunteers with Redemption Rescue Inc., a not-for-profit animal foster program based in Indianapolis, which has introduced dogs into their house throughout his childhood.
Living in Cicero, Travis said she knew about Agape, but thought it was only for children who had physical disabilities or Down syndrome.
"And come to find out, it's for kids just like Liam," she said.
While Liam knows every horse by name, he quickly bonded with J.R., a chestnut-colored mule, after he first arrived at Agape in the fall of 2020.
J.R. is "as sassy as my 13-year-old son, and they give each other back-and-forth," Travis said. "There are days when I am having to literally pick him up and put him in my van and drive him there and push him out of the car, but if I can get J.R. in the corner of his eye, I know he's going to be fine."
Story of redemption
Including its 22-acre Greenfield location, Agape's therapeutic riding program serves about 200 people a week. It has 25 horses and mules between the two farms, said Executive Director Stephanie Amick.
She said families are asked to commit to eight riding sessions. The cost of one therapeutic riding session is $200, which is offset through fundraising, so participants pay $45 a week.
Agape has a rider scholarship program for those who cannot afford even the reduced price.
The organization provided a total of 1,306 classes and visits last year, which Amick said would not have been possible without Agape's 2,068 volunteers.
The organization also works with Noblesville-based Prevail Inc., which serves victims of domestic abuse and sexual assault, and Fishers-based Grit Into Grace, an organization that helps women experiencing sexual exploitation.
The goal at Agape, Amick said, is to help people build confidence, self-esteem, communication skills and the ability to regulate emotions.
"We say there's a lot of magic and miracles that happen around here," Amick said. "We have children who say their first words on the back of a horse and some kids who now have gained enough balance and core strength that they can go for a bike ride with their family where they would not have been able to do that kind of thing."
Agape was established in 1986 by Cheryl and Dawn Miller, a mother and daughter duo who previously started a summer riding program for children with disabilities at Indiana University's Bradford Woods near Martinsville.
The two dreamed of starting a year-round riding organization. However, tragedy struck in 1992 when Dawn's husband killed her and himself and critically wounded Cheryl in a domestic violence incident.
Cheryl Miller, who now lives in Florida, was determined to fulfill her daughter's dream and established a full-time program in 1994 at the farm in Cicero.
"[Cheryl] wanted to help bring this dream that she and her daughter had to life in a permanent way, and it became a redemptive story," Amick said.
'Part of the team'
Agape's Cicero location is situated in a picturesque setting in rural Hamilton County.
When you pull in off Mt. Pleasant Road, you find multiple outdoor areas beyond a pond where horses gather and feed on hay.
A 7,200-square-foot indoor arena provides space for children and adults to spend time with horses and take riding lessons.
The organization, whose mission is to cultivate personal growth for people through mind, body and spirit, has outgrown the Cicero location and leaders are looking for a new spot on the north side.
"We have been at capacity for over five or six years now," Amick said. "Part of our strategic plan is working and identifying a facility where we can expand and serve more people because we currently have just over 80 people on our waiting list to be served at Cicero."
Agape's Greenfield location opened five years ago. The organization stopped operating at its Bradford Woods facility due to the pandemic.
Most people find Agape through word-of-mouth or the organization's website.
When people arrive, Amick said, they find the ability to unlock their potential and find hope they would not otherwise have as they connect with horses and volunteers. Some participants have taken part in lessons at Agape for more than 20 years. Amick said for many, the lessons are a "social activity like somebody going to the gym."
Program Director Emily Padgett said people form relationships with the horses that help them work through issues with confidence and assertiveness.
"When they're working with the horses, the challenges they're facing in their life with relationships with people, it comes out with the horses, and so it's tangible," Padgett said. "When people are working with the horses, they're not feeling judged by the horse like you would a person."
Padgett added that horses are social beings who easily sense people's energy and body language.
"Horses can really pick up on what's going on, so you can't hide stuff with horses like you can with people," she said. "At the end of the lesson, we always debrief and reflect on what happened and your takeaways from it, and the horses will, on their own free will, be joined in the circle.
"They're part of the team, too."
'The most important component'
When Christian Travis takes Liam to Agape, she said it's like her "weekly therapy session as a mom." It's where she can talk to other parents experiencing similar challenges with their children.
Travis also has three daughters, including one who works as an elementary school teacher, another who graduated high school this month and an 8-year-old who enjoys seeing the horses at Agape.
"I think I need it as much as he does," she said of Liam. "I'm not just seeing him be happy and doing what he loves, but [I'm] also getting to sit in a group of other parents [where] everyone's not just talking about their kid that just made straight A's for the 400th time."
Seeing Liam bond with J.R. is an emotional experience for Travis. She said she sometimes sits, cries and takes "a whole lot of pictures" as her son rides the mule.
Debbie Myers of Indianapolis is another parent who said her son, Thomas, 34, has found a place where he feels like he belongs.
"These folks don't have a lot of people in their lives that appreciate them for who they are, and I think that's probably one of the biggest gifts they give besides the fact that they're helping him physically," Debbie Myers said. "The fact that they accept him for who he is, is important."
Padgett said Agape also focuses on teaching empathy, respect and how a person's behavior affects those around them. They also teach leadership skills, independence and how to build a relationship.
"Seeing the things just click like they get it, like what happened that moment," Padgett said. "Something happened with that horse that they related to their life and how they can apply it. It's going to make their life better because now they know how to communicate or feel more confident in themselves because of what they learned from the horses because the horses are just great teachers."
J.R. continues to be that teacher for Liam, who plans to volunteer at Agape after his therapeutic riding lessons come to an end.
"It's just been really neat that this is probably the most important component to keeping his head above water," Travis said. "I see him smile more now than I ever have."•
Please enable JavaScript to view this content.