IBJ's annual Technology Power Panel on May 7 led to a lively discussion—moderated by IBJ reporter Anthony Schoettle—that focused in part on diversity in the tech sector.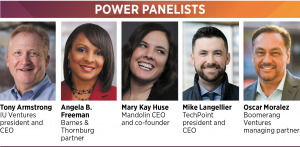 Here is a partial transcript of that part of the conversation, with comments from Indiana University Ventures CEO Tony Armstrong, Mandolin CEO Mary Kay Huse, Barnes & Thornburg partner Angela Freeman, Boomerang Ventures Managing Partner Oscar Moralez and TechPoint CEO Mike Langellier. You can watch the full event at IBJ.com/videos.
Schoettle: How difficult is it to find diverse candidates for (technology) jobs?
Huse: It is different within the different job profiles we're hiring for. … STEM is not analogous to being a coder and being the most tech-forward type careers. We have 70 employees. I would consider them all technology jobs because we're a technology company, but less than 50% of them are hands-on keyboards, like developing software, and that does lead to where can we diversify.
The music industry is very diverse. … We're hiring across fan support and sales, artist relations and marketing, as well as some back-office roles around finance and HR. I will say we still get more diverse pools in non-tech-forward roles than we do when we're hiring full-stack engineers. …
Moralez: I have two different perspectives on this, one is in terms of building our investor base, and I'll use VisionTech Angels as an example. … When I first started that group in 2009 … we recognized right away: It's all white males, middle-aged. And so we started having conversations [that] we need more females, in particular, involved in our group. Fast forward to today; we've got a fair number of females in our group. …
Women are better investors. They look at things differently. They give a completely different perspective that is really, really important when we're evaluating these opportunities, and so we continue to build on that.
With Boomerang Studios and Boomerang Ventures … we started right out of the gate [thinking] about inclusion and diversity and making sure that we build out a culture around that. So we not only talk about it, but we're starting to put it into practice.
Langellier: What I've seen from the engagement with K-12 is, it takes intentionality over a long duration of time, and so you have to build relationships; you have to kind of understand the cycles, the seasonality, the cadence of the school year.
You have to have deliberate programming where you're sending your employees out and engaging with them, [and] that takes time and intentionality and that's built over time. … Tech hasn't done that to the degree [it] needs to. …
One way we can do it is, do it as a co-op. We can do it together, we can do it collectively, and there are a lot of organizations that are helping to do that.
Freeman: The intentionality Mike's talking about with regard to recruiting at the student level is absolutely applicable to recruiting diverse talent, period. …
You have to expand your network, you have to go where they are, which is into the professional diverse organizations and groups and the engineer groups and the STEM and tech groups that support diverse talent. …
It takes more strategy, it takes more purpose, but the return on investment is absolutely worth it, because we know diverse teams provide better work product, have more profitability, all of that.
Huse: It's important to also note that you can't tell diversity just by looking. There are other things that bring diversity of thought—and maybe it's sexuality but also experience. I think the tech industry has come a long way but could come a farther way in not having such a narrow profile of, "What qualifications are you bringing?" and, "What experience are you bringing?", and how that fits into the role.
Armstrong: [At IU Ventures], we've talked about us being deliberate, about being facilitators in some way of bringing together people that are thinking about doing this. … One of the things we're trying to do is get our alums more engaged in what we're doing and really trying to facilitate having our alums be able to interact with female founders or other diverse people that are thinking about starting companies or being involved in startups, even at the earliest stages.
We're just trying to help facilitate the ability for them to learn what it means to do a pitch or, "What's a pitch deck?" or, "What's a cap table?"—all those kinds of things that are new to folks.•
Please enable JavaScript to view this content.