Indiana's life sciences firms have raised a record $186 million in venture capital so far this year, according to BioCrossroads, a not-for-profit that promotes and invests in the sector.
That's more than twice as much as the entire amount—$74 million—that life sciences companies raised all of last year in the state. And the amount bests records set in 2017 and 2018.
So IBJ's health care reporter, John Russell, asked a panel of life sciences executives and experts about the state of venture capital in Indiana and whether it will continue to move up and down over the years.
The panel was part of IBJ's Life Sciences Power Breakfast, which took place virtually Oct. 9. The panelists were Andrew Adams, vice president of new therapeutic modalities at Eli Lilly and Co. Research Laboratories; Fritz French, chairman of On Target Laboratories Inc.; Patricia Martin, CEO of BioCrossroads; Richard DiMarchi, professor of chemistry and chairman of biomolecular sciences at Indiana University; Rob Lyles, president of Cook Regentec and vice president of Cook Group; and Todd Saxton, associate professor of strategy and entrepreneurship at the IU Kelley School of Business.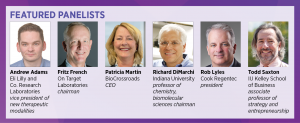 Go to ibj.com/videos to watch the full event.
Here is a partial transcript of the discussion:
Russell: What does this say about how Indiana life sciences startups are doing in this important area—raising money to build their companies—and is there enough money to support the good ideas and the good technology in Indiana?
French: [Money] often comes in large chunks, especially for pharmaceutical, biopharmaceutical investments, and those don't always come every year. … I think in the last six years, we've had over $100 million five of those six years, so that's quite a big number.
And also … it's not just the number of deals that are done or the dollar numbers, but you have to look at the quality of it—who the investors are. They're coming from really large west coast [and] east coast life science-focused venture capital funds. They're probably investing in biotechnology. So I think we've actually had quite a bit of success. I think we're seeing a lot.
Even this year, we've had some big investments with MBX Biosciences raising a large round. Last year, we had some fairly large runs but obviously not enough to top $100 million, but over the last six years—just looking back—we've actually had a pretty good run.
Russell: Patty, do you think that these numbers suggest there's enough money coming into this area?
Martin: It takes time; it's not something that's just a 12- to 18-month investment. We're looking at years.
We also need to take into consideration those investments that are from the public markets, angel investing and the whole scheme of it. Overall, what we want to see is a continued investment and not just new money coming in, but also companies coming here who are bringing their own capital.
Russell: Todd, you've been nodding your head. Do you see these trends as promising for Indiana, or do we need more work to do?
Saxton: [What] I actually like to focus on, in terms of the future … is what happens when there's a success, when there's an exit. And we have people like Fritz, like Dr. DiMarchi, Kent Hawryluk, Scott Dorsey, Chris Baggott in other sectors who have those successes and don't move to Hawaii and sip Mai Tais on the beach. They come back and reinvest, and that talent, that cycle of starting the next generation of success, is what I think is the most promising aspect of the trajectory that we're seeing.
Russell: Richard, your companies have been successful in raising some of these large sums. What's your advice for some of the smaller companies who are beating the bushes for this kind of money?
DiMarchi: Now I'm thinking of doing Mai Tais on the prairie! No, it's been a great run and I think for those who want to start, my recommendation is to connect with people who are experienced in doing this.
There's nothing like experience to direct you to where you should be taking money—and remember, in many of these instances, that money comes as a partial sale of your company. So what are the terms under which you provide that sale? And what are the expectations of the investor for the outcome? Because you will come to live with them and they will influence what the outcome will be to probably a greater extent than you realize when you take the money.
Russell: Sean, are you seeing small startups and spinoffs finding enough money out there to really get their companies on their feet?
Werner: With our experience last year in raising capital from both the east and the west coasts as well as here in Indianapolis—with BioCrossroads being a part of that—I think we see ongoing success. Last year was down in our sector, the industry cell and gene therapy as well down about 26%. So I think that up-and-down cycle is definitely a part of what you have in life science.
In terms of the amount of money that's out there, absolutely, we're seeing several of the companies that we've been involved with and had talked to previously last year making additional rounds of investments, acquiring additional technologies and capital. So, yeah, looking forward, we see absolutely the same kinds of opportunities that have been over the last 10 years.
Russell: Andrew, you're in a little different situation. Lilly isn't looking for venture capital funding these days. It's been successful in the capital markets as a publicly traded company, but do you have thoughts on what you're seeing in the industry overall?
Adams: Absolutely, John. I think one of the key things to us is making Indiana a place where science grows. And so what we've done to enable that are things like the investment we made in the Indiana Bioscience Research Institute to create a Diabetes Center of Excellence here in Indiana. So for us, those kinds of investments, we hope, will lead to a more vibrant ecosystem overall, which hopefully will help the startup system here and bring more capital back to the state.
Russell: For years Indiana has been trying to build a robust competitive life sciences economy and there have been a lot of success stories. But overall Indiana has still yet to break high into national rankings, usually falling about halfway down the list of states. Bloomberg, for example, this year ranked Indiana 30th among all states for innovation based on R&D intensity, patent activity, productivity, STEM jobs, residents with degrees in science and engineering and other criteria. What are we missing here and how do we move up the list?
French: We have made some good progress and it really depends what your goalposts are here. If you look at the progress we've made over the last 10 to 15 years with the efforts of BioCrossroads, with the efforts of the people who started it—Gus Watanabe, David Johnson, now Patty leading BioCrossroads—they've done a great job of getting it going.
But what we've done, I would say, and although the state of Indiana has invested a good amount of money in this, it has been incremental changes. And I think we are moving positively along those lines.
I think part of your question might be how do we really jump-start in a bigger way? I don't think I have all of the answers for that. It certainly takes more money, takes more focus, more effort. I think if we as Hoosiers really wanted to focus on that in a bigger way, we could do it. But I don't know if we have the will to do that yet—or the dollars to do that yet—but I do think that we're going to continue to make progress.
Russell: Patty, are we doing enough, are we climbing the list?
Martin: I agree that there's always more to do, right? But one thing to remember is the denominator. .. And one of the things about Indiana is for our per capita, we're punching way above our weight. So we have three R1 universities [a classification for those schools that do the highest levels of research) here and that's competitive with the states that surround us. ..
It's important to know that we've got great substrate to work with. What we need is the culture. We need the entrepreneurial instincts and the opportunity to learn from the folks that are on this panel and infuse that through our universities and through our companies so that there is more and more opportunity to grow it.
Saxton: When you think about what is part of a successful innovation ecosystem, there are three major components: There are ideas, there are people, and there's money to fuel that. And if you get the order wrong, if you start with money, you actually don't have the good ideas and the good people to build around those teams.
So as you talked about with the universities, we are now at a point where we're systematically churning out a lot of really good ideas … but we're also building that community of people that can fuel that economy.•
Please enable JavaScript to view this content.